2012 CDI-W Odense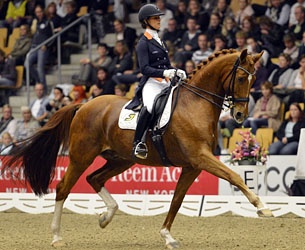 The Dutch Olympians Adelinde Cornelissen and Edward Gal pulled a one-two in the World Cup Qualifier Kur to music at the 2012 CDI-W Odense in Denmark on Sunday afternoon 21 October 2012. Olympic silver medallist Cornelissen reigned supreme and took the victory, while Edward Gal and the Danish owned Romanov settled for second place.
With a sell-out audience ready and wired for a fantastic experience in Odense, Dutch Adelinde Cornelissen and Parzival (by Jazz x Ulft) proved themselves worthy of their 2012 World Cup title. They rode a perfect test to their old Nutcracker music and scored 88.175% leavin all competitions miles behind her.
"Parzival delivered from start to finish," Cornelissen said at the press conference. "He was relaxed and light in the front just like we have been working towards since the Olympics." When asked if she has other good horses in her stable to follow after Parzival she replied:
"Yes, I have some good horses and some of them will be competing this season perhaps even in the World Cup, but Parzival is far from ready for retirement. He amazes me every day and still has a lot to give."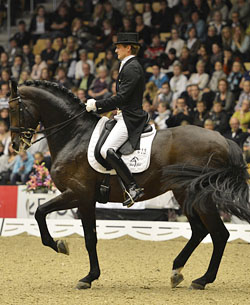 Edward Gal riding the Danish owned Oldenburg stallion Romanov (by Rohdiamant x Grundstein II) excelled with their 80.650% score, which placed them second. 
"We had some nice highlights," said Gal afterwards, "I was particularly satisfied with the piaffe and canter work, and the mistake in the canter zig zag I consider a minor one".
Edward is very pleased with the progress Romanov is making. From being unfocused and sometimes tense he is now much easier to control and he concentrates much better.
"
Our goal is to ride in Lyon and hopefully also Stockholm, but we'll take it one competition at the time," Gal replied.
The youngest contestant of the day, Anna Kasprzak aboard the Finnish warmblood Donnperignon (by Donnerhall x Mozart) was very pleased with her test, which slotted her in third.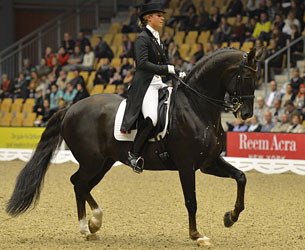 "I turned the wrong way in the middle of my test and of course it distracted me. I knew I was in trouble since I couldn't show what I had left but I made my way back and found the right path," Kasprzak admitted. "I don't think anyone except myself and those who know my test noticed," she replied with a smile
After her World Cup debut Anne wants more and would love to go to Stockholm, but her main focus are the 2013 European Championships in Herning next year.
"But I will not promise anything it all depends on how Pepe's mood is, it's important for me to keep him happy in his work," the young Dane replied.
Photos © Ridehesten
Related Links
Scores 2012 CDI-W Odense
Cornelissen Wins the Grand Prix at the 2012 CDI-W Odense