2012 Balkan Dressage Championships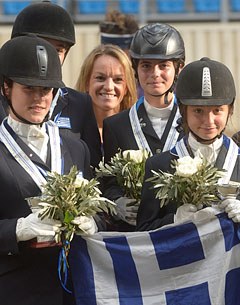 The Greek hosts of the Balkan Dressage Championships welcomed five visiting nations to Athens, but kept hold of all of the gold medals on offer, as well as claiming all three individual medals in both the junior and senior championships. Staged at the Markopoulo Olympic Equestrian Centre, site of the equestrian events at the Athens 2004 Olympic Games, the Balkan Dressage Championships ran alongside last month's Balkan Jumping Championships, in which Greek riders also dominated.
While the Dressage Championships attracted a smaller field than the Jumping Championships, there were still 42 riders and horses from six nations to battle it out for the honours, so competition was hot.
Awarded top marks by four out of the five judges, Kyveli Tzortzaki led the home side to gold in the children's team championship with the impressive six-year-old Hannoverian mare Highnessy Newland. This new partnership, which has only been together since the summer, then went on to take individual honours as well, with all five judges this time putting them in first. Next in line was team mate Vassiliki Voltairou with Chiron, who held on for silver by a slim margin from Lina Uzunhasan and Sjonie, members of the Turkish silver medal squad in the team championship.
While Turkey managed to gain a foothold on the podium in both of the children's classes, it was a Greek whitewash in the junior and senior individual sections, with a trio of Greek amazons occupying all three steps in both divisions.
Elektra Stavrojianni and the Hannoverian mare Wendy claimed junior gold with a score of 70.950 percent, just holding off the challenge from Amaryllis Goulandris and Red Diamond. This year's Greek champion, Fotini Georgitsou, took bronze with Kolliante after just missing out on 70 percent.
"My performance was not good on the first day, but I rode better on the next two days and I won," Elektra Stavroyianni said after receiving her gold medal. "This is my first big success and first title since I started riding. The truth is I didn't expect to win. My mare, Wendy, was fantastic, despite her 18 years!"
Another new partnership shone in the senior individual, when Angela Sklavounos and the 13-year-old gelding Quanderas made their debut appearance in Greece a winning one to capture gold with a score of 72.050 percent. Once again it was an all Greek line-up for the medals, with Alexandra Alexopoulou claiming silver on her last ride on Marco Polo, who was retired after the championships, while Katerina Los, winner of the national senior title for 2012, took the bronze with Largos 22.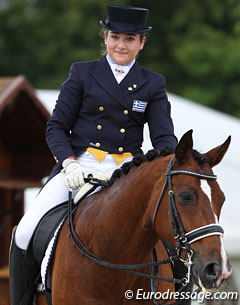 "This year's Balkan Championships were the best I have ever experienced," Angela Sklavounos said after her win. "The competition was great in all categories and the atmosphere was amazing! As an athlete I would like to express my gratitude to all the volunteers and the Hellenic Equestrian Federation for organising such a great event! Most importantly I would like to thank my amazing horse, Quanderas, and my trainers Heike Hamel from the Hof Kasselmann Team and Eleni Myrat. Without them, none of this would have been possible."
As there were not enough teams in the junior and senior divisions, these two classes were cancelled.
Greek chef d'equipe Emmanouella Moussama, was understandably thrilled with the way her riders had performed. "Hellas team is very happy with these many successes. Our riders have worked really hard during the summer and the results have more than justified their labours. As the team leader, I am very satisfied with the high performances and percentages and of course with the excellent organisation and the incredible support of the volunteers."
The Greek chef d'equipe also thanked everyone who had officiated at the Championships, including the foreign judges - five-star judge Wojtek Markowski (POL), and four-star judges Nataliya Petukhova (BLR), Orsolya Hillier (HUN), Ilja Vietor (SVK) and Freddy Leyman (BEL) - the President of the Appeal Committee, three-star judge Fouad Hamoud (ALG), and the Technical Delegate, Mariette Withages (BEL).
The organisation of the Championships came in for plenty of compliments, including from the TD, Mariette Withages, who said at the medal ceremony: "I want to congratulate the organising committee. Despite the difficult economic conditions, it was one of the best championships I've attended."
 
Results:
FEI Children Team Championship:
GOLD – Greece (Highnessy Newland/Kyveli Tzortzaki, 71.034; Chiron/Vassiliki Voltairou, 68.586; Golden Eagle/Melina Zografou-Alexiou, 66.207; Helios d'un Soir/Lyda-Evdokia Anesti, 60,207), 205.827
SILVER – Turkey (Sjonie/Lina Uzunhasan, 68.276; Uvz/Pia-Alara De Marci, 62.862; Asklepios/Defne Morova, 61.276; Phantastique/ Selen Akalin, 56.138), 192.414
BRONZE – Serbia (Quinta/Bojana Stojanov, 63.172; Arianna/Sara Poparic, 55.000; Szeplak Donci/Anja Markovic, 52.586), 170.758.
FEI Children Individual Championship Final:
GOLD - Highnessy Newland/Kyveli Tzortzaki, GRE, 71.964
SILVER - Chiron/Vassiliki Voltairou, GRE, 68.250
BRONZE - Sjonie/Lina Uzunhasan, TUR, 67.893.
FEI Junior Individual Championship Final (Freestyle):
GOLD – Wendy/ Elektra Stavrojianni (GRE), 70,950
SILVER - Red Diamond/Amaryllis-Aikaterini Goulandri (GRE), 70.175
BRONZE – Koliante/Fotini-Nepheli Georgitsou (GRE), 69.800.
FEI Senior Individual Championship Final (Freestyle):
GOLD – Quanderas/Angela (Kelly) Sklavounos (GRE), 72.050
SILVER - Marco Polo/Alexandra Alexopoulou (GRE), 71.575
BRONZE - Largos 22/Katerina Los (GRE), 67.900.
Related Links
Double Gold for Greece and Turkey, but Romanio's Alexandrescu Secures Senior Title
Greek Riders Dominate But Romania's Alexandrescou Takes Individual Gold
Junior Rider in the Spotlight: Christina Sachinoglou
2012 FEI Regional Dressage Forum in Serbia to Improve Dressage Sport