Swedish Dressage News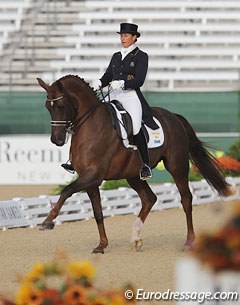 Swedish Tinne Vilhelmson's international Grand Prix horse Favourit has been sold to German Under 25 Grand Prix rider Sanneke Rothenberger. The Rhinelander gelding will do his last competition with Vilhelmson at the 2012 CDI-W Odense this weekend.
The 13-year old gelding by Fidermark x Worldchampwas acquired by Tinne's sponsor Antonia Ax:son Johnson in August 2008. The new combination made it onto the Swedish team for the 2009 and 2011 European Championships, the 2010 World Equestrian Games and two World Cup Finals.
"We hadn't planned on selling Favourit at this time, but the Rothenberger family came to us after the Olympics, showing interest," Vilhelmson explained. "Sanneke Rothenberger is a very talented and committed young rider with a long list of fine merits. When she tried Favourit it worked out extraordinarily well and they are a perfect match. He will have a wonderful home with the Rothenberger family."
Vilhelmson and Ax:son Johnson decided to sell the liver chestnut as Tinne has a string of rising Grand Prix horses on the way, including Don Auriello, Divertimento, and Excalibur of Avalon.
Sanneke Rothenberger come from a true horsey family. Her father Sven Rothenberger is 1996 Olympic bronze medallist and her mother Gonnelien Gordijn has competed on the Dutch dressage team at the 1996 Atlanta Olympics, where she won team silver. Sanneke has won numerous team gold and individual medals as a pony, junior and young rider and is the 2011 European Young Riders Champion.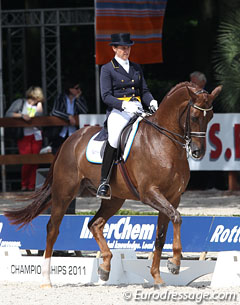 "I want to thank Tinne that she is entrusting me with this great horse," said Sanneke Rothenberger. "My parents have known Tinne through competitions for a long time. We all admire her for her very fine horse-riding and I am honoured to be able to team up with Favourit, with whom Tinne has worked so successfully for many years. We have seen with how much care and love Favourit was treated with at Lövsta and we will try to make him feel just as loved at Erlenhof."
Sanneke aims to make a definite break through at international Grand Prix level and Favourit will be her partner in this quest.
"I hope that Favourit with his experience will help me to grow into the Grand Prix level," she said. "This sweet tempered horse has given me a great feeling the first time I sat on him. I cannot wait for him to arrive and am very excited to start working with him. I want to thank Tinne, Antonia Ax:son Johnson and my family most warmly for this exceptional chance."
Photos © Astrid Appels
Related Links
Favourit Sold to Tinne Vilhelmson
Tinne Vilhelmson Wins 2009 Swedish Grand Prix Title with Favourit
Rothenberger Wins the 2011 Young Riders World Cup Final
Wolke Sieben Sold to Sanneke Rothenberger
Sanneke Rothenberger Wins Third Gold Medal at the 2008 European JR Championships in Azeitao