Training Your Horse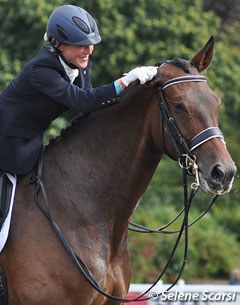 Aside from her two Grand Prix horses the majority of British rider Laura Bechtolsheimer's string of horses are actually schooled below Prix St Georges level. The Olympic team gold and individual bronze medalist reveals she loves riding horses of all levels and believes the key to the successful training of a youngster is taking your time.
"There are typically around 8 horses in work at my stable during the summer. However, in winter there are approximately 4 extra babies in to be ridden," Bechtolsheimer told Eurodressage.
"Hard to say" what the ratio is of young horses that make it all the way to Grand Prix, Laura believes this depends on many number of things.
"As we are a small private yard we tend to sell horses early even if we think a horse may be a Grand Prix horse. If we don't think it will be a super star, or a super star for me and my style of riding, it is sold."
Training young horses all the way to GP is of course a long road, and Laura thinks the horse's own ability can sometimes make it slightly more difficult.
"The very talented horses can often be a handful and in some cases staying on is the hardest part (or the landing!!). With most young horses it is just patience that you truly need. I like to get things done, so it's great to have my dad around most of the time, reminding me that its not a race! It is actually about the quality one can produce by taking their time!"
Her best young horse ever, Polar Bear, is currently 8 years old, and is doubly special because he was home bred.
"Polar bear is possibly the best I have had so far, but only time will tell," she said. "He is at Advance/Medium level, so there is a long way to go to get to Grand Prix in Rio! He has 3 abnormally big paces, and yet the ability to collect. He also seems good enough in the mind as he is able to cope with any occasion."
With so many super young horses being bred these days, a young horse winner does not automatically make a Grand Prix champion. This depends on so many other factors.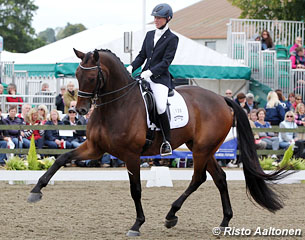 "It completely depends on the management of the horse in the critical years of development from a young horse to a mature horse," Laura stated. "Top quality horses change hands for a lot of money and so often too much is expected of them before they have the muscles to cope. They impress by using their adrenalin and can be over pushed just because the rider is greedy to show the talent. Some horses go all the way having been successful as young horses, but it is not a given, even a super talented horse needs the same amount of time to develop strength and fitness, as well as sufficient time off to let its brain catch up with what it's learning! It is just like a child at school."
Laura added that this is typically why some young horses don't make it to Grand Prix, because they were "pushed too hard to soon", or put into the wrong hands.
"A horse may not train to GP if they were bought by the wrong person for the job. In addition, there is more to GP than good paces, and even if you do the right things with a good young horse, it may not have the talent for the collected movements shown in the GP, or the ability to cope with the big atmospheres of the international stage."
Not prefering either the young horse or the GP horses in regards to training, Laura
"loves them both" and says that each present different challenges and goals.
"You work on different things with each horse and the satisfaction comes from when they listen, learn and improve. The steps of progression are often much faster in a young horse where the training is at home, and is probably the most satisfactory part of training, but riding a difficult freetyle to music on a top GP horse in front of a big crowd is also very special, as you are putting on show all the years of hard work that you have put in to get there. I can't live without either of these feelings for very long!"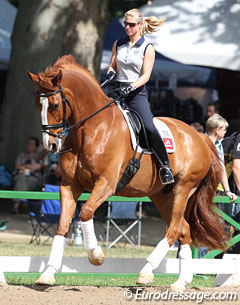 Partnering her down the centreline in London, Mistral Højris (aka Alf) is the best horse the British Champion has had so far. "Certainly the most successful," she added.
"He has 3 good paces, no movement he can't do for a top mark, some awesome highlights, a lot of expression in both his eyes and his way of going, and he is the most loyal "try-hard" I have ever come across. He is not a natural at dealing with crowds and atmospheres and it was a long journey to earn his trust and get his confidence. He arrived already aged 9 as a successful but "nuts" small tour horse with lots of potential, but a screw loose with a strong instinct for flight. This is what made him and his success story unique. He is such a warm and loyal horse that despite all that, he became one of the most consistent horses at the top of the dressage scene, winning 9 senior medals and 1 young rider medal with me. He is definitely unique!"
When spotting a young horse, Laura says that good paces, responsiveness to the leg and hand, and the ability to collect are all crucial components, but he must also have that extra something.
"He needs a brain that likes to be challenged in a good way," she said.
Once you have purchased the perfect youngster, it's up to him to tell you how fast you can take him, depending on how many gears he started with.
"It depends on the horse, with some you can feel early on that the horse has all the gears it needs, while some really develop the gears as they go up the grades."
Unsure that you can ever tell at 2-years old that a horse will make it all the way, Laura is certain there are some people that have a special eye for that sort of thing, but to her  it is all in the feel.
"My mother has that eye, that can tell early on," Bechtolsheimer admitted. "However, I need to sit on something before I feel whether I think it has got it, and with that I mean has got 'it with me', as it has to be a partnership. Some horses may have it, but they need a different type of rider."
When to introduce new aspects of training to a young horse's career is based on each horse's unique requirements, but Laura had a rough pattern.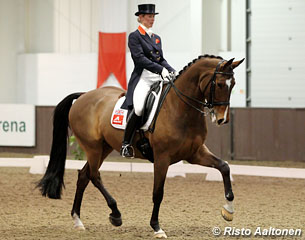 "Ours are backed at age 3, but go back out in the field again shortly after. At 4 they are re-backed and ridden a little longer, but again spend most of that year in the field. At 5 they start being treated more like an athlete. They are worked more, and the bending, suppling, and strengthening work begins, with transitions, and the start of shoulder in and leg yielding. They continue to have 2 months in the field in the Autumn though. At 6 more lateral work begins, with traverse and half pass being introduced. When simple changes are well established with good balance, then the change is introduced. This may be at 6 or 7. They are also introduced to half steps, with the help of someone on the ground. They continue to have their end of season holidays in the field, and when in work they are all turned out in small grass paddocks when the weather permits."
Diversity in training is essential to keep the horse's mind fresh. "We also have a sand track to canter on around the fields so that the horses have a variety of forms of exercise and are encouraged to go forwards," said Laura. "By the time they are 8/9 they are working towards, if not already doing small tour, and at home would also be upping the work on piaffe and passage to help build the strength. A horse should be ready to do a GP anywhere between the age of 9 and 11."
While everyone knows that you must take time with young horses, to allow their development, Laura says the only thing you can really be sure about is to listen to your horse!
"The horse usually makes that quite clear. Follow the scales of training and don't skip or hurry any steps. If the horse is not struggling then move on, if the horse struggles, think why and work on that element, whether it's bend or balance or responsiveness. Always think how you can make it clear to your horse what you want from him. They don't refuse just to annoy us, they refuse or struggle if something is uncomfortable or if they don't understand. If you bare that in mind, training them is much easier and more enjoyable for both horse and rider!"
by Sarah Warne
Photos © Risto Aaltonen - Astrid Appels
Related Links
Spotting Raw Talent in Young Horses, Klimke Style
A Demonstration of Correct Training at the 2010 Albion British Dressage Convention