American Dressage News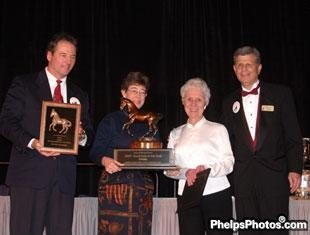 American dressage event organizer Patsy Albers passed away unexpectedly at her home in Chesapeake City, MD, in the morning of 12 October 2012. Three weeks ago a fit Albers served as FEI director of the 2012 Dressage at Devon CDI.
Albers was a dedicated and highly respected show director, manager, volunteer and dressage official.  She won the 1994 Region 1 Volunteer of the Year Award and in 2004 she was the recipient of the inaugural USDF Volunteer of the Year Award.
Patsy is well respected by her peers on the local, regional, and national level, and has been particularly involved in her region as the FEI Junior/Young Rider coordinator for almost twenty years.
She was a long-time participating member at several Board of Governors' Meetings for Region 1 and worked on the FEI Jr/Yr Committee of the Region 1 Activities Council.
In 2010 the Patsy Albers Perpetual Trophy was created to be presented annually at the North American Junior /Young Riders Dressage Championships to the dressage Chef d'Equipe who best demonstrates the same level of dedication, enthusiasm and team spirit that Patsy has shown throughout the years.
Albers was 76 years old.
Photo © Phelpsphotos.com
Related Links
Brooks Makes Magic Happen on Freestyle Night at 2012 CDI-W Devon
2001 Devon Diary