Portuguese Dressage News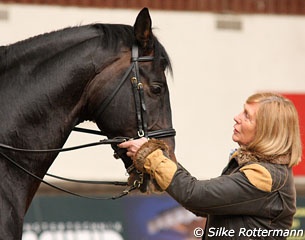 Taking centre stage in a weekend full of information and analysis, international FEI judge Angelika Frömming is on her way to Portugal! Leading a two day-seminar on 27 - 28 October 2012 at the Academia de Dressage in Arruda dos Vinhos, Fromming will conduct a dressage clinic which will cover everything from judge's errors to key aspects for judging FEI tests.
"It is widely understood that one of the critical points of dressage lies in judging the tests," says "Dressage First" event organizer Frederico Pinteus. "We often hear great criticism over the subjectivity of the judging, or the judges' criterion, among other things. This, in our opinion, does not benefit the sport of dressage. We believe that one way to improve or even overcome this issue is to enable the best possible training, allowing us to increase our degree of knowledge, concepts of standardization, and homogenization of judging."
Open to riders, judges, and horse lovers alike, the program includes both theoretical and practical analysis of different judging techniques. Frederico hopes to achieve one main goal.
"The main goal is not only to increase the quality of dressage test judging,  but also make it known to riders, trainers, breeders, and anyone who enjoys dressage, the point of view of a top dressage judge."
Stressing that the clinic is not only for judges, Frederico and the Dressage First team believe that participation from the entire dressage community will allow a greater exchange of experiences.
"Consequently, this will generate a richer perspective over the addressed themes, and greater depth over the weekend's discussions. Participation will thus also better enable us to solve some of the most critical issues that typically arise."
Granted that this inaugural event will be a success, Frederico says that Dressage First will be able to organize many more clinics such as this one to improve the sport of dressage for everyone involved.
"This is just the first initiative and, if welcomed, we believe that others will follow, because it is imperative that we remain constantly updated. We also believe that this clinic will allow the emergence of new ideas, by uniting all these different people around the same topic."
You can register for the clinic at dressage1st@gmail.com
by Sarah Warne
Photo © Silke Rottermann
Related Links
Q & A Session on the State of Dressage with I-Judge Angelika Fromming
Angelika Fromming: Half a Century of Dressage