2012 Swedish Young Horse Championships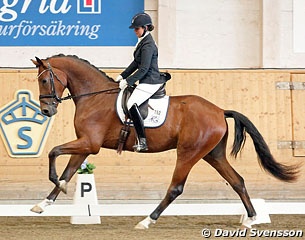 The 3-year old Bonheur, the 4-year old Dunhill, the 5-year old Carlton Hill, the 6-year old JJ Rayban and the 7-year old Isac became the national champions at the 2012 Swedish Young Horse Championships in Flyinge, Sweden. The national state stud was action packed for the entire week from 1 - 7 October 2012 for these national breeding championships.
In the 3-year old division Mia Runesson and her own and Johan Ifversson's Swedish warmblood gelding Bonheur (by Bocelli x Furst Heinrich) were the favourites of the judges and received the champion's sash. Ten horses were picked for the finals after a first presentation round and in that finals Runesson's Bonheur scored the highest total of 87.000%. The horse got 7.5 for walk, but 9 for trot, 9.2 for canter, 8.8 for submission and 9 for general impression. Sandra Sterntorp, who qualified no less than three horses for the finals, finished second with Johan Ifverson's German bred Final Cut (by Furst Romancier x Dormello) scoring 86 points in total. The horse got 8.3 for walk, 8.7 for trot, 8.5 for canter, 8.7 for submission and 8.8 for general impression.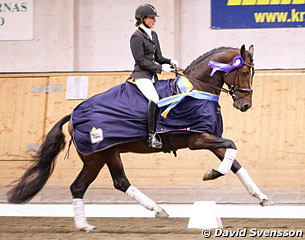 In the 4-year old age group Minna Telde and the Dutch warmblood Dunhill (by Oscar x Cocktail) surfaced at the top with 91.375 points. The 4-year olds have to do one qualification round and ten moved on to the finals in which Manuel Bammel and Danish Grand Prix rider Michael Sogaard served as guest judge riders. Dunhill won the qualification round with 84 points and totalled 98.750 in the finals. Pether Markne and the Dutch warmblood Desendo B (by Don Romantix x Sandro Song) became the reserve champions with an 80.40 in the first round (5th place) and 91.250 in the finals (2nd) to finish on 85.825 points.
"It was an intense week with fourteen rides in total," busy-bee Telde explained. "Everyone at the farm has helped to drive the horses back and forth, helped with braiding and getting the horses ready for their start. It was quite the logistics to get everything done and ready, but we've had an incredibly good week.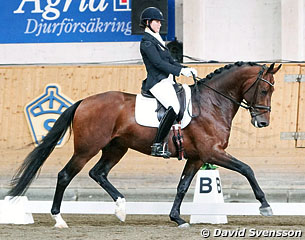 The 5 and 6-year old categories at the Swedish Championships work like in Germany and at the World Championships. One qualifier for the finals, a consolation finals and the actual finals in which that score counts for the final standing.
Mia Runesson and Gransbo stud farm's 5-year old Dutch warmblood stallion Carlton Hill (by Uphill x Vincent) topped the leader board with 86.800 points. The bay stallion got 8.3 for walk, 9 for trot, 8.9 for canter, 8.2 for submission and 9.0 for general impression. Sandra Sterntorp and Elizabeth Ball's Westfalian bred Rausing (by Rock Forever x Dimension) became the reserve champions with 85.00 points. The sympathetic bay earned 9 for walk, 8.7 for trot, 8 for canter and submission and 8.8 for general impression.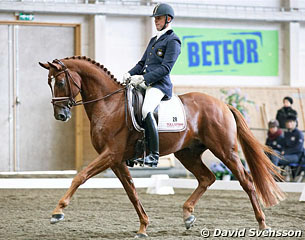 In the 6-year old division Jan Brink and Hannell's Hanoverian licensed stallion JJ Rayban (by Rascalino x Londonderry) claimed highest honour with an 85.80 total score. The long-legged chestnut stallion got  7.6 for walk, 8.6 for trot, 8.7 for canter and 9s for submission and general impression. Mia Runesson and the Swedish bred Barcelona (by Figaro R x Bernstein) landed the reserve champions' title with an 80.00 total score. This horse earned 8.5 for walk, 8.3 for trot, 8.0 for canter, 7.2 for submission and 8.0 for general impression.
"RayBan gave me a great rider's feeling and showed he has good nerves and elasticity in his gaits," said Jan Brink. "He showed that as a stallion he can be ridden in such an environment in full harmony with his rider."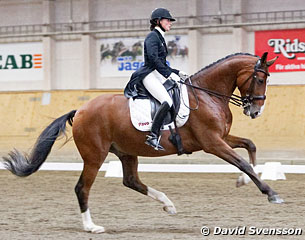 The 7-year old dressage horses contested each other in a Prix St Georges test as Finals. Judges by Anette Fransen-Iacobaeus, Dieter Schule, Wiveca Schenholm placed Minna Telde and her Swedish warmblood gelding Isac (by Hip Hop x Master) first with a 75.877% which was miles ahead of the second placed pair. Telde's Isac has now booked his third, consecutive Swedish Young Horse title in his career. Louise Almund and the Danish bred Mr Gold G (by Milan x Lobster) slotted in second with a 69.254% score.
"Isac was with me the entire time and just wanted to do everything right," Telde explained. "That feeling you don't get very often in the ring. it was a great feeling!"
Photos © David Svensson
Results - 2012 Swedish Young Horse Championships - Flyinge
3-year olds - Finals Round
1. Mia Runesson - Bonheur (by Bocelli x Fürst Heinrich) - 87.000
2. Sandra Sterntorp - Final Cut (by Fürst Romancier x  Dormello) - 86.000
3. Anna Svanberg - Revolution (by Skovens Rafael x Fürst Heinrich) - 85.800
4. Rebecca Mauleon - Stella Nova (by Don Romantic x Hohenstein) - 84.800
5. Anna Svanberg - Hektor (by Hermes (x Nactus) - 83.000
6. Sandra Sterntorp - Rosenschön (by Sir Donnerhall  x Pik Labionics) - 82.200
7. Sandra Sterntorp - Zome Zin (by Zack x Florestan I) - 80.200
8. Emilie Nyreröd - Floppy Disc (by Florencio I x Don Romantic) - 80.000
9. Pernilla André Hokfelt - Giovanna (by Don Romantic x Grundsee) - 78.200
10. Emilie Nyreröd - U. Bolt (by Skovens Rafael x Cortez) - 76.400
4-year olds - Finals Round
1. Minna Telde - Dunhill (by Oscar x Cocktail) - 91.375
2. Pether Markne - Desendo B (by Don Romantic x Sandro Song) - 85.825
3. Anna Svanberg - Diva (by Richfield x Silvano) - 84.600
4. Minna Telde - Bilan (by Bocelli (x Donnerschlag) - 83.800
5. Sandra Sterntorp - Red Devil (by Don Primero x Chirac) - 83.275
6. Ebba von Essen - Doo (by Don Primero x Master) - 80.550
7. Jeanna Högberg - Dan Brown (by Dancier x Hohenstein) - 80.425
8. Jennifer Svensson - It's Ad Hoc (by Danone x Maistic) - 79.400
9. Gustaf Johansson - Zonya MVG (by Don Primero x Rubignon) - 76.100
10. Yvonne Österholm - Belisko (by Belissimo M 95222 - Bellini) - 75.550
5-year olds - Finals Round
1. Mia Runesson - Carlton Hill (by Uphill x Vincent) - 86.800
2. Sandra Sterntorp - Rausing (by Rock Forever x Dimension) - 85.000
3. Mia Runesson - Faustino (by Figaro R x Bernstein) - 81.000
4. Mattias Jansson - Shooting Star (by Sir Donnerhall x Banditentraum) - 80.400
5. Anna Sundström - Luxus CML (by Florencio I x Bolero) - 79.400
6. Rasmus Haid- Bondergaard - Dixiland (by Loutano x Reichsgraf) - 78.800
7. Martina Wikström - Santiago (by Topaasch x Rubinrot) - 78.000
8. Yvonne Österholm - Riva (by Rosevelt x Master) - 77.000
9. Christian Bengtsson - Winston (by First Wish x Corrado WL) - 76.800
10. Ida-LInn Lundholm - Night Wish (by First Wish x Nocturne) - 76.600
11. Olof Axelsson - Bollinger (by Benvenuto x Dimaggio) - 75.200
12. Moa Grödinger - Chupa Chup (by Sorento x Fidermark) - 74.200
13. Mattias Jansson - Nina la Belle (by De Noir x Cortus) - 73.600
13. Anita Roslund - Becquerel (by Bocelli x Stedinger) - 73.600
15. Anna Svanberg - Calaiza T (by Calido I x Cortez) - 73.200
16. Emelie Brolin - Wishmaster (by First Wish x Biggles) - 72.800
6-year olds - Finals Round
1. Jan Brink - JJ RayBan (by Rascalino x Londonderry) - 85.800
2. Mia Runesson - Barcelona (by Figaro R x Bernstein) - 80.000
3. Anna Svanberg - Bellman (by Hermes x Prestige VDL) - 79.600
4. Sofie Lexner - Briljant (by UB 40 x Montecristo) - 78.600
5. Maria Carlsson - Silenzio (by Silvano x D-Day) - 78.200
6. Rasmus Haid- Bondergaard - Bellagio (by United x Esteban) - 77.200
7. Jessica Andersson - Lawertho (by Lord Sinclair III x Werther) - 76.800
8. Sigrid Bergåkra  - A'ha (by His Highness x Prestige VDL) - 76.400
9. Jessica Åman Stille - Falco (by Figaro R x D-Day)  -76.000
10. Märit Olofsson Nääs - Strolchi (by Sancisco x Davignon II)  - 75.600
11. Britt-Marie H-Ivarsson - Charles (by Bocelli x Chapman) - 74.600
12. Sigrid Bergåkra - I Do Kiss (by French Kiss x Donnerfly) - 73.800
13. Pernilla André Hokfelt - Beau (by Lingh x Ferro) - 72.200
14. Caroline Darcourt - Finlay (by Florestan I x Donnerhall) - 72.000
15. Malin Johansson - Channine (by Black Coffee x Mazarin) - 71.800
16. Minna Telde - "Uno" Samantha (by Shepard x Donnerhall) - 71.600
17. Malin Hansson - Primero Hit (by Sancisco x Don Primero) - 70.800
18. Olof Axelsson - Xanté (by Santino x Donnerhall) - 65.400
7-year olds - Finals Round
1. Minna Telde - Isac (by Hip Hop x Master) - 75.877
2. Louise Almlund - Mr. Gold G (by Milan x Lobster) - 69.254
3. Minna Telde - Stanford (by Sir Donnerhall x Roadster) - 67.851
4. Jeanna Högberg - Wellington (by Weltman x Campari M) - 66.798
5. Helen Persson - Licorie (by Licotus x Glorieux) - 66.754
6. Marianne Westberg - Frans TH (by Rubinrot x Good Future) - 66.272
7. Marina Mattsson - Cassio (by Conteur x Calato) - 65.789
8. Maria Fasthamre - Borichie (by Richfield x Bernstein) - 65.132
9. AnnSofie Antonsson - Infernal T (by Indoctro x Cortez) - 64.167
10. Eva Fahlbrink - Amberson (by Don Primero xAmiral) - 62.105