What's Happening in the Dressage World?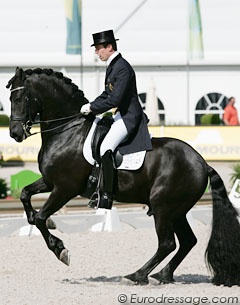 Belgian Grand Prix rider Marc Peter Spahn will stop riding the Fryso Huys dressage horses as of 1 January 2012. Spahn, who competed Friesians Cas and Annichje at international FEI level
, told Horses.nl that insufficient financial back-up and not enough quality horses are the reasons of his resignation. The 35-year old Spahn has been riding for stud farm Het Swarte Paert for seven years. Owner Tineke de Leeuw explained that the rising costs for financial participation as well as medical costs can no longer be covered by the stud fees.
Top Iberian reported that Spanish Olympic team rider Jose Daniel Martin Dockx has relocated from Fuengirola to Mijas, Spain, at the end of August. The rider is renting boxes from Samuel Oliva at the Costa del Sol racetrack. The equestrian centre has all the state of the art facilities included an equine clinic at the track. Aboard Kimberly van Kampen's PRE stallion Grandioso Martin Dockx came into the spotlight and made it to the big time, competing on the Spanish team at the London Olympics.
Many horse changes have been taking place in FEI Pony Land in September. Belgian FEI team pony Berlioz, which was previously ridden by Swedish/Belgian Leyla Larsson, will be ridden in the future by Belgian pony rider Kayleigh Beulens. British pony rider Phoebe Peters has retired her first FEI pony Hillmen.
Danish young rider Nanna Bronnee Madsen has sold her competition horse, the 9-year old Danish bred Skjoldgaards Monte-Vo (by Munchhausen x Schwadroneur) to Danish junior Maja Andreasen. Bronnee Madsen's bay gelding was discovered by her trainers Rune Willum and Joachim Thomsen as a 3-year old. The horse will stay in their barn as Andreasen will prepare the horse for shows with their help.
After a one-year and a half break from competition, former German team trainer Jonny Hilberath has returned to the competition ring, as a rider! Aboard the 13-year old Oldenburg stallion Mike Tyson (by Michellino x Flamingo), Hilberath made his show come back the last weekend of September 2012 at a local show in Bremen. He finished second in the short Grand Prix and third in the Grand Prix. Both classes were won by his student Steffen Frahm aboard Louise and Doug Leatherdale's stallion Damsey (by Dressage Royal).
Norwegian Grand Prix rider Stine Gotesen has sold her top Grand Prix horse Maximilian (by Don Schufro x Ibikus) to 68-year old Italian Marco Boldrini. The Italian acquired the chestnut gelding as a schoolmaster.
The FEI has provided Eurodressage with an update on the 2013 European Pony Championships, which so far don't have a venue. FEI Dressage Director Trond Asmyr told Eurodressage that severeal parties have shown interest in hosting the 2013 Europeans. "We hope to allocate them at the FEI Bureau meeting next month at the latest," said Asmyr. Rumours that the pony Europeans could become a bi-annual event are unfounded. "We see it as an exception that it is so late for 2013," Trond added.
Ulla Salzgeber has acquired a new youngster of her own: the 5-year old Scotch (by Sir Donnerhall I). "With him I'll be riding the dressage horse tests again for the first time in 15 years," she told Dressur Sport Deutschaldn. "That will be fun."
2007 Pan American gold and silver medalist Lauren Sammis has received the ride on new Grand Prix prospect: the 8-year old Danish warmblood Lombard V (by Lobster x Diplomat). Sammis discovered the horse (see video) at Viegaard stud in Denmark a year ago for client Hope Greenfield. The owner has now given the reins to Sammis as she had to undergo elbow surgery in the summer. Sammis has competed the horse at Prix St Georges level and aims for qualifying him on the U.S. team for the 2014 World Equestrian Games.
American Under 25 rider Caroline Roffman has received the ride on the 2012 KWPN Licensing Champion Etoine (by Vivaldi x Balzflug x Amor). Owner Anne Schmidt has renamed the stallion "Emeici" and entrusted the training of the black stallion to the Wellington based Roffmann. "I am so excited and honored to have him and just hope I can do him justice," said Caroline.