Between Heaven and Hell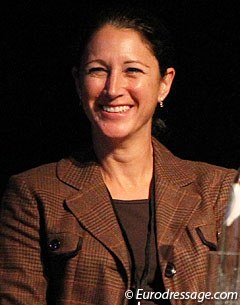 Honoured to have recently been selected to the board of the International Dressage Riders Club (IDRC), American Grand Prix rider Catherine Haddad is on a pivotal point in her personal life and dressage career. As Haddad will be moving back to the U.S.A and has a new GP horse for the big time, Eurodressage thought it was time to catch up with her for a Between Heaven and Hell interview.
Haddad was elected to the IDRC board in a time of need and she has proven to be ready to be the "english" voice and get the big issues out there.
"I was nominated to the board during a critical time for the IDRC when a controversy around the nomination of a rider's representative to the FEI dressage committee was in full swing," said the US dressage rider. "I was happy to accept, particularly as I wanted to be helpful during that time."
Enjoying the chance to work together with Kyra Kyrkland, Wayne Channon and the other board members, Catherine is looking forward to discussing the important issues of our sport.
"The IDRC has become a force to reckon with in dressage and I am very proud that riders now have a stronger voice through our club."
Beginning the voice in charge of communications, Catherine says her job will mostly be to take care of communicating anything important in the English language, which we hope she can do from her new home, back in the US!
"I am moving back to the US because I thought I would try something different and live together with my husband whom I married in January 2011!"
Having trained in Germany for more than 20  years Catherine will travel to her native land with her new Grand Prix partner Patronus, who she says is "a fascinating project."
"I find taking over the ride on someone else's training much more difficult that creating a GP horse on my own, so i am taking my time with him. He is not the only new horse I have, but he is the only purchase the press found out about!"

Not ready to talk about her other horses right now, Catherine says that her number one GP horse Winyamaro (by Walt Disney) is back in action and she will be showing him in Florida this winter.

Catherine, what's your favorite dish?
Haddad: Hummus with various toppings

What is the biggest intellectual joy for you?
Haddad: sparring my my husband about politics

What gives you the most artistic pleasure?
Haddad: creating a good freestyle

What gives you the most physical pleasure? 
Haddad: riding

What makes you cry?
Haddad: fatigue

What annoys you the most?
Haddad: limited thinking
What does heaven look like to you? 
Haddad: my last few years here in Europe. I had a great lifestyle. Walking the dogs to work every morning through the forest, great horses to ride, a warm kitchen, top horse shows

And Hell? 
Haddad: Hell looks a lot like a pup tent in a campground on a cold, rainy day with no food, no dogs and no horses in sight. I like my creature comforts

What is the most beautiful place you've ever visited?
Haddad: Lebanon

What is the ugliest place you've ever visited?
Haddad: I have never visited a place where I could find no beauty.

At what moment were you the happiest in your life? 
Haddad: that sushi bar in Sommerville in 2010. My first date with Greg. No Wait. The first time we went fly fishing together. No Wait...

When were you the saddest in your life?
Haddad: When Cadillac died. I still feel that now and then. I was sorry we had so little time together
.
Who would be your favorite one-night stand?
Haddad: My husband, obviously! We have had a lot of one night stands since we got married! NYC, Lyon, Monterrey, Higgins Lake, Geneva, Miami, Berchtesgaden, Cologne...
by Sarah Warne for Eurodressage
Photo © Astrid Appels
Related Link
Eurodressage's "Between Heaven and Hell" interview series