Hanoverian Breeding News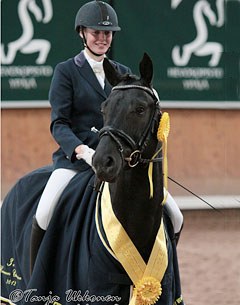 For the third time the Finnish Hannoverian Society held its annual show in Ypäjä, Finland, on 15 - 16 September 2012 in corporation with the Oldenburger Verband and the local Finnish breeding society in Häme. The "European Breeding Event Finland", shortly EBEF, is a sales and breed show where breeders have the possibility to show their horses and have them evaluated by a professional panel of judges.
The judges invited were Maren Schlender and Jan Crome-Sperling (Hannoveraner Verband), Dr. Evelin Schlotmann and Franz-Josef Busemann (Oldenburger Verband), Marc Hahne (Zuchtverband fur deutsche Pferde) and Dr. Ulf Möller.
EBEF hosted mares' inspections and saddle classes for Hanoverian bred horses as well as four riding classes for the 3- and 4-years old riding horses. This year's EBEF was unique as it featured the first "Hanoverian Championship in Finland". For the first time the German format of young horse classes was being copied and held in Finland.
The first two classes were open for all breeds and judged by Dr. Schlotmann and Marc Hahne. It was won by Seaside Maestro (by Sir Donnerhall x Michellino) with a 7,92 score. This good looking 3-year old Finnish Warmblood stallion has good gaits and rideability and a lot of potential as a riding horse. The horse is bred and owned by Ann-Christine Brunström and was ridden by Tiina Polso.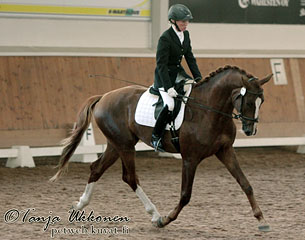 The 4-year old riding horse class was won by Pinrock's Hot Shot. This Good looking gelding with a big frame and good movements for a future dressage horse scored 8.0. This Finnish Warmblood gelding is also by Hotline x Kennedy. Bred by Tiina Ristimäki and ridden by her daughter Ira Ristimäki, Pinrock's Hot Shot is owned by Heidi Paal.
The star horse of the show could be seen in the 3-year old Hanoverian Riding Horse Class. The Hanoverian licensed stallion Scatman clearly stole the show. Bred by Hennig Grotefeld in Germany and purchased in Verden by Satu and Tuomas Juurinen, the black stallion by Sarkozy x Furst Heinrich was a league of his own. Judges Jan Crome-Sperling and Maren Schlender gave the stallion a 10 for the walk and overall he scored 8.33. He became the first "Hanoverian Champion" in Finland under Maria Pyykönen.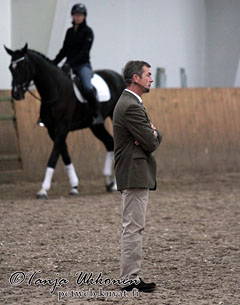 In the 4-year old Hanoverian Riding Horse class there were several horses with potential. With a total score 7.75 the champion was Sandora (by St. Moritz x Weltmeyer). The gelding is bred by Hans-Heinrich Dodenhoff and ridden by the owner Kira Kanerva.
On Saturday and Sunday morning Dr. Ulf Möller had a busy day holding a clinic for young horses and their riders. The best ones are selected to participate in more clinics over the winter. Every 40 minutes two riders got the possibility to work with Möller in the big arena. This clinic was open for all horses between 3-5 years of age and overall 22 were participating. The clinic was open to watch for free so spectators could learn much just by watching and listening throughout the day. This clinic format was hosted by Master Dressage Oy, which are located in Laha where the next clinics will be held over the winter in their heated indoor-arena.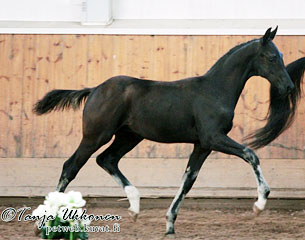 On Sunday a Foal Show with Open Sales for horses younger than three took place. Hannover, Oldenburg and ZfdP also registered foals and mares on the spot. There were some really excellent foals and some breeders were recommended to rear tham as stallion prospects.
The first group of foals to appear in the ring had a jumping pedigree. The class was won by the Holsteiner bred Tia's Cascade (by Cagliostro x Casall). This big framed and good looking colt with good gaits is bred by Tia Lindström.
In the dressage foals group there was a tie for first place: the Finnish warmblood bred Cherrygarden's So in Love (by Sancisco x Welser) and the Hanoverian branded London Jack (by London Baron x Sandro Hit) got the highest score. So in Love is a really stunnig colt with lot of power. He is bred by Sanna Aalto. London Jack is a bit lighter in type and is a really modern riding horse prospect. He is bred by Marika Nevala.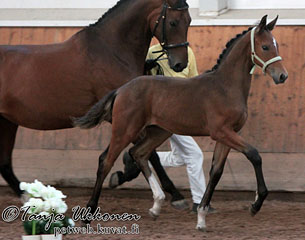 The winners of the third and fifth group of foals challenged each other for the Best In Show title. The Oldenburg branded Sir Amour (by Sir Donnerhall x Florestan) and the Hanoverian branded Cherrygarden's San Belizio (by San Amour x Belissimo) really deserved their score. These stunning colts with excellent movements were just what one likes to see in a foal show and are definite stallion prospects! Sir Amour is bred by Niina Okkonen. San Belizio's breeder is Sanna Aalto who had a great day with three excellent foals and could have deserved the title of best breeder.
The fourth group was won by the Finnish warmblood colt Södergards Emson (by Johnson x Midi-West Ibi-Light). He is also considered a stallion prospect out of a really good Swedish damline. This colt is bred by Suvi Söderlund.
All in all it was a great weekend, made by breeders for the breeders. There were prizes given away worth over 10,000 euro and the foal classes on their own had a purse of 3,000 euro.
Text by Päivi Aittala
Photos: Tanja Ukkonen
Related Links
Finland Sends Davidoff to the 2006 WCYH in Verden
"Playboy" Patrick, 2003 KWPN Stallion Licensing Champion in Finland