2012 British Dressage Championships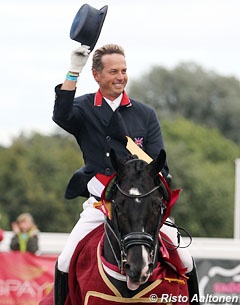 Carl Hester and Uthopia brought the house down on Sunday afternoon 16 September 2012 at the British National Championships in winning the Grand Prix Freestyle title and becoming National Champion for a lucky seventh time at that level. There wasn't a seat to be had around the main arena for the final quintet of horses but there was one combination many really wanted to see.
Ever the showman, Carl didn't disappoint the gathered fans of all ages and he rode Uthopia to a near-perfect performance using the music Tom Hunt had prepared for them for the Olympics for a fantastic 81.50%, first ever +80% score at the Nationals. Laura Bechtolsheimer gave her best shot with loyal partner Andretti H to their foot tapping Reggae music but they just couldn't match Carl with 76.58%. Michael Eilberg and the British-bred Half Moon Delphi, still in their first season of Grand Prix, also gave it a good try with some promising work to score 76.35% for owners Jon and Julie Deverill.
So Carl finishes the week with a staggering 63 national titles and his seventh National Champion accolade cementing his position as a sporting icon in Britain.
"It's been great to be able to bring 'Uti' here to support those who weren't able to come to London plus it was fantastic to be able to ride to Tom's music once again. I'm so pleased with the test today – I stayed in time with the music unlike London where I seemed to be either too fast or too slow. He's as fit as ever and was really in super self-carriage today. He felt confident and even though there were a few mistakes, it was lovely."
Potential International Dressage Horse Championship
The final of the Shearwater Potential International Dressage Horse Championship was a topsy-turvy affair to say the least. Paul Hayler with his own and Peter Space's Lonswelt claimed the 4 year old title with Dan Sherriff as runner up with the huge Dance of Decadence, owned by Rachel Ablett.  In the 5 year old class, Erik Theilgaard took the title ahead of hot favourites Becky Moody and Carinsio. Erik impressed with Kristina and Karin Rausing's big-moving Shadow Line.
The four came forward for the final judging in front of a capacity crowd. Under the watchful eyes of Susanne Baarup and Eddy de Wolff Van Westerrode and ridden judge Andrew Gould all were put under the microscope. It was the final ride which proved the most influential and the judges were brave with their final assessment. In a tense few moments, they made the bold decision to award Becky Moody and Carinsio the overall Supreme Champion title. And then Daniel Sheriff was handed the reserve title. So, it was the two second placed horses who ruled the day based on their rideabilty and general way of going.
A delighted Becky said; "It's been an interesting few days! He's an awesome horse and I really believe in him. If I'm honest, I was hoping to come out on top yesterday but it's so satisfying for him to put up today. I think it's his rideablity that made the difference today, he's loose and supple and even he becomes tense he still shows off well. We were runners up last year but that we always knew we couldn't win as Farouche set the benchmark but to claim the supreme title this year is simply fantastic."
Owned by Partick & Anne Moody and Julie Lockey, Carinsio is by the prolific stallion Painted Black and Becky is looking forward to bringing him on for the future; "He'll contest six year old classes next year as well as Medium and Advanced Medium. I just need to get him out more to chill and take in the atmosphere. He needs to learn to stand still! He'll stand to halt in a test but outside that it's a challenge. He's a long term prospect and I'll give him time to fulfil his potential. He's so easy that it's tempting to push him too much."
Runner up Daniel was equally delighted, if not a little surprised. "This is only his second show as he's so big we've given him as much time as possible to mature. His temperament shone through today and I'm really pleased the judges were so brave in their decisions. To come to a show like this is an honour and we're so excited about this horse's future.
Photos © Risto Aaltonen
Text British Dressage
Related Links
Scores 2012 British Dressage Championships
Wessels and Hester Win Big on Day Three of 2012 British Championships
Hester and Moody Take Titles on First Two Days of 2012 British Dressage Championships