Danish Warmblood Breeding News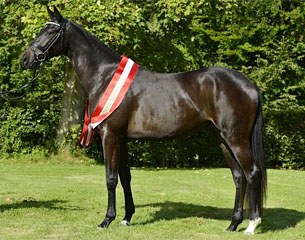 Among twenty-eight 2-year-old fillies, 18 dressage and 10 jumping bred, the judges named Stigma the 2-year old Danish Warmblood Filly Champion at the Danish Warmblood Elite Mare and Foal Show in Vilhelmsborg, Denmark, on 7 - 9 September 2012.
As best 2-year-old jumping filly the judges appointed the highly functional grey Hip-Hop's Cichita (by Ci Ci Senjor Ask). She was described as a feminine, long-legged filly with a super supple topline and very efficient canter. In free-jumping the filly showed convincing and effortless jumping for which she scored 8 in technique and 9 in capacity.
In the dressage section two fillies stood out in a league of their own. The champion title was awarded the beautiful Stigma, which is bred in Sweden and owned by a Norwegian. This black-brown filly was already familiar with laps of honour at Vilhelmsborg, as she was actually the dressage filly foal of the year in 2010. The judges praised this filly as a feminine and noble filly of excellent type. H scored 9 for walk, trot and canter as well as overall impression.
Stigma is the full sister to the Oldenburg licensing revellation Tomahawk, which sold for 800,000 euro at the Oldenburg Stallion Auction in November 2011. Both Stigma and Tomahawk are bred by Swedish veterinarian Lena Nystrom.

2-year-old jumping filly of the year 2012
Hip-Hop's Cichita
Breeder and owner: Mikael Hansen & Anne-Marie Grubbe
Sire: Ci Ci Senjor Ask
Dam sire: Charmeur

2-year-old dressage filly of the year 2012
129 STIGMA
Breeder: Lena Nystrøm, Sweden
Owner: Hanne Hertzberg, Norwat
Sire: Tailormade Temptation
Dam sire: Sandro Hit
Related Links
Dancing Boy and Stigma, Danish Dressage Foals of the Year 2010
For Romance 2011 Oldenburg Licensing Champion, Tight Junction Steals the Show
Tirana Proclaimed 2-Year Old Danish Dressage Mare Champion in 2011