2012 Swiss Dressage Championships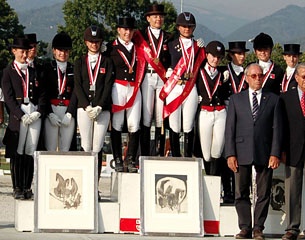 Estelle Wettstein, Bigna Ladina Lehmann and Marcela Krinke-Susmelj became the grand winners of the 2012 Swiss Dressage Championships held in Lugano, Switzerland, on 6 - 9 September 2012. Wettstein won both the pony and young riders division, while Bigna Ladina Lehmann reigned supreme in the junior riders class. Senior rider Marcela Krinke-Susmelj bested the field in the Grand Prix division.
Estelle Wettstein opted for the German bred black mare Nice Blue Eyes (by Notre Beau x Principal Boy) to ride the championship and won the gold medal by dominating the two championship rounds with 71.71% and 70.89%. The silver medal went to Naomi Winnewisser on the 15-year old liver chestnut stallion Diamant (by Hondsrug Don Gregory x Aviso) with 68.72% and 70.24% while Anastasia Huet and the 9-year old German bred palimino mare Equestricons Day of Diva (by Don't Worry x Capri Moon) were good for bronze.
In the junior riders division Bigna Ladina Lehmannwas untouchable aboard the 7-year old Hanoverian Ronaldino (by Rohdiamant x De Niro). She scores well ahead of her competitors and took the title with 68.20%, 66.6%, and 70.20% marks. Caroline Marie Scheufele and her 16-year old Hanoverian Remmington Steel (by Ravallo x Gelria) grabbed the silver after scoring 65% and 68% marks in three rounds. Tamara Lucia Roos and her impressive 15-year old gelding Hero (by Hohenstein) finished in bronze medal position.
In the Young Riders classes Estelle Wettstein saddled her mother's former Grand Prix horse, the 19-year old Hanoverian gelding Le Primeur (by Lauries Crusador xx x Golfstrom II) and took highest honours with a point total of 211.61. Sabrina Ackermann and the 14-year old Westfalian gelding Flint Star (by Freudenprinz x Renoir I) were on Wettstein's heels but Estelle created a gap for gold in the kur. Ackermann ended up with silver with a total of 209.91 points. Andrina Suter and the seasoned 19-year old Trakehner Popcorn (by Anduc x Flaneur) slotted in third with 204.74 points.
At Grand Prix level Marcela Krinke-Susmelj and Irina Meyer's 11-year old Danish warmblood gelding Molberg (by Michellino x Rambo) were unbeatable. Krinke scored 70.71% in the Grand Prix and 77.000% in the Kur to total 147.72 points for gold. The 2012 title is the third Grand Prix title in her career. Marcela was also winner in 2009 and 2010. Elisabeth Eversfield-Koch and her compact 12-year old Brandenburger bred Rokoko N (by Rubinstein Noir x Montano) ended up with silver seven percentage points behind Krinke. The combination scored 66.64% and 74.25% in the two championship rounds. Melanie Hofmann and her own 15-year old Swiss warmblood Cazzago (by Campari M x Kolyma) earned the bronze after posting scores of 66.98 and 72.45%.
Results - 2012 Swiss Dressage Championships
Pony Riders
1. Estelle Wettstein - Nice Blue Eyes - 71.71 - 70.89 --- 142.60
2. Naomi Winnewisser - Diamant - 68.72 - 70.24 --- 138.96
3. Anastasia Huet - Equestricons Day of Diva - 67.01 - 69.76 --- 136.77
4. Sharon Holtschi - Pegasus B - 66.24 - 66.02 --- 132.26
5. Elena Krattiger - Brouwershavens Joost - 65.30 - 65.28 --- 130.58
6. Naomi Winnewisser - Coppa Cabana - 64.96 - 64.63 --- 129.59
7. Elena Krattiger - Tiesto - 64.02 - 63.74 --- 127.76
8. Natascha Susmelj - Nice Lilli - 61.28 - 64.15 --- 125.43
9. Carlotta Rogerson - Vincento Royal  - 60.43 - 64.14 --- 124.58
10. Desiree Margelisch - Bronskibeat - 59.06 - 63.90 --- 122.96
11. Lars Burgler - Cristal Noir Primo - 57.95 - 61.38 --- 119.33
Junior Riders
1. Bigna Ladina Lehmann - Ronaldino - 68.20 - 66.67 - 70.20 --- 205.07
2. Caroline Marie Scheufele - Remmington Steel - 65.68 - 65.70 - 68.05 --- 199.43
3. Tamara Lucia Roos - Hero - 65.86 - 64.21 - 69.35 --- 199.42
4. Christina Konig - Mona Lisa - 63.60 - 63.16 - 68.90 --- 195.66
5. Ramona Schmid - World Challenge - 58.20 - 64.47 - 67.95 --- 190.62
Young Riders
1. Estelle Wettstein - Le Primeur 66.84 - 69.47 - 75.30 --- 211.61
2. Sabrina Ackermann - Flint Star - 66.75 - 69.56 - 73.60 --- 209.91
3. Andrina Suter - Popcorn - 66.05 - 67.19 - 71.50 --- 204.74
4. Anthina Hartmann - Rubinario - 65.79 - 66.32 - 68.80 --- 200.91
5. Sophie Aiko Muller - Wolkenstein's Junior - 64.21 - 65.35 - 69.90 --- 199.46
6. Lia Garzoni - Maybach - 62.28 - 62.72 - 62.80 --- 187.80
7. Sonja Ramseier - Flying Boy - 63.42 - 59.56 - 64.65 ---- 187.63
8. Johanna Roosli - Donnersohn - 62.54 - 59.65 - 64.15 --- 186.34
Grand Prix Riders
1. Marcela Krinke Susmelij - Molberg -  70.72 - 77.00 --- 147.72
2. Elisabeth Eversfield-Koch - Rokoko - 66.64 - 74.25 --- 140.89
3. Mélanie Hofmann - Cazzago CH -- 66.98 - 72.45 -- 139.43
4. Hans Staub - Warbeau 67.66 - 70.25 --- 137.91
5. Jeannine Zuber - Wesergeist  - 66.68 - 70.85  --- 137.53
6. Gilles Ngovan - Dream of Night Flusswiss - 66.26 - 70.35 --- 136.61
7. Markus Graf - Ronaldo II - 65.62 - 69.95 --- 135.57
8. Caroline Hacki - Rigoletto Royal - 64.55 - 70.20 --- 134.75
9. Christian Plage - Aragon ST - 64.34 - 70.10 --- 134.44
10. Sina Waldmeier - Kavarell - 64.21 - 69.80 --- 134.01
11. Celine Michaud - Rohdiam - 62.81 - 65.80 --- 128.61
12. Franziska Seidl - Sigalia - 63.02 - 65.45 ---- 128.47
13. Simona Aeberhard - Private Dancer - 60.85 - 65.10 --- 125.95
Related Links
Surprise, Surprise: Markus Graf is the 2011 Swiss Dressage Champion
Corinth Did It Again at the 2010 Swiss Dressage Championships
Veronika Marthaler, 2007 Swiss Dressage Champion
Widmer, Reutimann and Wettstein, 2006 Swiss Dressage Championships