What's Happening in the Dressage World?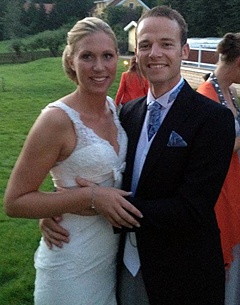 Swedish A-team Grand Prix rider Nina Hofmann married her partner Torsten Küppers on Saturday 25 August 2012. "Yesterday was the best day of my life, I married the man of my dreams," Hofmann said. "It was a magical day. I'm the happiest person in the world," her husband added. The couple is going to Bali on honeymoon for two weeks.
Australian Lyndal Oatley's Olympic mount Sandro Boy (by Sandro Hit x Argentinus) has gone under the chopping block and came back his totally cool self minus two balls. The bay stallion is now a gelding. "Sandro Boy minus manhood = MEGA BOY," Lyndal wrote.
Victoria Max-Theurer's father and trainer Hans Max celebrated his 70th birthday mid August. The family treated Hans to a surprise birthday party which was well attended by friends and family members. Pictures of the birthday party can be seen here. And there is more news from Castle Achleiten in Rohr, Austria: Victoria's Jack Russel Loni gave birth to six puppies, which have been named Barbarossa, Beate Wittig, Daisy Duck, Franz, Gustav Gans und Mc Moneysack.
The 7-year old Oldenburg Chicco von Nymphenburg, owned by Helmut von Fircks and ridden by his daughter Johanna, has been sold to Austrian Grand Prix rider Katharina Stumpf. She will show him this winter at the 2013 Global Dressage Festival in Wellington, Florida.
French show director Didier Ferrer and his friend Lydie Karoutchi performed their annual fun-filled pas de deux at the Dicosa Catres Show in France. Last year Ferrer impersonated Isabell Werth, this year he was Edward Gal as "Edouard Galeux" while Karoutchi embodied M.A. Rath as "Emma Rath".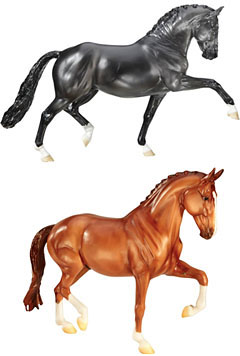 Breyer came out with two new models of dressage horses Totilas and Mistral Hojris. Check out these collectables. Speaking about Totilas, we heard through the grapevine that the famous Spanish Riding School master Hans Riegler was in Kronberg recently to do some in-hand piaffe training of their horses.
Ridehesten reported that a big rotation is going on in Denmark. Several "Bereiters" are moving from one place to another. German born Maik Kohlschmidt initially worked at Andreas Helgstrand's barn, then moved to Norway to JJ horses but is moving back to Denmark as he  has been hired as rider at Blue Hors stud as of 1 October 2012. Kohlschmidt's Norwegian girlfriend Silje Bakken is working in Denmark at Priess.  Danish Maria Falkner Pedersen will be replacing Kohlschmidt at JJ Horses in Norway. She used to work at Atterupgaard. The latter breeding barn is now re-filling that empty position and has hired the 31-year old Henrik Palm Toft, who briefly worked as bereiter at Anne van Olst as well as in Sweden.
Following the unfortunate death of her Grand Prix schoolmaster Rubinrot, Belgian dressage rider Daphne Vandeplas acquired a new schoolmaster, the Westfalian licensed stallion Future (by Florestan x Apart). The gorgeous bay stallion was trained to Grand Prix level by Sven Rothenberger and then moved to The Netherlands to be trained and competed by Marlies van Baalen, Antoinette te Riele, and Maria van den Dungen. The horse got involved in a lawsuit when the Van den Dungen family refused to return the stallion to the proper owner, the Gordijn family. The stallion was originally sold to Austria after his return to Weert, but the deal fell through and the stallion has now moved to Belgium.
The 30-year old Oldenburg licensed stallion Weltstern (by Welt As x Admiral I x More Magic xx) has passed away. The chestnut  was imported to the U.S.A after his approval through the 100-day Stallion Performance Test in Munster in 1985. He scored an index of 111.35 points. He competed up to Intermediaire I level. The last ten years of his life he stood at Greenstone Farms. He sired three licensed offspring. "We had talked for a number of years now about how hard it was going to be to make the inevitable decision when his health declined. In the end he made it easy, one minute he was peacefully grazing, the next he was gone. Weltstern is buried near his favorite tree, overlooking daughters and granddaughters," wrote the owner of Greenstone Farms.