2012 Bundeschampionate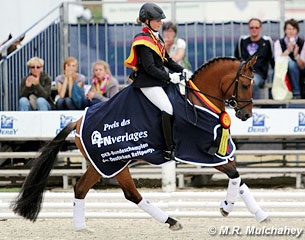 At the 2012 Bundeschampionate in Warendorf, Germany on Saturday 1 September 2012, Wibke Hartmann-Stommel dominated the pony classes on Saturday, piloting both Don Henley and Golden State to the Bundeschampion's title in their respective classes while also finishing runner up to Golden State on Top Christobell.
In the 3 year old pony geldings and mares class, Timberlake SH ranked slightly ahead of Don Henley in the morning class, coming into the guest rider class with a .5 point advantage. Ridden by Tanja Kleimann, Timberlake SH showed an excellent trot and walk, which both scored 9s. Unfortunately in the afternoon class, he was hurt by a score of 16.0 by the guest riders. That opened the door for Don Henley, who scored 18.5 from the guest riders to take the lead and win the class. The elegant bay gelding by FS Don't Worry x Notre Beau impressed with his lively trot and uphill carriage. His young owner, Luisa Kollner was pleased to accept the owners flowers in the awards ceremony to the delight of the crowd.
Coppery Crack WE finished close on Timberlake SH's heels, falling only .5 of a point short of Timberlake SH's score. Ridden by Christiane Seelig, he showed three quality gaits and good basic training. His guest rider score of 18.0 buoyed his score and almost allowed him to overtake Timberlake SH in the final standings.
Golden Glory for Golden State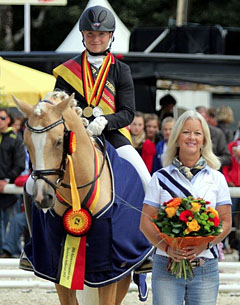 In the 3-year old pony stallions class, Golden State (by FS Golden Moonlight x Donchester) dominated, finishing with an incredible 76.5, an average of 9.56. Owned by Melissa Mulchahey of California, USA, the beautiful palomino stallion presented an ideal type for a riding pony. He showed nearly perfect gaits, earning a 9.5 for trot and canter and a perfect 10 for his walk - putting him in a league of his own. His walk has huge overtrack, perfectly even footfalls and a loose, relaxed march. His trot showed elasticity and expression with lots of push from behind and the ability to really elevate the forehand while remaining in front of the verticle. His canter was ground covering and uphill. In many ways, more important than his beautiful gaits are his temperament and rideability. He scored 9.5 on both training and harmony from the judges, and from the guest riders, he scored 10 and 9.5. The crowd as well as commentator Mr. Plewa enthusiastically agreed with the judges' marks for this exceptional pony.
Finishing reserve champion was Top Christobell, a gorgeous dark palomino stallion ridden by Wibke Hartmann-Stommel. The highlights for this Top Champy MV x Rosedale Tiberius stallion were the trot and the rideability. He showed a very elastic and cadenced trot with excellent push from behind. He unfortunately lost the canter during his ride, which lowered his marks slightly. He was rewarded with 18.5 from the guest riders.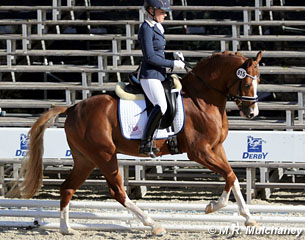 Narrowly finishing in third, only 0.5 of a point behind Top Christobell was FS Numero Uno by Noir de Luxe x FS Don't Worry. Ridden by Jana Freund, this large sized and framed chestnut stallion showed three excellent paces with very good rideability. The guest riders scored him 19.0, and he scored 9s  for his trot and canter. He is a lovely uphill type stallion with powerful gaits, although his walk seemed a bit hurried today. A special mention must go to Fehkamps' Nightly who finished in the top 6 as he was ridden by a lovely 12 yo girl the entire tour and showed an exemplary character as well as solid 8 for gaits.
Text by Alyssa Pitts
Photos © Melissa Rose Mulchahey
Related Links
Scores 2012 Bundeschamionate
Eurodressage Coverage of the 2012 Bundeschampionate