2012 Bundeschampionate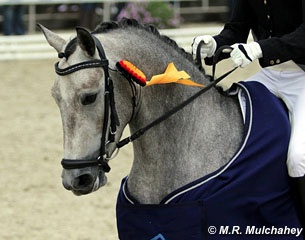 The gelding Lettenhofs Easy Finish and the stallion Dimension AT dominated the 4-year old riding pony classes on Friday 31 August 2012 at the 2012 Bundeschampionate at the DOKR head quarters in Warendorf, Germany.
Lettenhofs Easy Finish Wins Round 1 for 4-Year Old Mares and Geldings
The 4-year old mares and geldings pony class was won by Lettenhofs Easy Finish with a score of 8.58. The pleasing grey gelding by Dörnberg's Erimon II x Renoir I won on the strength of his rideability and correct training. Ridden by Annkatrin Anselstetter, he scored 9.5 for harmony and 9.0 for training. He presented three correct and quality gaits. Following closely on the heels of Lettenhofs Easy Finish was Golden Graciella WE, scoring 8.33.  The Hesselteich's Golden Dream x Black Boy palomino mare put in a similar ride to Lettenhofs Easy Finish, showing three solid gaits and very good training. Again, the real strength of this mare, ridden by Kirstin Klepin was the training and harmony, scoring 8.5 for training and 9.0 for harmony.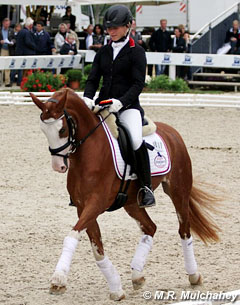 Third place went to the boldly colored gelding, Tattoo 21, a chestnut by Top Non Stop II x Alabaster. He showed a flashy and expressive trot, which was rewarded with a 9.0.  Piloted by Wibke Hartmann-Stommel, he also scored an excellent 9.0 for harmony. He was unfortunately hurt by a conformation score of 7.0 and a canter that wasn't quite as strong as the trot, which scored only 7.5.
Goldberg's Donatella and PAV Non Plus Ultra tied for fourth place with an 8.08. Goldberg's Donatella, ridden by Danica Duen put in a steady ride, receiving straight 8s across the board with an 8.5 for trot. PAV Non Plus Ultra, ridden by Anna Sophie Göttsche put in a very consistent ride, receiving straight 8s across the board with an 8.5 for walk.
Golden Touch WE, ridden by Caroline Bucher, and Gambys Greta WE, ridden by Anna-Lisa Theile, tied for 6th place with 8.0. Golden Touch WE put in a very solid performance, scoring three 8.5s and two 8s, but unfortunately was penalized by a conformation score of 6.5.
Dimension AT Wins 4-Year old Pony Stallion Class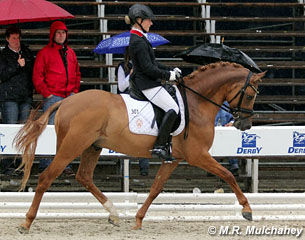 The four year old pony stallions class was huge, with 24 entries and it started in a downpour. The early riders were drenched, with the rain soaking through their breeches, and several of the ponies looked less than thrilled to be showing in the rain. Sascha Böhnke aboard Bünteeichen Ricardo entered the arena in the second group and wowed the judges with a super trot, which was ground covering and expressive, scoring 9.0 for the trot putting him into the early lead with an 8.42. That lead seemed to be holding strong until Dimension AT entered the arena in the 4th group.
Ridden by Wibke Hartmann-Stommel, Dimension AT blazed through the test, showing power, elasticity and cadence in his trot earning the well deserved perfect 10. His walk and canter were super as well, scoring 9.0 for both. The chestnut stallion by Donchester x Notre Beau put in a flawless ride, also hitting the perfect scores of 10.0 for training and rideability. Those stunning marks were brought down by a conformation score of 8.5 to finish with 9.42, which ties Golden State's high score from yesterday.
Wibke Hartmann-Stommel is having quite the show pulling a hattrick in the first two days, having won with three different ponies: Dimension AT, Golden State, and Don Henley, while also placing second to Golden State with Top Christobell. Earlier in the day, Wibke placed third with Tattoo as well.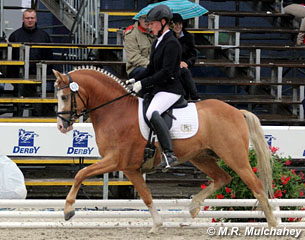 After Dimension AT's stunning ride, FS Mr. Right entered the arena in the next group. Dimension AT had set the bar very high, but the sassy palomino by FS Mr. Mobility x Golden Dancer, put a strong test in with the trot work a real highlight. Ridden by Jana Freund, FS Mr. Right showed a powerful and expressive trot, which was rewarded with a 9.0. His scores were hurt by a walk which could have showed more relaxation and received only 7.5 , bringing his overall total down to 8.33.
Golden Challenge H entered the arena in the same group as FS Mr. Right, and he put a solid effort, finishing close on the heels of FS Mr. Right with an 8.25. His walk was loose and swinging and his trot was regular and elastic, both scoring 8.5. Ridden by Beatrice Buchwald, his canter could have showed more jump, receiving only a 7.5.
Tying for 5th place were Steendieks Champ of Glory 2 and Steendiek's Classic Dream with 8.17. Steendieks Champ of Glory 2, a drop dead gorgeous buckskin by Chambertin x The Braes My Mobility, showed a fabulous walk and canter, scoring 8.5 for his uphill and ground covering canter and 9.0 for his loose and relaxed walk. Ridden by Andrea Müller-Kersten, his score was hurt by a trot, which looked somewhat irregular and wide behind and scored only 7.0. He appropriately received a 9.0 for his conformation, which is beautiful. Steendiek's Classic Dream entered with the last group and put in a solid ride with 8s across the board, with the highlight being the walk, which scored 9.0.  The FS Chambertin x Vita Nova's Golden Boris was ridden by Wenke Kraus.
Text and Photos © Melissa Rose Mulchahey
Related Links
Scores 2012 Bundeschamionate
Eurodressage Coverage of the 2012 Bundeschampionate