2012 Paralympic Games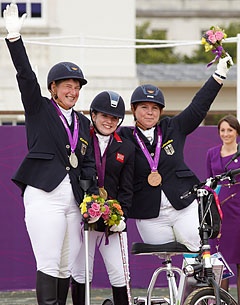 Lots of firsts today with the first equestrian medals of the London 2012 Paralmypic Games won by first-time Paralympians. Natasha Baker in Grade II continued to perform superbly today winning gold with Cabral whilst in Grade Ib, Australia's Joann Formosa and Worldwide PB created quite commotion when winning gold ahead of Lee Pearson, Paralympic champion since 2000.
Dreams come true in Grade II
Paralympic débutant Natasha Baker riding the ever so handsome Cabral achieved her childhood dream, gold at the Paralympics on a Grade II record score of 76.857%. "From the age of 10 when I watched the Sydney Paralympics on television I said I would come to a Paralympic Games and win a gold medal", recalled the 22-year-old. "I had always wanted to be a rider, and to be here and do what we've done today is just incredible. The horses make it what it is - they are just amazing animals. If I have inspired one person to go out there and do any sport, then I will be over the moon. It was Lee Pearson and the other riders who inspired me when I was 10 years old."
Second and third place were close on her heels, with defending Paralympic champion Britta Napel taking silver on a score of 76.048% with Aquilina 3, and German compatriot Angelika Trabert and Ariva-Avanti in bronze medal position on 76%. Napel and Trabert whose score today will provide Germany with some very valuable points towards the overall mark, have participated in several Paralympics – Angelika is one of just three Para-Equestrians to have attended all of the Paralympic Games since equestrian sport joined the programme in 1996, while Napel joined the squad for the 2005 and 2008 editions.
The crowd greeted the medallists with a Mexican wave that toured the arena at least four times and made for an exceptionally moving prize-giving ceremony.
A new champion for Grade Ib
Another Paralympic first-timer stole the show this afternoon by dethroning the most decorated Para-Equestrian of all time, Lee Pearson, with an elegant and harmonious performance on her stallion Worldwide PB. Australia's Joann Formosa's third place on Thursday had alerted some to her medal potential, but it hadn't really crossed anyone's mind that she would be able to take on Lee Pearson and Pepo Puch on her second international appearance! The last time Joann competed internationally was in 2006 at Hartpury where she first met Lee Pearson and set her sights on one day winning gold at a Paralympic Games. "It's been the goal of my life" she said emotionally after the prize-giving ceremony, "when I'm out there I feel great. I may not have great legs, I may be a bit sluggish on some days, but put me on a horse and I am different person. I am free".
It wasn't an easy task getting here with lots of training alongside constant medical attention and fundraising but thanks to the formidable Australian team, which she wished could come on the podium to receive the medal with her, she has achieved what she came out here to do.
Silver went to Lee Pearson who was very humble in defeat and genuinely proud of what he had done today. "I am just as proud of this silver medal as I am of my gold medals" he said after the prize giving ceremony. "It's a numbers game. There are sports where you can only win one medal, whereas I have three chances. I hope to come out and redeem myself in the freestyle."
Third place went to former Event rider Pepo Puch from Austria riding Fine Feeling. Puch was top of the FEI Rankings for Grade Ib coming to the Paralympics, so there were also a lot of expectations on his shoulders as well but as he said "there are many riders in this Grade who are of a very high standard. This class was all about good horsemanship – it was very tight". His wife and daughter (and many Austrians in the crowds it seemed) have been following him every step of the way since he was forced to give up Eventing following his accident, producing an impressive cheer for him during the prize-giving ceremony and a warm welcome when he crossed over into the public area of the arena.
All in all a day of great emotion and personal achievements
Waving crowds
For those of you that are not here to witness it, there is something very unique happening in the arena. At the end of each test, and at the request of certain riders, the crowds are told to refrain from clapping until the horse is with the handler – so instead of clapping, the public have taken to waving their hands and flags in the air, producing a silent but very visual clap and as soon as the handlers are within reach, the crowds let loose. 
Quotes
Joann Formosa (AUS) Grade Ib "I wanted to be in the top ten, but really I wanted the gold. I knew what I wanted – I may not be good at walking, but I'm good at getting what I want."
 
Joan Formosa (AUS) Gade Ib "He's a stallion which is very unusual for Para-Equestrian sport, but he doesn't behave like one . even around mares. He's a real sweetie."
 
Natasha Baker (GBR) Grade II "I screamed wow and kept screaming wow. I couldn't have asked for any better."
 
Natasha Baker (GBR) Grade II "What0's better than one medal? Two medals. I'll be going for another medal on Monday."
 
Lee Pearson (GBR), Grade Ib "I was the most nervous I've ever been, mostly because Gentleman is so insecure. I thought Blue Circle Boy had an odd personality until I met Gentleman… But I was really pleased with the way I rode today and with Gentleman – whether that's enough I don't know but if someone rides better and their horse goes better, I will be really pleased for them."
 
Lee Pearson (GBR), Grade Ib "It's been a tough competition, a tough year, and Gentleman is a tough horse to keep on top of his game. I'm genuinely delighted with silver."
 
Pepo Puch (AUT) Grade Ib "She is really my coach. I used to be a horse trainer, but now she trains me. If I'm not balanced in the saddle, she will straighten me out. I've had her for three and a half years and she's a very spoilt ballerina."
 
Jonathan Wentz (USA) Grade Ib "I'm really looking forward to the freestyle because the music lifts my horse who is normally very laidback."
Barbara Minneci (BEL) Grade II "I was really pleased with the performance. Barilla was really listening to me and it was even better."
Related Links
Day Two for the Team Tests and Great Britain on the Road to Gold
Team Tests for Grades II and Ib Set the Pace for the Week Ahead
Eurodressage Coverage of the 2012 Olympic Games