2012 Bundeschampionate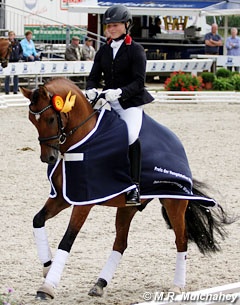 Don Henley and Golden State were the winners of the qualification rounds for the finals in the 3-year old Riding Pony division held on the second day of competition at the 2012 Bundeschampionate in Warendorf, Germany.
Don Henley Rules Amongst the Mares and Geldings
The three year old pony mares and geldings class was won by a well presented Don Henley scoring 8.58. Wibke Hartmann-Stommel rode an elastic and uphill test on the elegant FS Don't Worry x Notre Beau gelding who showed excellent quality in all three gaits. The highlight was the walk, showing very clear rhythm and large overtrack which scored 9.0. He solidly scored 8.5 on both trot and canter. At times, he showed some shortness in the neck, but overall, it was a very pleasing ride.
The first group to go put in two tough to beat rides with Tanja Kleimann piloting Timberlake SH to second place with an 8.33 score and PAV Vanilla Loona placing third with an 8.17. Just as with Don Henley, the highlight for Timberlake SH was the walk, which scored 9.0. The chestnut Timberland x Top Karetino gelding showed nice elasticity. The conformation score of 7.5 brought his overall score down, as all other marks were 8.0 or higher. Kathrin Dittmer put in a solid effort on PAV Vanilla Loona, a lovely bay mare who showed an uphill and scopey canter. Just as with Timberlake, her score was brought down slightly by a conformation score of 7.5, as all other marks were 8.0 or higher.
The top finishers were rounded out with Bieni Bo HE WE and Coppery Crack WE tying with 8.0 to advance to the finals on Saturday. Ridden by Andrea Muller-Kersten, the elegant and typey black mare, Bieni Bo HE WE by Hilkens Black Delight x Rocky Twist, showed good elasticity with good push from behind with the canter being the weakest score with 7.5. The beautiful and super moving Coppery Crack, a chestnut gelding by FS Cracker Jack x Black Boy, showed lots of power and elasticity in his gaits. Ridden by Christiane Seelig, his scores could have been higher with a steadier contact and more uphill carriage.
Golden State Aces the Three Year Old Pony Stallions' Class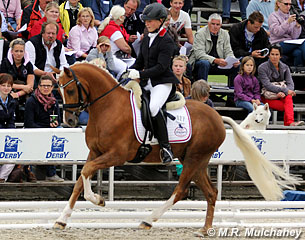 The 3-year old pony stallions presented a very exciting and competitive class with over 20 pony stallions competing. Top Christobell and Wibke Hartmann-Stommel started the class off with a bang. The beautiful dark palomino by Top Champy x Rosedale Tiberius showed power and expression in his gaits, earning solid 8.5s across the board for his walk, trot and canter. The conformation score of 9.5 accurately reflects the correctness and beauty of this elegant and appropriately sized pony. He also scored a well-deserved 9.0 for both rideability and harmony. Their overall score of 8.83 catapulted them into a very high lead in the very first group to go.
It seemed like Top Christobell's score was insurmountable as the class progressed until near the end when Wibke Hartmann-Stommel again piloted another beautiful palomino stallion into the winners circle. This time, riding Golden State owned by American pony enthusiast Melissa Mulchahey, Wibke put in a nearly flawless performance. The FS Golden Moonlight x Donchester stallion showed a great work ethic, excellent physical development and concentration coupled with outstanding paces. The trot work was uphill, showing exceptional reach and elasticity, hitting the mark of 9.5. The clear crowd favorite did not disappoint showing a perfect 10.0 scoring walk followed by a 9.0 for canter. He was rewarded for his rideability with a 9.5 as well as a 9.5 for harmony. The stellar score of 9.42 rocketed them into first place, putting Top Christobell into second place.
FS Numero Uno, ridden by Jana Freund, and Vantastik, ridden by Kathleen Amber Gyll, tied for third place with 8.33. FS Numero Uno by Noir de Luxe x FS Don't Worry impressed with his quality trot, which showed power and expression. The trot was the highlight with a 9.0. The walk showed some weakness compared to his other gaits, scoring only 7.5. Vantastik by Valdez HS x Kaiserjaeger xx was overshadowed in the same group as Golden State, but his excellent ground covering canter was aptly rewarded with a 9.0.  Vantastik showed good quality in both his other gaits and presented a pleasing overall picture.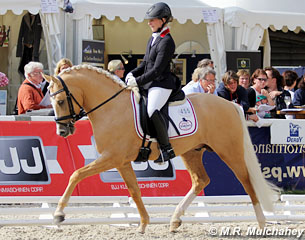 Rounding out the class was Fehkamps Nightley tied with Tackmann's Donut with 8.17 apiece. The young Mylene Straeten rode a very obedient and solid test about Fehkamps Nightley, a dark brown by Noir de Luxe x Monte Christo, scoring solid 8s across the board along with a highlight 9.0 for harmony. Wenke Kraus aboard Tackmann's Donut, a chestnut by Denver x FS Golden Highlight also put in a very consistent and solid ride. The elegant and light-footed chestnut impressed with his steadiness, with the trot scoring 8.5.
The crowd pleasing Olivier K failed to make the finals, much to the vocal disappointment of the crowd. The loose moving and elegant bay by Ombri x FS Champion de Luxe showed a lot of lightness and good quality work, although his overall score of 8.0 fell just short of the top six places.
Text by Alyssa Pitts
Photos © Melissa Rose Mulchahey
Related Links
Scores 2012 Bundeschamionate
Eurodressage Coverage of the 2012 Bundeschampionate