Greatest Oldies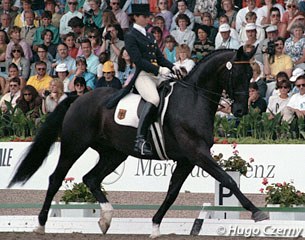 In principle nothing special took place on a particular day in 1981 at the yard of Germany's most renowned and successful horse dealer, Ulrich Kasselmann: a client looking at an unbroken youngster whose breeder had dropped it off not long before. It was the beginning of a partnership that made Germany's Monica Theodorescu famous and that will always be remembered as one of the most inspiring of the past decades. That moment the young Monica became united with a black power house of a horse called Ganimedes.
Monica was just 18 and started making a name on the German junior riders' scene with the grey Cardinal xx son Colorado.  Her father George went with clients to Hof Kasselmann to look at  a youngster for them. They were just having lunch when breeder August Benning arrived to unload his 3-year-old Westfalian gelding. The horse was not too big then and all that caught the eye at first sight was his over-sized, striking head.
In Greek mythology "Ganymed" refers to the "most beautiful of the mortals," but at that time Ganimedes did not yet live up to his name. Kasselmann, George Theodorescu and the clients went to the indoor arena to see the horse move in freedom. It moved in a very good, natural balance and had amazing paces, but Theodorescu's clients rejected the gelding.
The Romanian born dressage trainer decided to buy the horse himself as a prospect for his daughter Monica. Even back then quality had its price, "so a deal was arranged between Mr. Kasselmann and my father. We paid half the price immediately and for the other amount my father worked at the PSI auctions which were in their infancy at the beginning 1980s."
The Model Student

Tthe 1978 born gelding by Grünhorn out of the Fidalgo xx- dam Finess soon came to Lindenhof Stud near Warendorf where Monica's parents Inge and George had moved to by the end of the 1970s. There he was broken in before Monica took him over for further training. Apart from the backing Ganimedes would become the first of several horses she would train through the levels to Grand Prix under the invaluable tutelage of her late father.
'Gani' as she was affectionately called was the ideal horse, even though he still grew a lot in the following few years to end at about 174 cm height. Sizewise he may not have been the perfect horse for such a petite lady like Monica, but his wonderful temperament and his eagerness to learn and work made the daily training not only easy, but a real pleasure. "He had such a marvellous character! Not once in his teenage days did he buck and he always worked so well with us," Monica reminisced.
A mere year after the Westfalian was backed he had a single, but successful first outing in a riding horse class in Münster-Handorf in July 1982 in which he placed second. To the Theodorescus it was never important to show their young, upcoming horses in a lot of young horse or lower level classes. Instead they preferred to quietly and seriously focus on the youngsters' work and progress to the highest levels in dressage they were destined for. So Ganimedes' first start wasn't intended to "qualify him for the Bundeschampionat, but to show him the atmosphere at a show and look how he reacts to it."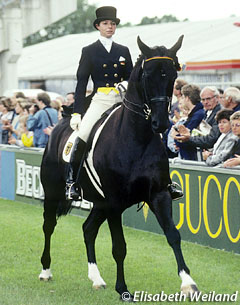 This healthy attitude, which Monica still practises to date, might be one of the reasons why a huge horse like Ganimedes was able to stay at the top of his game for more than a decade. The way to Grand Prix wasn't plastered with difficulties, but instead turned out to be an even one. Everything he was taught Ganimedes promptly took in because it was so easy for him. Monica still thinks back with delight and admiration on how straighforward her greatest horse's training had been. "Ganimedes was such a clever horse. He was alert, but never spooky. Moreover he had the most amazing natural balance which also worked in our favour when we trained the more difficult movements. His lateral work was outstanding from the beginning."
It was plain sailing when Monica and Ganimedes made their S-level debut in June 1984 after another single victorious intermezzo at L-level a year earlier. A freestyle class for pairs in Brasschaat, Belgium, was the ideal introduction and both came a good fourth before the horse earned his first of almost 70 wins at S-level, at the CDIO Rotterdam in August.
Whereas some of the great dressage horses of the past only really excelled at Grand Prix-level, at which the technical demands are incomparably higher and a lack of quality of paces can be compensated to a certain degree, Ganimedes was of a different kind. From the first day as a youngster to advanced level Ganimedes stood out with the pure quality of his paces, as well as the incredible naturalness of his movements. The power and impulsion he was able to create, while maintaining an even rhythm, was breathtaking.
In the following two years Monica and her highly promising youngster became almost invincible at international small tour level, winning the Prix St. Georges and Inter I at the most renowned dressage shows such as Aachen, Donaueschingen, Dortmund, Mondorf-les-Bains, Wiesbaden and Rotterdam. Making her Grand Prix debut at age 17 with her long-time partner Colorado in 1980, Monica had furthered Grand Prix experience on the bay Hanoverian Lexikon. Ganimedes was allowed to take all the time he needed to mature over two years at small tour level with no pressure to reach Grand Prix quickly.
Monica and her father always took the greatest care that Ganimedes, like their other horses, remained a personality which loved working with them rather than an obedient automat producing technical perfection alone. "Even when Ganimedes had reached Grand Prix level his training not only included work in the arena, but I very often went on hacks with him. Either just to relax him or to relocate a working session from the indoor arena into the forest. Back then we only had the small indoor arena so it was very good to have the space outside to practise flying changes or lateral work. Unfortunately nowadays there are giant tractors passing us at top speed so I don't hack as much any more as I used to do with Ganimedes. Another thing which Gani loved and which kept him vital was playing around with my father in the indoor arena. You can call it handwork, but actually both played with each other and my father never missed rewarding Ganimedes with a treat while working with him. I know today it is criticised here and there to work with treats, but my personal opinion is a different one: Horses are our friends and they like being rewarded like that, so why not? Of course they are not allowed to behave badly, they have to be well-behaved, like stand immobile for some time without halter and without begging for treats," Monica explained.
Successful Right from the Start

In autumn of 1986 Ganimedes seemed ready for Grand Prix. Monica didn't choose a small national show for Gani's debut, but the CDI Paris. Though the show was not as meaningful as it would later become, Ganimedes introduced himself to an international judges' panel. Monica and her father had faith in the rising super-star and Ganimedes justified it by winning his first ever Grand Prix after also winning the Inter II class, which was the dress rehearsal. At the end of 1986 Ganimedes was not yet they muscled athlete playing with the GP movements he would later become. His piaffe and passage needed further refinement and also the flying changes were in need of more straightness, but even at age 8 the gelding owned something many horses lose in the course of their long training: absolute purity in his paces which were outstandingly regular, impulsive and wonderfully cadenced.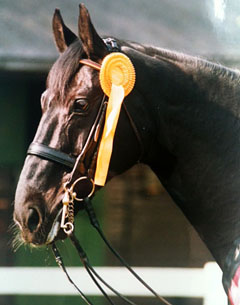 Their winning debut in Paris was the starting shot of a glorious Grand Prix career. When both reappeared on the international scene at the Dortmund indoor show early March 1987 it was the beginning of a year which would herald a change in generations in German dressage sport. For many years it had mainly been dominated by more or less elder men, except when Gabriela Grillo made the team several times in the 1970s and early 1980s. In 1986 young Gina Capellmann and the KWPN gelding Ampère managed to capture a place on the victorious team of the 1986 World Championships in Canada. In 1987 it was not only Gina Capellmann breaking into the male phalanx, but three other young ladies drew attention: Monica, Ann-Kathrin Linsenhoff and Nicole Uphoff. Of these three only Linsenhoff made the team for the 1987 European Championships in England and she won individual silver on her Swedish gelding Courage. However, Uphoff became the 1987 European Young Riders Champion in Italy and went on to win the bronze at the German senior championships as well as the Grand Prix in Lausanne.
Monica and Ganimedes also set their footprints on the German dressage map, competing at the best European CDI shows and never placing worse than 7th except their 12th place at Mannheim in May. They didn't win any of those major classes, but their consistency was surprising for an only 9-year-old horse with a 24-year-young rider, yet the latter not so inexperienced at these levels. At the end of 1987 Monica and Ganimedes were 10th on the inofficial world rankings published by L'Année Hippique, right behind her father with the KWPN gelding Sonny Boy, which would later become three-times Olympic dressage horse of his Italian student Daria Fantoni. So nobody was really surprised when Monica and her horse were among the seven combinations appointed on the German Olympic longlist in November 1987.
Not even the greatest optimists could guess which four pairs would carry the German flag in South Korea 10 months later. Monica, known as a moderate and rather introvert personality, knew the strength of her horse and she was aware that it was not impossible to join the Olympic dressage team at age 25. "During that time there was the beginning of a change of generations and I thought I had a chance, but most important I had the absolute will to make the team. Those were the Olympics, everybody wants to go there!"
The Way to the Olympics

The German FN had recommended showing the long-listed horses at Dortmund in March, Balve in May and Wolfsburg in June to check their form, but the official Olympic trials were only held at Aachen in late June and at the German Championships in Verden in mid August after which the Olympic nominations would take place.
Ganimedes and Monica had to bear a little setback at the beginning of their Olympic campaign when the horse caught a cold and could not compete at the first show in Dortmund. Both came back in Balve and the impressively moving Westfalian proved that he had conserved his form of 1987 and built on it, placing third behind two more potential Olympians, Rembrandt and Courage. Ganimedes could repeat the feat in Wolfsburg and even more importantly at the CDIO Aachen. There Nicole Uphoff and her  shooting star Rembrandt, another yet very different type of Westfalian warmblood, as well as Ann-Kathrin Linsenhoff with the Ceylon son Courage were prematurely nominated for Seoul. The other two places would be decided at the German Championships a week before the horses had to enter the long quarantine for South Korea.
In contention werenot only Ganimedes, but also Ampère and more surprisingly Dr. Reiner Klimke's long injured 17-year-old Westfalian Ahlerich who had made a much-noticed come-back. In two different sections for each gender they rode against each other. In the ladies section Gina Capellmann was 14 points ahead of Monica in the Grand Prix, but in the Spécial Ganimedes secured the 3rd place behind Rembrandt and Courage. After some consideration chef d'equipe Anton Fischer and national coach Harry Boldt proclaimed the Olympic dressage team of Germany on the evening after the German Championships. Ahlerich and Ganimedes got the 3rd and 4th spot. It was to become the youngest German dressage team ever to start at a major championships with Nicole Uphoff at 21, Monica at 25 and Ann-Kathrin Linsenhoff being 28 while Dr. Klimke could have been their father at age 52.
For Monica and her reliable "Gani" there was not much time left to pack for the long journey ahead. A mere week after their nomination both had to leave the safe haven of their home to start the adventure at their first ever Olympic Games. The first station was Liselott Schindling- Rheinberger's most beautiful Schafhof property in Kronberg near Frankfurt. All team horses plus the reserves moved there to start the 3-week quarantine on 21 August 1988. While Monica happily recalled the nice time everybody enjoyed there, only having to take care of one single horse, her father had busier times. Not only because he was the trainer of Italian Daria Fantoni who had qualified for Seoul as an individual rider on Sonny Boy, he also took the efforts to drive the 300 kilometres from Füchtorf to Kronberg every single morning to train his daughter.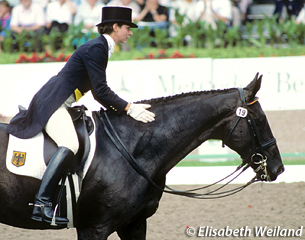 "My father attended every training I did with Gani at Kronberg. We knew each other inside out so he only had to look at me and I knew what he meant. Harry Boldt as the national coach was there as well, but both never bothered each other. On the contrary: My father liked Harry very much and often Gani and I would ride and ride and ride while both men were in conversation until one remarked, 'Good, go on like that!'," Monica confessed with a smile. How effective these training sessions before the departure had been the late Dr. Reiner Klimke wrote in his book Olympia der Reiter Seoul 1988:"Monica had been the most diligent in the training. Ganimedes improved very much in piaffe and passage."
Finally on 10 September the German dressage horses were transported to Frankfurt airport for the 13 hour flight via Russia around the globe to Seoul, South Korea. Ahlerich was the only seasoned air traveller of the four horses, but Monica knew her horse's fine temperament and she didn't worry too much beforehand. She didn't accompany Ganimedes on the airplane, "but he had to have travelled well because he arrived at the Equestrian Park not only unscathed, but in best spirit."
A Golden Experience

The horses arrived at the site of the equestrian Olympics 20 km outside Seoul two weeks before the Grand Prix took place to get used to the different climate which could quickly change from high humiditiy to very hot temperatures. There were worries about how the horses would react to the chlorinated water. The German team took all precautions "so we brought quantities of mineral water in the plane to offer it to the horses if they would refuse to drink the Korean water. In the end our worries had been all for nothing because all of our horses didn't show any problems of drinking, so we took about 3/4th of the mineral water back home in the end."
The preparations continued to run smoothly and on 23 September 1988, the day before the Grand Prix, the vet-check took place which all German horses passed without any problems. The  draw for the order of go meant that Monica and Ganimedes were the last of the German squad to start almost at the end of the second day of the team competition in a record field of 53 starters from 18 nations, including 11 teams.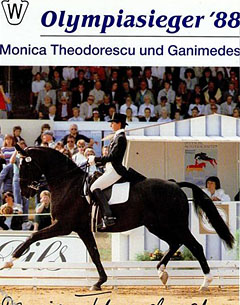 Even though the German team had won gold at the Europeans the previous year with a margin of just 3 points ahead of Switzerland the nation was favourite for gold. As the last starters it was the question how well the just 25-year-old would handle the pressure on her Olympic debut. Monica managed this surprisingly well and it taught her a lesson for her many more championship starts yet to come. "Waiting for Ganimedes' and my turn I tried to stay calm by listening to music on my Walkman. Also I tried to keep me occupied by reading. I really learned to stay calm at Seoul. On the 2nd day I had a long lie-in because my start was late that day. When I went to the stables the order was so that nobody informed me on the standings, so I just focused on my horse and our performance," Monica confessed.
When the bell rang in the huge stadium with hardly any crowds, umpteen flags were rattling in the wind. Ganimedes and his rider were the picture of elegance in the late afternoon's sunlight. Monica said that despite being aware of competing at the Olympics she felt calm and confident when she entered the arena. Ganimedes absolutely rose to the occasion. Being able to perform to one's ability at such an important championships is the aim of any sportsmen, but to show one's very best performance so far is something rare. Ganimedes thrilled the judges and spectators alike by displaying a fascinating interaction of unparallelled impulsion and a high degree of collection. Here was a horse sure of himself and loving to do what he was asked to. Ganimedes floated over the sand like no other horse was able to do in a similar supple yet dynamic way that day. Only in the piaffe Ganimedes couldn't match leading horses Rembrandt and Margit Otto-Crépin's fantastic Holsteiner athlete Corlandus. Although Monica's horse showed a good lowering of the haunches his forehand remained too earthbound and there was not sufficient push-off in general.
In the end their Olympic debut became a triumph because they placed third, only 25 points behind Nicole Uphoff and Rembrandt. "That third place was truly very surprising," Monica admited. It was a fairytale come true and also unforgettable in the sense that the three young ladies had won the team gold with the legendary Dr. Klimke being the drop score! Nobody could deny that there was the justified hope that at least two of these newbies would be able to win individual medals as the judges had clearly shown that they preferred the young horses courageously being ridden forwards to faultless, but timid presentations some routiniers had shown.
On the decisive day of the Grand Prix Special some jinx seemed to hang over the bustling Kwacheon stadium with almost every horse not performing faultlessly for whatever reason. When one good horse after the other had at least one more or less serious blow the big chance for the last starters arose to reach for a piece of gold, silver or bronze with a faultless performance without the need of risking the utmost.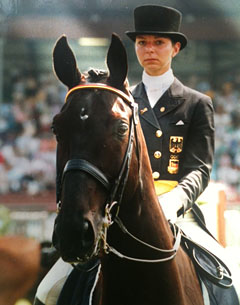 Monica knew that she sat on a horse which was not easily distraced by environmental influences, so she was confident when she neared the entrance to the stadium for her ride. "On the right hand side from the entrance there was the open tribune and left the one of the race-track which ran behind the stadium. When we passed the entrance Swiss supporters were running along with cowbells which made quite some noise. Gani didn't spook and they stopped ringing when I entered the arena, so I wasn't worried about it," Monica recalled the day.
Ganimedes left no doubt he was still in top form and began like in the Grand Prix: he showed copybook trot extensions and continued with lots of engagement and with a fine self-carriage. Until then they were faultless, but then the first piaffe came and Ganimedes resisted and stepped backwards. "Ganimedes spooked exactly when he should piaffe towards the tribune the cowbells had welcomed us entering the stadium. It was most unusual for Gani to spook. He never ever did that. Maybe he remembered the noise of the cowbells which might have frightened him. Who knows? Of course it was a pity, but those are the Olympics," Monica reflected on it philosophically 24 years after the incidence which disturbed the harmony between her and Ganimedes a bit. It led to a mistake in the flying changes and in the transition to passage at the end. Despite the highlights both had shown, those were costly mistakes, bringing them down to a sixth place, 32 points behind the Swiss bronze medal winner Christine Stückelberger.
After his return from South Korea Ganimedes got a well deserved break and winter rest. It wrapped up a busy season and he was allowed to slow down in his familiar surroundings of Lindenhof Stud where he enjoyed being walked and hand-grazed a lot after the long weeks away from his home. He was able to completely give himself to his most favourite occupation: Cribbing! "Gani didn't wind-suck from the beginning, but when he was a young horse my father now and then offered him a lump of sugar through the bars of his stall and one day he started with this habit." Luckily he never suffered from any illnesses resulting from this bad habit, but sometimes his beloved rider's sleep was cut short due to it. "Gani was stabled in a box where he could look outside and my room was not far from it. Quite often I would wake up in the mornings not by my alarm clock, but the noises Gani's cribbing produced! We put electricity on the frame of the window, without much success! Gani was able to wind-suck on the smallest rim."
Rembrandt as Rival Along the Golden Trace

The year after Olympic Games often brings about a downfall in atmosphere and anticipation, but still the European Championships in Luxemburg were on the schedule and Ganimedes started his season with two wins at the national Grand Prix show in Walldorf near Heidelberg, followed by placings in the top 4 at Wiesbaden, Aachen and Berlin. It was no question he joined the ladies' team with the same horses and riders like a year earlier, but the retired Ahlerich had been replaced by the heavy Weingart under a new comer, the 20-year-old Isabell Werth.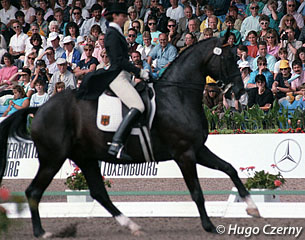 The Europeans in the idyllic small town of Mondorf-les-Bains saw another team gold medal for Ganimedes and Monica who like in Seoul finished in 3rd place behind Rembrandt and Corlandus in the Grand Prix. In the individual class Ganimedes had to hand this medal earning position to Ann- Kathrin Linsenhoff's 16-year-old Courage, which was retired thereafter. Monica took her ever-improving gelding to the big CDIO Rotterdam only a week later and won the Grand Prix-tour. They continued their winning ways at the CDI Donaueschingen in September. They finished another successful season on a high note with two second places at the CDI Stuttgart indoor show in October behind the almost invincible Rembrandt.
This incredibly elegant and expressive gelding which was a nephew of Ahlerich (being bred by the same breeder in Westfalia) was the only horse in Germany Ganimedes had to fear during those times. From a classical point of view one can wonder if Rembrandt was really that superior as the marks suggested at the time. Of course and without a doubt Nicole Uphoff's bay was a most fascinating appearance, creating the longed for impression of the "dancing horse". His lightfootedness was absolutely one of a kind, but in all objectivity one cannot deny that Rembrandt's degree of collection could not quite rival the one of Ganimedes, which moreover had by far the best paces. Ganimedes had clear advantages in his exceptional walk and his wonderfully centered canter pirouettes whereas Rembrandtl's transitions from piaffe to passage and vice versa were as rhythmical as a metronome. Such transitions are much easier for a horse which does not lower its haunches whereas Ganimedes showed more sit in his piaffes, but he neither had much push-off from the ground nor much lift of the forehand.
Monica blames herself for the fact that the piaffes remained the weak spot of her otherwise great horse: ""We piaffed Ganimedes as a younger horse first in hand and he did it very well. Usually when we started piaffe like that and we preferred having a tall bereiter holding the reins over the withers like a rider instead of using side-reins. Later when it came to doing the piaffe under the saddle I was very distinctive. I was the only one ever sitting on Gani's back and I just wouldn't allow my father to sit on him and help us with the piaffe from the saddle. I am sure my horse would had been able to show a very good piaffe also under the saddle if only I would once have given in," Monica confessed.
Ganimedes' Finest Hour

The black horse's strong position was confirmed with Grand Prix wins at CDI Dortmund and   and he took over Rembrandt's role as the leading German horse when Nicole Uphoff fell off a younger horse and was side-lined by a broken arm as of May. At Aachen Ganimedes won the CDIO Grand Prix-tour, making sure his name is forever engraved on the long big plate showing all winners on the tribune of the main stadium. The horse smoothly continued his winning streak at the German Championships at Mannheim where, he won his first national title.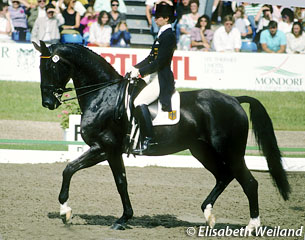 Ganimedes, Ann-Kathrin Linsenhoff's new Grand Prix-horse Golfstrom (a former Hanoverian state stallion) and Sven Rothenberger's KWPN gelding Ideaal (on the German team at the 1986 World Championships under Johann Hinnemann), were nominated on the team for the first ever World Equestrian Games in Sweden's capital Stockholm. These three were joined by Rembrandt who had been kept fit by national coach Harry Boldt during his rider's injury. At the 1990 WEG Uphoff rode him with a stiffened arm.
In Sweden they all were awaited by high summer temperatures and a never before seen record field of 68 riders from 23 nations of which 14 were able to send a team. A Grand Prix marathon for judges and crowds alike, even though the FEI had shortened the Grand Prix programme a bit, regrettably by deleting the "Schaukel"(rein back without halt), an important movement to check the horse's throughness.
Monica and her father had made sure their top dog reached his peak during those sunny days in Sweden. For George it was the return to exactly the place where he had once started his remarkable international career in dressage 34 years earlier. In the same wonderful historic stadium in the heart of Stockholm, built for the 1912 Olympic Games, where his daughter was to ride her first World Championships, he had competed in the 1956 Olympic Games on a thoroughbred called Palatin. Back then the horses had performed on grass and not on the surface striking the eye in 1990. "If I think back of the WEG in Stockholm first of all this bright neon green sand comes into my mind," Monica joked.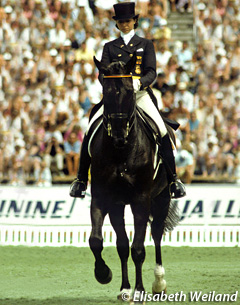 After placing fifth in the Grand Prix with room left for more risk Ganimedes strode through the archway into the huge stadium with towers on each corner. Side by side with his companions Ganimedes passed this entrance after having strongly contributed to Germany's team gold medal. This monumental stadium had so far seen only Swedish teams in the winning position: 1912 and 1956 it had been their own teams earning the gold medals.
For the individual medals Rembrandt once again seemed out of reach for any other horse, looking better than ever, focused on his handicapped rider.  Behind them the battle was on with Ganimedes amongst the medal contenders. The gelding was now 12 with every muscle trained the way it should be: powerful hindquarters which easily pushed in the extensions and carried in the collection. Their performance was one of these moments of glory in which all comes together. Despite a small flaw in the two-time changes and timid piaffes, Ganimedes left the impression of magnificence in his movements and of a partnership based on mutual understanding.
Switzerland's Olympic Champion Christine Stückelberger, who ranked behind Ganimedes', finishing 5th on Gauguin de Lully CH:"For me Ganimedes had been the most beautiful and wonderfully moving horse of his time and he was just impressive at Stockholm," the Swiss recolleced.
Finally Monica and her horse had made the individual podium, winning the bronze medal which had seemed destined for France's Margit Otto-Crépin whose Corlandus' timid trot extensions might have cost them their 4th medal since 1987. Two points divided both pairs, but this time luck was on Monica's side and no doubt Ganimedes was a horse deserving to be included in that exclusive circle of individual medalists. He finished this wonderful season early after winning the Grand Prix-tour at the CDIO Rotterdam three weeks after the WEG.
A Second Successful Career to Music

Unfortunately a prolonged tendon injury made sure that Ganimedes was out of action for almost the whole 1991 season and wasn't fit in time to vie for a team spot. As fortunate as Ganimedes had been to slowly grew into the Grand Prix sport as lucky was Monica's younger Grand Prix horse, the 1981 born Hanoverian Grunox. And even though the liver chestnut didn't make the team for the 1991 European Championships, Grunox successfully stepped in and earned high placings at every of his 10 starts at the best international dressage shows.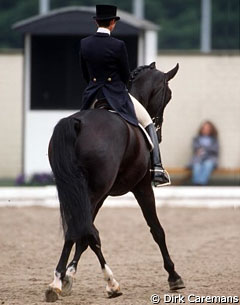 Ganimedes returned to the show ring after his one year break in October 1991 and did the Stuttgart and Hanover indoor shows where he placed highly and showed he hadn't lost his brilliance. The same year Monica also competed Ganimedes' half-brother at Grand Prix level, the 1981 born Simpathico. He came from the same breeder and was out of Ganimedes' dam Finess, but sired by the Sinus xx-grandson Silvester.
In 1992 Monica found herself in the enviable situation to go into the Olympic season with two contenders for a team spot, though no doubt her more experienced and proven partner Ganimedes was first choice for Barcelona 1992. The original plan was to aim for the World Cup final in Gothenburg with Grunox and have him as back-up for Ganimedes for the Olympic Games.
In his 6th Grand Prix season Ganimedes was as fit as ever. He won Dortmund in March, Balve and Mannheim, but in the course of the season it turned out that his stable-mate Grunox "who learnt cribbing from Gani" was even more successful and the chestnut became Monica's Olympic horse for Spain.
Of course some may say that from now on Ganimedes' career suffered with a rival in the stall. Gunox was a horse with similar good paces, but a more lively piaffe. His presence didn't imply a downfall for Ganimedes, just a change of direction. Unlike other riders who only had one good horse Monica was lucky with two horses and she redirected Ganimedes' career to focus on the World Cup qualifiers rather than the outdoor season. A freestyle was choreographed and suitable music chosen. Monica used music from the "River boat" amongst others which just suited her horse perfectly. Her music especially emphasized Ganimedes' flying changes.
In the 1992-1993 World Cup season Ganimedes took centre-stage like a bomb! He won all three qualifiers in which he started (Amsterdam, Berlin, Neumünster) and was the clear favourite for the finals held at s'Hertogenbosch. When the World Cup was launched in the mid 1980s there were concerns and critical voices dressage would get an artificial touch and riders would prefer haiding their weak spots under the carpet with their own floorplan. Ganimedes among other horses was the proof that it didn't necessarily had to be like that.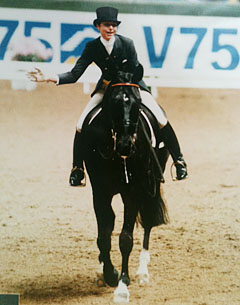 In 1993 Ganimedes continued to flourish and won his first World Cup final. A year later he repeated his win at the finals in Gothenburg after Monica had only presented him victoriously in Paris a mere month earlier. As the title holder she had qualified anyway and there was no need to push the experienced horse through the whole qualification procedure.
In 1995 Ganimedes turned 17 and Monica used the same kind of preparation for her horse's third finals, this time held in the USA. She won in Paris at the end of March and then Ganimedes flew to LA, together with the other German horses Donnerhall and Biotop. This time the chances to earn a third consecutive win were slim as it was the time when Anky van Grunsven and Bonfire began dominating the World Cup.
Ganimedes became the runner-up, but he did it in a style and way that was impressive. The purity and regularity of his wonderful movements hadn't diminished over the years, he still moved with suppleness and amazing motivation.
Monica remembers the days at Los Angeles as very happy ones. "It had been a great show which started with an unevenful journey. We all had so much fun and celebrated a lot after."
During those delightful days in California Monica followed her instinct which told her that this show would have been one of Ganimedes' last. "It was not planned beforehand, but I just felt that this is the right moment to retire my horse."
Long Happy Retirement

Ganimedes' retirement meant almost immediate withdrawal from the spotlights as of the summer of 1995. There was no official retirement ceremony. When Gani came home  Monica continued to ride him daily and did so until he was 20.
"Almost all his life long nobody else than me sat on Gani. We didn't change that when he was retired and so we didn't use him as a schoolmaster like we do with other retired horses." At 20 Ganimedes started a life entirely in the field, a life the Theodorescu family give to all their competition horses once they are retired. He joined the "pensioner gang", grazing side by side with Monica's former Grand Prix-horses Epheb, Lexikon and Simpathico. In 1997 Grunox joined them as well.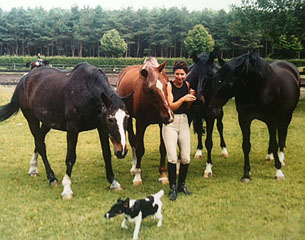 Even though Ganimedes had suffered one serious injury during his career, he was blessed with general good health and a solid physical constitution which was not damaged by wrong training approaches or excessive demands. It not only enabled him a remarkable successful and enduring career, but also 11 years of happy and well deserved retirement at home.
Until his last day Ganimedes was in a good state but one day in 2006 he came in from the field and lay down in his stall moaning. "Gani never lay down when he came in and his behaviour that day was most unusual, so we called the vet," Monica remembered. "All happened very quickly, from one day to the other. Of course we could have tried medical options like stimulating the weak heart, but I didn't want to do that. If the day has come one has to accept it. Horses show us when they don't want to live any more and I respect their decision."
At the grand old age of 28 Ganimedes left Monica. "I spent half my life together with Ganimedes. It is hard to say what my fondest memory is of him or our greatest success. It is everything together. I have so many wonderful memories."
By Silke Rottermann for Eurodressage.com
Photos © Hugo Czerny - Elisabeth Weiland - Dirk Caremans - Private
Related Links
Monica Theodorescu: Backed by History, Facing the Present on Home Bred Horses
Scores: 1990 World Equestrian Games
Georg Theodorescu Passed Away
Greatest Oldies: Nicole Uphoff's Rembrandt: A Living Work of Art