2012 Olympic Games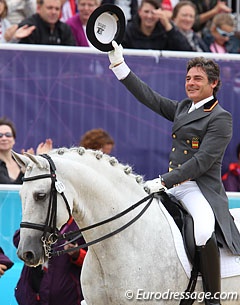 Sliding into the top ten dressage pairs in the world, Juan Manuel Muñoz Diaz and his PRE-sational horse Fuego proved this breed has a great talent for sport. "To be riding the world's best dressage PRE is a feeling of great satisfaction and I feel incredibly lucky to be the rider of Fuego for the past 10 years," Juan Manuel Munoz Diaz explained.
With a score of 75.608% in the Grand Prix Juan qualified in 10th place for the Grand Prix Special and went on to delight his audience. Yet again he made his nation extremely proud.
"I was very happy to get the Spanish team off to such a great start and I will never forget being number 10 in the world."
Dropping a little in the Special with a 75.476%, Juan re-instated 10th place after his musical performance. He  says the character of Fuego carried him all the way.
"Fuego is extraverted, joyful, expressive, sensitive and noble. Without doubt a wonderful horse."
"Happy" with his result at his second Olympics Juan says there is still more to come and hopes to keep on reaching for those prime positions.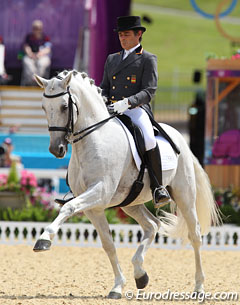 "I really would love to be even higher, but it is difficult. The level of the horses gets better and better every year."
While there will never be a horse equal to Fuego in Juan's eyes, the Spaniard believes there will be many with similar potential and the sire's sons are already well on their way to dressage stardom.
"Do I love Fuego? Yes, of course. He is my partner and my friend for over ten years."
Balance and talent is what Juan considers to make a good dressage horse and lucky for him Fuego has ample supply of both.
"Fuego is special and after a much deserved vacation, he will be brought in for light training and take up his roll as stallion."
Bred by Joaquin Marquez Gonzalez and owned by Yeguada Cardenas, Fuego is the joyful horse of the barn. Juan confessed you would "need a book" to keep record of all his funny moments with Fuego and hopes there will be many more great moments to come.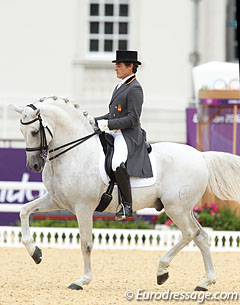 "I would love to go to the WEG 2014 or the 2016 Games, but if we go it will be on another horse."
Not stopping his riding career until "he physically can no longer do it" Juan admitted it was a long road to the success he has had today, but feels his career has more highlights to come.
"To get Fuego to Grand Prix I had to ride him everyday with perseverance, dedication, and push myself to be a part of the big game."
Inspired by Carl Hester and Hubertus Schmidt, Juan is "very satisfied" with his own work, but of course there is always one image that every rider dreams of fulfilling: "If I could ride any horse in the world dead or alive it would be Totilas!"
by Sarah Warne
Photos © Astrid Appels
Related Links
Eurodressage Coverage of the 2012 Olympic Games