2012 U.S. Young Horse Championships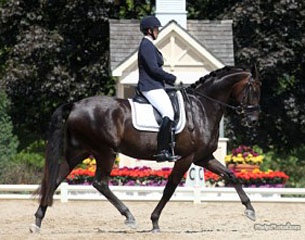 Claiming the 2012 Five-Year-Old title at the 2012 U.S. Young Horse Championships were Lientje Schueler and Regalo. The combination produced the highest overall score after two rounds in the 5-year old division at the Lamplight Equestrian Centre in Wayne, ILL, USA.
Schueler (San Diego, CA) and Regalo (by Rosario x Nandino) were the clear winner of Saturday's 5-year old Final Test scoring 8.16, which counted toward 60% of their overall score of 7.912. Pinky Robert's Oldenburg gelding received 7.5, 8.8 and 7.9 for their walk, trot and canter as well as 8.4 for  submission and 8.2 for general impression.
Last year's third place finisher as a four-year-old looked relaxed and happy in both championship classes which Schueler found to be very important.
"I didn't change much from the first day," said Schueler of her approach to Saturday's test. "I was very happy to hear from the judges that I had a harmonious ride and a happy horse. That is always my goal."
Schueler is a firm believer in the Markel/USEF National Young Horse Dressage Program and thinks it's very important to keep a thorough record of the breeding.
"It's a great program and that helps keep track of the bloodlines."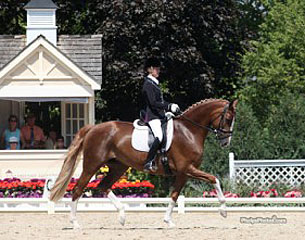 Alice Tarjan and Elfenfeuer (Florencio I-Elfensonne by Sion) collected Reserve Champion honors with an overall score of 7.864 after scoring an 8.0 on Saturday. The Oldenburg mare owned by Tarjan scored 7.4, 7.9, 8.0 for the walk trot and canter. They also earned 8.5 and 8.2 for submission and general impression.
Tarjan was pleased with the mare she has only had for a year and her improved effort from the Preliminary Test.
"Today she was a little quieter, maybe a little behind the leg. But I'm thrilled with her she has come a long way."
Placing third was Patricia Becker (Wadsworth, IL) and the Oldenburg stallion Freedom (Feuri-Windjammer by Walk On Top) with an overall score of 7.612. The pair earned 7.9 for Final Test on the way to earning Top U.S. Bred award.
Photos © Mary Phelps   
Related Links
Scores 2012 U.S. Young Dressage Horse Championships
Elfenfeuer Leads 5-year old Division at 2012 U.S. Young Horse Championships