2012 Bundeschampionate Qualifier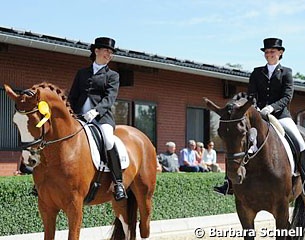 The final Bundeschampionate qualifier of the 2012 show season was held at Duckershof in Kaarst-Holzbüttgen on 5 August 2012. The 5-year old Rubin and the 6-year old Dusterberg were the winners of the L and M-level Bundeschampionate qualification classes.
In the 5-year old division a pregnant Stefanie Wittmann scored the winning mark of 8.2 aboard her Hanoverian gelding Rubin (by Royal Blend x Wolkenstein II). The rider, who is still unsure whether she'll be able to compete in Warendorf due to her condition, reiceived an 8 for trot, 8.5 for walk, 8 for canter and submission and 8.5 for general impression from the panel of judges. Jessica Süss and the Classical Sales Warendorf former auction horse Tarantino (by Toronto x Carbid) finished second with 8.1. This pair for 8 for trot, 8.5 for walk and canter, 7.5 for submission and 8 for general impression.
Tanja Sauerwald and the Trakehner stallion Dusterberg (by Distelzar x Herzzauber) produced the winning score in the 6-year old division, but her 7.6 overall mark was not sufficient to qualify for Warendorf. The black stallion got 7.5 for walk, trot and canter, 8 for submission and 7.5 for general impression. Just Michael Lursen and the Westfalian gelding Danny Ocean (by Damon Hill x Wenzel I) were second with 7.5. This pair got 7.5 for trot, 8.5 for walk, 7.5 for canter, 6.5 for submission and 7.5 for general impression. Danish Fie Skarsoe and the Oldenburg bred For My Life (by Furst Heinrich x Don Schufro) tied on second place. This got straight 7.5 marks for walk, trot, canter, submission and general impression.
Photo © Barbara Schnell
Results - 2012 BuCha Qualifier - Kaarst-Holzbüttgen
5-year olds
Jugdes: Rolf Peter Fuss, Reinhard Richenhagen, Ralph Schmidt
1. Stefanie Wittmann - Rubin - 8.2
2. Jessica Suss - Tarantino - 8.1
3. Tanja Sauerwald - Kentucky - 7.7
4. Anne Horstmann - Lifetime - 7.6
5. Marion Schleypen - Rock for Westfalia - 7.5
6. Nicole Louven - Laurino - 7.4
6. Christian Reisch - Samoa - 7.4
6. David Taylor - Una Bailarina - 7.4
9. Gabriale Osterkamp Winkmann - Santanus - 7.3
9. Ina Tempel - Ribiano - 7.3
11. Christian Reisch - Reamon - 7.2
12. Simone Weichert- Copyright by W - 7.1
13. Martin Pfeiffer - Rihanna Forever - 6.9
14. Susanne Muller Windgassen - Rudolfo Santo Negro - 6.5
15. Inga Dorpfeld - Quandira - 6.4
Therese Nilshagen - Velvet Touch - RET
6-year olds
1. Tanja Sauerwald - Dusterberg - 7.6
2. Just Michael Lursen - Danny Coean - 7.5
2. Fie Skarsoe - For My Live - 7.5
4. Petra Wilhelmer - Rivana W - 7.4
5. Anne Horstmann - Bernadetti - 7.3
6. Britta Lichtenberg - Furst Piccolos Junior - 7.2
7. Gabriele Osterkamp Winkmann - Don Amour - 6.3
8. Judith Arntz - Laurensberg - 6.0
Back to the 2012 Bundeschampionate Index