Dutch Dressage News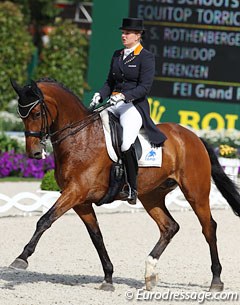 Lotje Schoots' Under 25 Grand Prix horse Torricelli tested negative to doping or controlled medication following a requested blood and urine test at the 2012 CDIO Aachen.
FEI Stewards in Aachen were flagged by spectators who apparently saw a groom inject a fluid into Torricelli's mouth right before entering the arena. This prompted the stewards to have Torricelli tested at the venue. Schoots always stated her horse was just fed a sugar cube.
"We, nor any of the Dutch officials present, are aware that Lotje received a reprimand/warning in Aachen," Lotje's father stated at the time. "Even more so, Lotje was never officially reprimanded. The assumption that something was put on the horse's tongue is untrue. Like at any show my wife checks and cleans the bridle and bit and Torricelli always gets a sugar cube as reward. Nothing more, nothing less. To bring and keep our horses in top condition we work 24/7 with them. The interest of the horse is always a main concern for Lotje as well as for us and that's why our horses are always able to perform at top level."
Dutch Lotje Schoots became the centre of attention in Aachen when spectators as well as the stewards saw her train in the LDR-method for longer than the allowed 10 minute rule. Steward Rolf Peter Fuss approached Schoots at the warm-up ring and requested her to stop riding her Dutch bred Florestan offspring in such a manner.
The results of the doping test were announced this week and were listed as negative on this FEI file.
Photo © Astrid Appels
Related Links
Lotje Schoots Reprimanded by FEI Steward at 2012 CDIO Aachen
Lotje Schoots Proclaimed Dutch Talent of the Year 2007
Lotje Schoots Leaves Stable Van Silfhout
Schoots Wins Young Riders Classes In Style at 2008 CDI-YR Weert