2012 Bundeschampionate Qualifier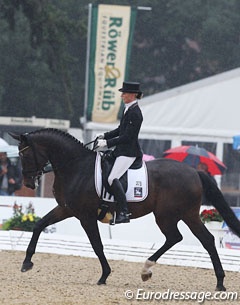 The 5-year old Louis Latour and the 6-year old Fairytale won the L- and M-level Bundeschampionate qualification classes at the regional dressage show at Hof Bettenrode on 19 July 2012. The Bettenrode qualifier was one of the last of the season which resulted in a large field of 5-year olds showing up.
Christian Flamm and the Hanoverian branded Louis Latour (by Londontime) scored one of the season's best qualification scores so far, earning 8.7 for his ride and winning the 5-year old division. Norwegian Isabel Bache and the November 2006 born Hanoverian Bobcat (by Breitling W) were second in the 5-year old class with an 8.4 score. Marion Loew and the Hanoverian Danccini (by Don Crusador) completed the top three with 8.3.
Bache and the Oldenburg registered Fairytale were good for the trophy in the 6-year old division. The pair scored a winning mark of 8.3 and beat Christina Munk on the Hanoverian Harry Potter (by Hochadel) who posted a score of 8.1. Paulina Krafft and the Rhinelander bred Diddy Cool (by Daddy Cool) tied on second place with 8.1.
Results - 2012 BuCha Qualifier - Hof Bettenrode
5-year olds
1. Louis-Latour - Flamm, Christian - 8.70
2. Bobcat - Bache, Isabel -  8.40
3. Danccini  - Loew, Marion - 8.30
4. Felice - Camp, Lydia - 8.20
5. Sir Diamond - Camp, Lydia - 8.10
6. Baronesse - Rosenbauer, Falk - 7.70
6. Fats Domino -  Lütkemeier, Fabienne  - 7.7
8. Schmuckstück -  Finken, Holga  - 7.60
8. Haya -  Gießelmann, Jan-Dirk -  7.60
8. Wyperfeld - Ludewig, Sophie - 7.60
11. Dakira -  Bammel, Manuel - 7.50
12. Delacroix -  Bimschas, Alexandra  -  7.40
12. Digby -  Mayr, Angelika  - 7.40
14. Supreme Surprise - Hannöver-Sternberg, Martina - 7.30
15. Dreamy H - Bertelmann, Elisa -  7.2
16. Lorentino - Liebregts-Busch, Mayke  - 7.00
17. Douro -   Gießelmann, Jan-Dirk - 6.80
18. Fairbanks G - Kirn, Sandy -  6.50
19. Hot Summer - Bertram, Claudia -  6.0
6-year olds
1. Fairytale - Bache, Isabel - 8.30
2. Harry Potter - Munk, Christina -  8.10
2. Diddy cool - Krafft, Paulina  - 8.10
4. D'Armani - Husenbeth, Klaus  - 8.00
5. Saphira - Klatt-Cissee, Nicole - 7.70
6. Dorian Gray - Hess, Philipp - 7.5
7. Fürst Royal - Böhnke, Sascha - 7.40
8. Damina -  Eulner, Viktoria - 7.00
9. Sinatra M  - Weishaupt, Wibke -  6.50
Weisel - Siebel-Schön, Andrea  - DNS
Back to the 2012 Bundeschampionate Index