2012 Bundeschampionate Qualifier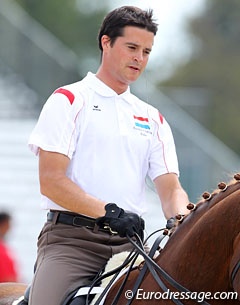 At the Rhinelander regional dressage show held at Sirzenicher Hof in Trierweiler, Germany, on 27 July 2012, riders had to second to last opportunity to qualify for the 2012 Bundeschampionate in Warendorf. The 5-year old Handsome and 6-year old Sir Hawk won the L- and M-level test.
The Luxembourg Grand Prix rider Gaston Chelius won the 5-year old division aboard his Hanoverian bred Handsome (by His Highness x Espri). The pair scored an 8.2 to take home the trophy. Luxembourg based Sascha Schulz finished second on his Oldenburger Frimeur (by First Junior) on 8.0, while Ina Tempel and Ribiano (by Rocket Star) were third with 8.5.
In the 6-year old division Alexandra Hidien and her already quite seasoned Oldenburg Sir Hawk (by Sir Donnerhall I) put an 8.3 on the score board to claim victory. Former German junior rider's team member Jill de Ridder was second on the Rhinelander bred Whitney with 8.0, whereas Luxembourg based Dane Fie Skarsoe finished third on the Oldenburg For My Live (by Furst Heinrich) on 7.5.
Results - 2012 BuCha Qualifier - Trierweiler
5-year olds
1. Handsome  - Chelius, Gaston - 8.20
2. Frimeur - Schulz, Sascha  - 8.00
3. Ribiano - Tempel, Ina - 7.50
4. Vision - Wenger- Rossy, Sophie - 7.40
5. San Siro - Häschke, Antje -  7.20
6. Rumburak - Siep, Vanessa  - 6.50
6. Southalito - Pollmann-Schweckhorst, Christiane - 6.50
8. Trezeguet - Blaeser, Lucie - 5.80
San Franz - Brünen, Stefan - DNS
6-year olds
1. Sir Hawk - Hidien, Alexandra - 8.30
2. Whitney -  Ridder, Jill de - 8.00
3. For my Live  -  Skarsoe, Fie Christine - 7.50
4. Fiero -   Siep, Vanessa - 7.40
5. Sir William -  Henn, Rolf   - 6.50
6. Kairos - Nixdorf, Rüdiger - 5.70
7. Remondos quick step - Ascherl, Steffen  - 5.30
Photo © Astrid Appels
Back to the 2012 Bundeschampionate Index