KWPN Breeding News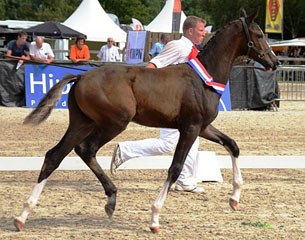 The bay colt Hero-K has been proclaimed 2012 KWPN Foal Champion at the national Dutch warmblood foal championships held during the KPWN Paardendagen in Ermelo, The Netherlands. Ten foals were selected for the champion's ring in which Hero K was put in front.
Hero K is by Charmeur out of ster mare Uerette (by Silvano N) and is bred by G. Kamphorst from Hoevelaken, The Netherlands.
Judges Toine Hoefs, Bart Henstra and Marijke Kool awarded the champion sash to this colt. "He is a foal which much type and expression, which can move in an extra special way, with much ground cover, technique and balance," judge Hoefs commented.
Hotmail V (by Apache x Calypso II) was named reserve champion. This colt is bred Poettgens-Deckers in Weert, The Netherlands, and was presented at the championship by A. Van Venrooij-Mathijssen from Terheijden. "He has an extra conformation and trots with a lot of suppless and is uphill in canter," Hoefs explained.
The filly Hailey (by Apache x Jetset D) finished third. She is bred by M Tijssen from Lienden. "She has a striking conformation with much length, good connections and a lot of front, which she showed off in movement," Hoefs said.
Results - 2012 KWPN Foal Championship
1. Hero K (by Charmeur x Silvano N) - Kamphorst
2. Hotmail V (by Apache x Calyspo II) - van Venroiij-Mathijssen
3. Hailey (by Apache x Jetset D) - M Tijssen
4. Helena (by Charmeur x Prestige) - B. Huirne
5. Hilltop (by Chagall x Tuschinski) - A. van Erp
6. Holana (by Apache x Vivaldi) - A. Dijkstra
7. Habiba Ciretha (by Johnson x Florencio) - H Broekhuizen
8. H (Amazing Star x San Remo) - R. Franssen
9. Henna H (by Charmeur x Gribaldi) - Hertogs ondernemingen, Belgium
10. Hasta La Vista (by Charmeur x Gribaldi) - T. de Rudder, Belgium
Related Links
Gregwaard Proclaimed 2011 KWPN Foal Champion
Ferrari Proclaimed 2010 KWPN Foal of the Year