2012 Olympic Games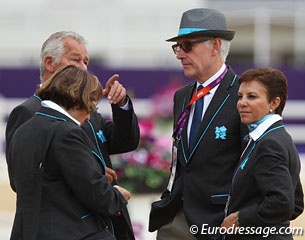 Danish judge Leif Törnblad has been judging since he was 25 years old and he and his family have always been involved in the sport of dressage. "I have, of course, been riding and competing myself for a long time; since I was 9. All judges have to have done that!
I ride every day, when I am not away judging," Tornblad explained.
Running a small stable with his wife and former Olympic Games  medalist Anne Grethe (née Jensen), Leif was also former team captain for the Danish dressage team and was a judge at the Beijing Olympics in 2008.
"Becoming an O-judge is an honor! This privilege is based on your judging performance as a 4* (i-judge). I have judged at a lot of shows every year since I became an international judge and amongst those shows are 12 European Championships for ponies, juniors and young riders."
Making it as back to back Olympic judge in London Leif says he is very impressed by the improvements in the sport of dressage over the last four years.
"There are more competitors here at top level than in Beijing, and we did not have any "bad" riders this time.  The bottom level was still rather high.  The circumstances were also better in London, where competitors could ride during day time and normal daylight hours, as in Hong Kong all were forced to ride in the evening because of the very high temperatures."
Given the C spot in the Grand Prix Special yesterday, Leif says he had added responsibilities, but enjoyed every minute of it.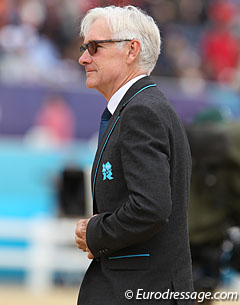 "For me personally, having the responsibility of timing and overlooking the whole running of the competition was my greatest challenge. The riders risked more in the GPS than in the GP, which paid off well for the British and a little less so for the Germans. I also enjoyed watching the Portuguese rider who was very good and 'classic'. The top teams were all fantastic and the Kür will be great on Thursday."
With the seven men team now fully in swing, Leif says the panel has developed a great rhythm and are lucky to have the support of those on the ground in London!
"Today I had a good feeling and I felt that the judging went very well, which is a sign of us all being a good team. But the best people today were my excellent helpers, time keeper and secretaries. And of course the fantastic riding."
While judging is itself a great reward Leif says he does have a special place for the GPS and the kür.
"The GPS is more simple to judge because you can concentrate on the technical aspects. The freestyle is challenging because you need to see choreography and degree of difficulty, as well as the music. However,  the kür gives you a chance to appreciate riders who have developed an artistic cooperation with their horses. This is when dressage turns into art, as well as sport."
by Sarah Warne for Eurodressage
Photos © Astrid Appels
Related Link
Eurodressage On the Scene at the 2012 Olympic Games