2012 Olympic Games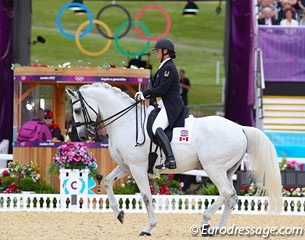 For dressage spectators witnessing the world's best take the arena in Greenwich was a unique and amazing experience. However there were some members of the crowd who had an even greater interest.
"Clearly the most amazing highlight was watching Charlotte and Valegro ride to the world record win. I had goose bumps for the entire ride," said Canadian reserve rider Pia Fortmuller. "The next super exciting and inspiring moment was Ashley Holzer's ride. Breaking Dawn and her were amazing. And now she gets to dance to the Special."
Named as reserve rider for Canada, Pia was even more engaged in the performances on show, knowing she is now so close to this as part of her reality.
"When my team mates took to the arena, the first thought that jumps to my mind is pure inspiration. I am so thankful that I was able to spend the two weeks in the training camp together with my team, because after seeing how hard they have all worked to get here- it was so special to get to see them show off their final product.  There is so much work that goes into making it to the Olympics and it was really inspirational to see it all come together at the end. I think Jacquie Brooks' ride was the best example if this. Since the first day of training camp Jacquie pushed Goose to improve just a little bit, and everyday Goose did exactly that. When they rode down the center line Goose was more than ready to show off all of their hard work."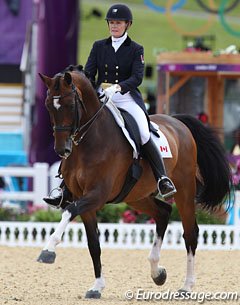 More excited, happy, and proud for her teammates, than nervous about their performance, Pia is lucky to be on sight at Greenwich and thus able to share and learn from the Canadian team's experience.
"Jacquie was overly proud of Goose so she was very pleased. Unfortunately David did not get to show off all of his hard work because Capi got scared in the middle of the test, and horses are horses, once that flight instinct kicks in it's extremely difficult.  I am just so happy that both David and Capi are ok. And despite what happened, I know that together they both  have a very bright future ahead of them!  Ashley was also pleased with 'Edward'. I said to Ashley after her test yesterday that it looked like Breaking Dawn grew an extra 3 hands when he marched into the stadium. Edward had very big shoes to fill after 'Poppy' (Ashley's 2008 Olympic mount), but he did exactly that and more. What an amazing horse!"
While not everything was sunshine and rainbows for the dressage opening, Pia says that didn't take anything away from the experience.
"Getting soaking wet while huddling under our umbrellas was not greatn but rain or shine, nothing stops a true dressage fan!"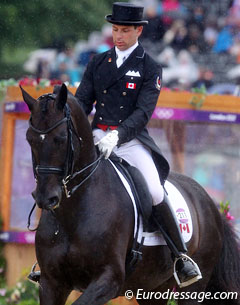 More determined that ever to get her start in that world class arena, Pia says that the message she has taken from London is plain and simple. Hard work pays off!
"I am going to get on with working extra, extra hard now. I am like super duper inspired!"  
And Pia was just one of many who were inspired by the dressage on show, with the Greenwich grounds packed full of satisfied fans.
"It came as a big surprise for me to see how awesome the sold out stadium was. The energy in the ring was indescribable.   During each test everyone was so still, everyone, even the people all the way up in the top bleachers, were so absorbed by watching the artful dressage being displayed.  And then the whole stadium cheered and made every single rider feel like a champion as their horses walked from the arena.
Ready to cheer on Breaking Dawn and Ashley as they "dance their way through the special and hopefully onto the Freestyle," Pia has just three simple words of motivation: Go Canada Go.
Text by Sarah Warne for Eurodressage
Photo © Astrid Appels
Related Link
Eurodressage On the Scene at the 2012 Olympic Games