2012 Olympic Games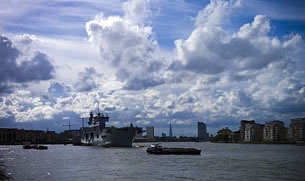 Yesterday the first of three days off began for the dressage afficianados and I must admit I was a bit bored loitering in Greenwich. The good thing of this "period of rest" is that I could sleep late. I woke up at 8 AM, but decided to turn round once more and ended up sleeping till 10.30. Boy I needed that!
The majority of my day was filled with sitting at my desk and working on more articles, scores and stories from the World Young Horse Championships in Verden as well as replying to emails. Round noon time it started to rain again, which seems to have become a trend here in London. Each day there has been rain round midday (and it is no different as I type this!!).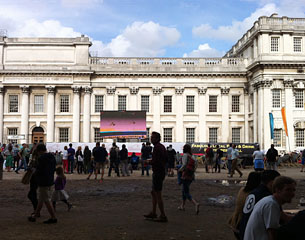 By 16.00h I was tired of work and being on my own so I ventured out. While going down the stairs I heard someone come up and it was Dirk Caremans. My friend and Belgian photography colleague had become unwell three days ago and was hospitalized with a mid-ear infection and a severe migraine attack. Dirk was supposed to stay one more day in the hospital but fled the place as he had been moved rooms and couldn't stand the heat and improper noises his three room mates made throughout the day.
I decided to explore Greenwich town with its local market and tons of boutiques and eateries, but I took me about an hour to have seen it all. Greenwich is very artsy-craftsy, which is not really my thing. I went into the beautiful Old Naval College, passed by the tea clipper Cutty Sark and had actually hoped to visit the Royal Observatory, but that building has been closed due to the Olympics.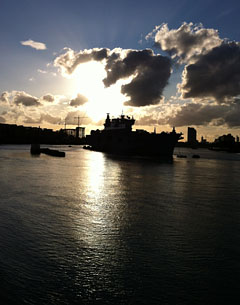 While waiting for a friend at the Greenwich tunnel (near Cutty Sark), I snapped some photos of the battleship that lies in the Thames as protection in "the war against terror." The ship lay there peacefully and provided a nice image with the sun setting in the background. I saw American photographers Sue Stickle and Shannon Brinkman passing by and at 19.30 h I met up with my breeder friend Louise Davies.
We had scheduled dinner together and I had picked The Spread Eagle as restaurant. Am I the only one who thinks of Catherine Zeta-Jones singing the Cell Block Tango in Chicago when I hear the word spread eagle?  Louise and I had a lovely evening talking non-stop and it took the waiters to switch off the lights in the restaurant at midnight to chase us away. After a final drink at the rowdy pub the Grey Moth Louise went home and I went back to work until 2 AM.
Text and Photos by Astrid Appels
Related Link
Eurodressage On the Scene at the 2012 Olympic Games