2012 Olympic Games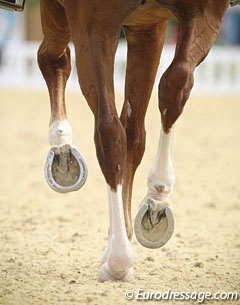 The hands on man for the United States Equestrian Federation farrier Steve Teachman says he wasn't surprised to get the invitation to London. "For me this is just another day at work. This will be my fourth Olympic Games!"
In charge of all the teams with his main focus being the eventing, Steve says he has worked with the US team for over 15 years and is the go to man not just because of his vast experience.
"What makes me unique as a farrier? My problem solving skills," he said.
With one farrier escorting each olympic team, Stephen says he is the only one allowed to touch the US horses and hopes that things run smoothly for team US!
"So far there have been no incidents, but there could of course be challenges ahead. There always are with eventing!"
With his biggest role in Greenwich being "mainly hand holding and repairs, Steve is most looking forward to one thing: going home.
"This trip started for me at least on year ago, with many trips overseas for these horses."
by Sarah Warne for Eurodressage
Photo © Astrid Appels
Related Link
Eurodressage On the Scene at the 2012 Olympic Games