2012 Olympic Games
German individual rider Anabel Balkenhol was first off for the Germans on day one of the dressage and says her test improved as it progressed. "I think, after a rocky start, Dablino and I had the best piaffe tour ever, and the whole canter tour was great also," Balkenhol commented.
With a score of 70.973% Anabel believes she could have been marked higher, but has still earned herself a place in the special.
"In my opinion we deserved two percent more."
Agreeing that Dablino still needs "to be more relaxed in the walk" Anabel says that with time and experience she is certain that success with follow!
"To enter this ring was very special to me. We were hurried a lot by a ring official to enter the ring, that was not so nice. Other than that it was great to hear the audience cheering. Dablino got scared a bit by the huge atmosphere and thus started his test a bit tense."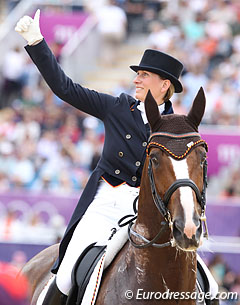 With the first one out of the way Anabel must now regroup and focus, enjoying her time in the German camp and preparing for a stand out second performance.
"I feel more relaxed because now I know how Dablino is reacting in the stadium!"

She is ready to get that extra 2 and preferably more in round 2!
Text by Sarah Warne for Eurodressage
Photos © Astrid Appels
Related Link
Eurodressage On the Scene at the 2012 Olympic Games