2012 Olympic Games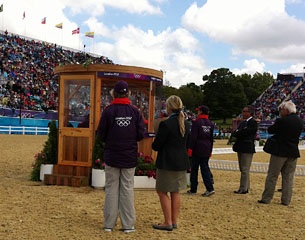 I had a bad night sleep in my broomstick room at Cutty Sark. I'm normally a good sleeper, especially at horse shows where I'm always so tired I sleep like a rose, but when I woke up on Thursday morning I realized that this night sleep would not classify as a good one. It was way too hot in the room and there was so much noise coming in from the street.
The pillow, which looked fluffy and comfortable, actually had no filling at all and I used some towels to position my head at the right height to sleep. Oh well.
After a quick shower I made my usual breakfast in the dormitory kitchen: oatmeal porridge. I had bought the ingredients at Marks & Spencer the day before and as I prefer to make it with soy milk. I cooked my porridge (well, the microwave did) and when I started eating it, I thought: "djeez, soy milk in Britain tastes funky" not realizing until the next day that I had actually bought one bottle of soy milk and one of goat milk. I used the latter for my porridge and it tasted like animal fur.
I headed to Greenwich park well on time as I wanted to shoot the horses training in the morning. I was already there round 8 and to my disillusion I discovered that a press pass at the Olympics gives you ZERO access to the warm up ring. At any international equestrian show in the world, including world and European championships, we get to watch the warm-up.. but not at the Olympics. I saw Svetlana Kiseliova, Louisa Hill and Mikaela Lindh training from afar but it was no fun peeping over fences.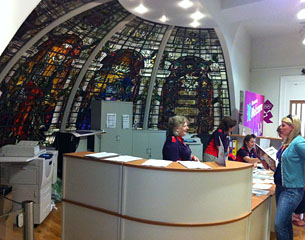 So my exploratory tour continued and I went to the press centre which is in the Naval Office Building. It's gorgeous, well laid out, but not very big. I saw all my colleagues working away and I decided to sit down on a bench and watch people arrive at the show grounds. It was actually a good spot because I saw one dressage personality after another arrive: Roly Luard (owner of Uthopia), Charlotte Dujardin, Andreas Helgstrand, Anna Kasprzak and so on.
It's important to decide which spot you are going to take for the Grand Prix because there will be a number of riders who won't get to compete in the Special and I want to have photos of them taken at a key spot so they can see in the pictures that they were at the Olympics. For the Grand Prix I always prefer to sit at the short side at A as many movements are executed on the diagonal towards me. I sat on a bench next to Danish Britt Carlsen an hour in advance but within the hour a forty photographers joined us, standing besides us.. All were men by the way. Photography seems to be a man's world here. But it wouldn't be nothing, nothing without a woman or a girl!!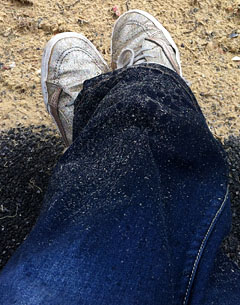 The stadium filled itself quickly and almost all seats were taken by the start of the class. Not surprisingly the majority of spectators were British and the amount of Union Jacks was staggering. The action got a jump start when Carl Hester rode as seventh pair to go. In the break before the third block judge Wim Ernes and I discussed the weather as some threathening clouds were heading our way. "Will it rain," Wim asked. "No, it'll blow over," I replied confidently. It took five more minutes for it to drizzle and one minute later it was pouring. By the time Anna Kasprzak came into the ring it was a deluge! Rain streamed underneath our bench soaking my bag with ipad and batteries. My jeans had sand and dirt up the knees because the rain drops fell so hard on the ground it made the sand splatter all over the place. I tried to take photos of Anna, but because the rain was so hard, even the lens protection cap couldn't keep my lens clean and it was full of drops, making the photos appear like a haze. Arnd Bronkhorst had brought a wipe cloth which I used to clean my lens. It took a few more rides for the rain to end and only four photographers were left standing in the end at the short side at A! The rest had fled back indoors. Separating the wheat from the chaff?!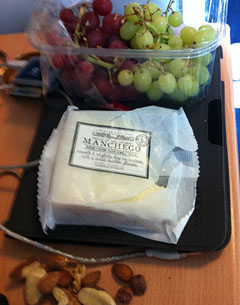 The rest of the class was ridden in sunny weahter, so no more rain disruptions there. As soon as the class was over, I heard to the Mixed Zone where tv-stations and journalists were interviewing a pretty upset and disappointed Laura Bechtolsheimer. I also waited patiently to speak to Carl Hester who had harems of female journalists around him. After a few fan photos, Carl was kind enough to take five minutes for a quick assessment of the day.
I walked back to my room at Cutty Sark as I prefer to work in peace and quiet instead of the mumbo-jumbo at the press centre, which is way too distracting. I snacked on some gapes, manchego cheese and nuts and wrote my article. It takes a few hours to get done and by that time I was hungry. I made my way outside again and grabbed a bit at the local Thai place. I had to Tom Kha Kai soup and Pad Thai noodles, but I wasn't wowed by the food and left my plate half full. Back to my room to finish editing photos. By 0.30 AM I went to bed.
by Astrid Appels
Eurodressage On the Scene at the 2012 Olympic Games