2012 Olympic Games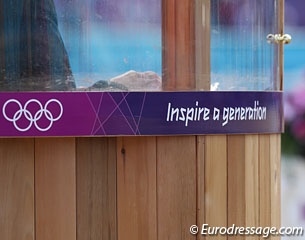 The second group of Grand Prix riders will ride today, Friday 3 August 2012. The class starts at 11 AM (GMT) with Tina Konyot as first to go. In between breaks I will post quick updates on how most of the rides went. Tune into this page often to read the latest updates!
First Break: the day kicked off with Tina Konyot on better form than two years ago at WEG. Nice piaffe passage, stumble in the extended trot. tinne Vilhelmson was super sweet and accurate but mistake in the tempi changes. Valentina Truppa looking very different in normal tails instead of her Carabinieri outfit. Very solid and controlled, tempi's needed more ground cover. Jessica Michel and Riwera lived up to the expectations. Super canter work, gorgeous half passes but piaffes too forward. Edward Gal got evrything out of Undercover that was in him today. More open in the frame, very accurate, super rhythm in pi-pa but still some body tension.
Second break: Richard Davidon and Artemis wow with their piaffe passage as always. Kristina Sprehe  super half passes and tempi changes. Irregular passage, two good piaffes, one a bit shaky. 79% generous score !!  Zu sayn Wittgenstein as steady as ever.  Adrienne Lyle broke nto canter in trot extension. 
Third break: wow something amazing just happened. Charlotte Dujardin took the lead with 83.784%. She had a very good mistake free test, but there is even much more in the tank. The reaction from the crowds is just unbelievable! Roaring, stamping, cheering as if one is in the Colosseum in Roman times. Never witnessed a crowd so onesided behind its team! The cheers for the other riders zre far less compared to the belging for the Brits! Mary Hanna's Sancette looked good, more confirmed in piaffe and passage. Carvalho was safe and proper. Max-theurer was strong in trot, but the pi-pa transitions can be better and there was a mistake in the one tempi's. Munoz Diaz and Fuego zre on flying form and did a very nice, immaculate GP test.
End of class: three major league riders in this group. Steffen Peters and Ravel looked up for the task and produced such a friendly image. No major mistakes. Adelinde Cornelissen knew this was not the national show in Ermelo, when she entered the ring and Parzival looked up at the crowds and cameras. But she had him with her quickly and rode a very clear test. Helen Langehanenberg presented a very fresh and energetic Damon Hill who showed massive gaits. Very tight finish at the top.
Eurodressage On the Scene at the 2012 Olympic Games