Belgian Dressage News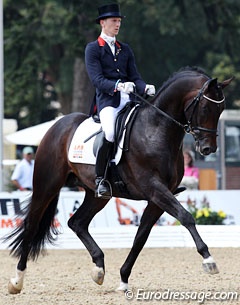 After a disappointing performance by Bon Bravour and Tom Franckx in the preliminary test at the 2012 World Young Horse Championships in Verden today, the combination has been withdrawn from competing in the consolation finals due to an injury.
The Dutch owned KWPN licensed stallion Bon Bravour (by Painted Black x Chronos) placed 27th with a 7.06 score. Eurodressage reporter Dominique Wehrmann wrote that the stallion "was almost always tilted in the neck, never straight in the body and when one looks from behind it appears that the dark bay's right half of the croup is less well developed than the left one. These problems imprinted the entire test so scores were low." Bon Bravour scored 6.5 (trot), 7.3 (walk), 7.8 (canter), 6.5 (submission), and 7.2 (general impression).
The stallion has been withdrawn as Franckx apparently felt that his stallion was not level during the test. The rider was unsure whether to retire or complete the ride and chose for the latter. Afterwards in the stables he discovered that Bon Bravour's right front leg was swollen.
Mich Weygers op IPS group, the owner of the horse, told the Dutch publication Horses.nl that Bon Bravour took a wrong step in the warm up ring during an emergency stop to prevent the horse from smacking into an impolite rider. "Tomorrow his leg will be scanned here by the vet and we already made an appointment with our vet in Belgium," Weygers told Horses.nl. "This is a disaster. We worked for this the entire year and Bravour was ready for it. It's horrible and I'm hoping it will be nothing serious."
Source: Horses.nl
Photo © Astrid Appels
Related Link
Eurodressage Coverage of the 2012 World Young Horse Championships