2012 Olympic Games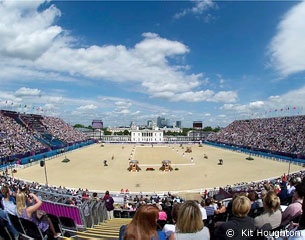 Check out this page to read quick notes with impressions of the riders in group one of the Olympic Grand Prix on Thursday 2 August 2012. The class started at 11 AM with Anne van Olst as first rider to go.
10:45: Nikki Crisp just went in as guinea pig as test for the judges if all the computer systems are working. Waiting for the first rider to go, Anne van Olst, at 11 am!
First break: Carl Hester takes a provisional lead with 77.72%. Very strong test with excellent extensions and lovely passage but Uthopia made a flying change in the extended canter. The ride was less expressive than Rotterdam's Grand Prix though. Anabel Balkenhol had her hands full with a very tense Dablino who was distracted by his surroundings. He made two breaks in canter but showed amazing one tempi's and pirouettes. 71.049%. Anne van Olst rode the textbook safe team test with no mistakes, but i preferred Clearwater in Aachen where he was stronger in trot. Jacqueline Brooks and D Niro lost points in the extended walk but executed nice piaffes. Krist Oatley struggled with the transitions to and from piaffe but the piaffe was nice. One short change after the extended canter. Jose Daniel Martin Dockx and Grandioso made their Olympic debut with a respectable test as the horse is continually improving.
Second break: Jan Ebeling was a bit unsteady in trot with shaky hands, but the canter work was secure. 70.213%. Minna Telde was stuck in sixth gear. Her Santana was super expressive but it all became a bit too much, rushing in the piaffes and then resistant in the pirouette. Rapcewicz had Randon too much on the curb but he pushed him less today so the horse looked a bit better and more settled in the work. Anky van Grunsven presented a good looking, attentive Salinero. Super half passes, even the extended walk was better, but the collected was just a very slow walk and the passage was irregular with more activity from the left hind leg. In canter the handbrake was on. Dorothee Schneider was very clean and safe. Strong piaffe and passage, clean canter but not as sparkling as in Aachen.
Third break: sorry for not updating any sooner, but during the third block of riders a torrential downpour took place. There were four photographers left standing, but we were soaked, equipment soaked, impossible to take proper notes and during the third break we were trying to dry ourselves and get everything back in order. Anna Kasprzak rode in the pouring rain but did well. Piaffes were slightly tense.
End of class: Three very strong tests in today's final block. Morgan Barbancon was prim and proper but had a mistake in the extended canter. Also the bending could improve. Laura Bechtolsheimer had Mistral lighter in the contact but there was a mistake in the ones and in the extended canter. Patrick van der Meer: Uzzo has tank only half full with fuel. Less bubbly than at Rotterdam, mistakes in the ones.
Eurodressage On the Scene at the 2012 Olympic Games