2012 Olympic Games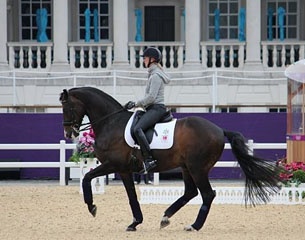 After I finished posting my first blog of the 2012 Olympic Games I stepped outside my hot, humid and stuffy broomstick room to grab a bite to eat before I would go to bed. The first people I saw around the corner were Chris Hector and Roz Neave at a table in a local restaurant.
I sat down and had a drink with them but it was hard hearing each other's conversation as there was busy traffic on the road next to the restaurant. We made a brief prognostication of the medals in the upcoming days and assesed the Australian team chances, before I took off for what I had set out to do: eat.
I decided to have some noodle soup at a small Asian bar on the next corner and chose a seat at the window. While I was eating my soup, I enjoyed the moment alone and read some more in Olivia Laing's To The River. Interestingly while I was sitting there in solitude I saw several dressage people walking by: Dutch journalist Claartje van Andel getting on the bus, Italian O-judge Enzo Truppa buying some groceries at Marks & Spencer. Danish judge and veterinarian Hans Christian Matthiessen and FEI Dressage director Trond Asmyr going for dinner next door at the Italian place.
Everybody seemed so relaxed, while tomorrow there is the big day: the first group of Grand Prix riders will contest the team championship. Additionally the Grand Prix is also important because it gives an idea of the ranking for tests to come. Usually the ranking doesn't change much more after the Grand Prix unless major mistakes happens. If rider A finishes in first place in the Grand Prix, s/he'll have this sort of 'glue effect" on that first place through the Grand Prix Special and Kur.
I couldn't help but wonder, which message will the judges be sending across tomorrow? The Olympic Games are the epitome in a rider's career. It is the biggest televised sports' event in the world. The pressure which weighs on the judges' shoulders to get it right is huge.. But what does it mean "getting it right"? Making sure you don't miss a single mistake due to an involuntary blink of the eye, or being consistent with one's scores no matter which big name is in the arena; fair, honest and unbiased judging? 
What will London be about? Will the judges appreciate correct riding and giving the higher scores to harmonious riding. This can differ in each judge's opinion. Some prefer lightness in the contact, invisible aids and true harmony between rider and horses at the cost of less brio, others give higher points to more expressive movers and turn a blind eye to poor contact. And what about the accuracy of riding? Some riders are able to ride spectacular movements but prevent mistakes from happening, covering up tension issues by not riding on the letter; for instance strike offs to canter three meters before the letter, a walk-piaffe transition already early in the corner, not enough steps in piaffe, or an extended trot not executed (no lengthening of steps nor frame) in order to mask irregularities in the gait.
What will London be about? With this question I go to bed. I am sure that I'll find out it tomorrow and on Friday!
by Astrid Appels for Eurodressage
Related Link
Eurodressage On the Scene at the 2012 Olympic Games