2012 Olympic Games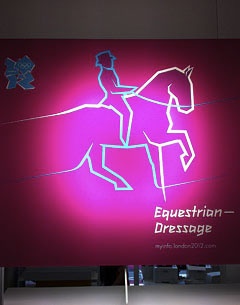 Like the majority of sport fans in the world, I watched the first few days of the 2012 Olympic Games on television. I flipped channels from VRT to NED 1 to BBC while on the laptop the Eurovision Sports live stream was running with yet another discipline that wasn't broadcast on my flat screen at home. The more I watched the Games, the more I felt an eagerness growing to go there myself!
I had prepared my Olympic trip more than one year in advance: getting the accreditation in order, fixing a room at Cutty Sark campus hall (right near the show grounds!) and booking my flight to Heathrow. However, each time before I leave for a long-term show project I dread parting from my home and have difficulties sleeping the night before. It was the same today. I think I fell asleep round 1 AM and got up at 5.45 AM. My bags were packed and the only thing I had to do was feed my horse and foal and give them one last pat.
My boyfriend brought me to the airport and it was a smooth one-hour drive to Brussels Zaventem airport. I got there early with the fear that I might get fined for the excessive weight of my baggage. I was right! The fee was 50 euro, because my main suitcase (which had my clothes and non-expensive electronic devices) weighed 26 kiloes instead of the allowed 23 kg. The lady behind the counter was so kind to suggest that I put some things in my carry-on bag to avoid the penalty, but I kindly declined. She had no idea that my carry-on alone weighs 15 kiloes with my cameras, lenses and laptop.
Like always I strolled around the duty free shops to kill time and tried on a few jackets without having the intention to buy. I went to the beauty department to test nail polish. I felt brave and ended up painting my nails in Chanel's limited edition colour "Peridot" It looks like snake skin with gold and green. Super cool, but I'm sure in two days half of it will be gone from pressing on all the computer and camera buttons so much. Although I ate an apple on the way to the airport, I ordered a "Morning Energizer" at the smoothie bar in addition. It was juiced carrot, ginger, lemon, apple and beetroot. The drink was inspired by my friend and colleague Thomas Bach Jensen, who has a similar shake every morning.
When I arrived at the gate I got the news that our flight was delayed for one hour. The stewardesses were mumbling something about having "overflued" the plane but the official reason aired was that the plane had arrived late in Brussels.  One hour and a half later we were finally on the runway and the captain posted as reason for the delay that they had to change aircrafts. Really?! He also quickly added that the plane was late from Manchester. Yeah yeah.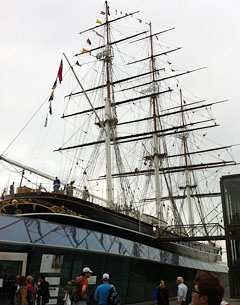 The part of my Olympic trip I dreaded the most was "schlepping" my suitcases from the airport through several underground stations to Cutty Sark. Packed with about 40 kiloes of luggage I can tell you it's no fun. I was incredibly surprised to see how easy it all went. The ladies at the Heathrow accreditation desk were incredibly friendly and welcoming and had a little chat with me about how nice the Greenwich venue looked on television. As soon as I put my accreditation with its striking purple and red cord around my neck, it functioned as a magnet. While I was standing at the baggage claim, another accredited person came up to straight away and started to chat. What a co-incidence that the first person I met at the Olympics was a judge! The Belgian told me he was judging the triathlon in Hyde Park. Afterwards an Olympic hostess virtually took me by the hand and led me down the right escalator to the underground station.
I had to switch trains twice. A clever man once told me that the key to survival and being the strongest is adaptability, and so I adapted myself to the situation. I only switched tubes where there were disabled people services and each time I was able to switch platforms using an elevator or escalator. It was no hard work at all.... until the last 100 meters! I took the wrong turn coming out of the Cutty Sark DLR station and went round a block with my luggage before finding the campus' entrance hall.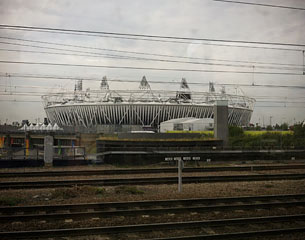 When I got there all sweaty (it's 23° C here) the staff to check me in had gone to lunch and I had to wait there for 20 minutes before someone helped me. In the meantime I chatted with a volunteer who arranges transportation from Cutty Sark to Greenwich. Jahda (sorry if I spelled it wrong) is Canadian born but lives in Britain and her aunt was U.S. Olympian Patricia Galvin de la Tour d'Auvergne. It was unbelievable to hear that as we had planned on doing a Greatest Oldie on her aunt's horse but were unable to get in touch with Patricia, who now lives in France.
The room I have at Cutty Sark is tiny but decent. The bathroom reeks though and I sprayed half a can of deodorant in there to get rid of the odour. I dropped off my luggage and went straight back to the train station to go to the Olympic Park where I had to pick up my photography vest. The trip on the train was exhilarating because as soon as the Olympic Park appeared I knew I witnessed something grand. Throngs of people gathered there. I saw the athletics' stadium and the aquatic centre from afar and they are huge !!! There is so much life and energy there. London is totally abuzz.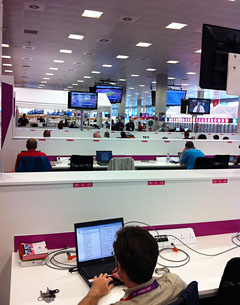 I couldn't believe my eyes when I arrived at the Main Press Centre. The building is surreal. It's like walking into a huge hotel with a major open space with hundreds of work stations. On the first floor the photographers had their 'home' including "Big Boys" Reuters and Associated Press. These two global press agencies have their own room (almost floor) within the building and when I peeked into their privaye office I saw hundreds of journalists pounding on their keyboards like miners hacking in stone.
The volunteers in the centre and outside the Olympic park are simply amazing. There are helpers on every corner and as soon as they spot a tourist, who seems to have lost his way, they offer assistance. At the train station the winning of a medal by a Brit was announced over the speaker system like a war victory and people cheered spontaneously. Collectors of Olympic pins had grouped together at the Stratford International train station where they exchanged, bought and sold pins as if the park was a flea market. To get back from MPC to the train station there is a shuttle bus looping round the park and while sitting on it the thought came to my mind that this is Disney Land, but then with athletes instead of Looney Tunes!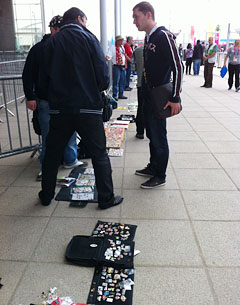 It's a life-time experience to have seen the Olympic Park, but next time I would love to go into the aquatics centre and have a look at those amazing swimmers, who are such inspirational athletes. So far, I haven't seen any celebrity star in the flesh and unfortunately Olympic fever seems to have inspired people to wear sneakers. With the athletes in town, it has become popular now to wear them under regular clothes, even more so than before, no matter how unfashionable they look with their faded grey colour and inelegant look.
Upon my return from MPC I shopped for some healthy groceries at Marks & Spencer. I bought some fruit, nuts, soy milk and oatmeal which will carry me through the next few days.
by Astrid Appels for Eurodressage
Related Link
Eurodressage On the Scene at the 2012 Olympic Games