2012 Olympic Games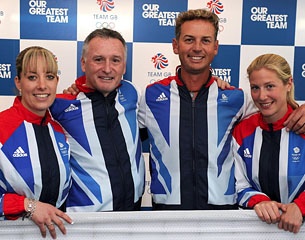 After all the hustle, bustle and frantic excitement of Eventing over the last few days, it's time to regain composure and settle down for the next equestrian discipline of the London 2012 Olympic Games at Greenwich Park. The first inspection of the Dressage horses took place yesterday evening, and all 50 were given the thumbs up to start.
Tomorrow morning (2 August) Dressage action gets underway at 11.00 local time, when Denmark's Anne van Olst and Clearwater will be first into the arena in the Grand Prix.
In a change to the previous format, the team medals will be decided by the combined scores of the Grand Prix and Grand Prix Special. The top 18 horse-and-rider combinations, and those tied for 18th place, will then qualify for the Freestyle Final which is a stand-alone competition from which the individual Olympic champion will emerge.
The Grand Prix will run over two days, Thursday 2 and Friday 3 August and the top seven of the 10 competing nations will qualify for the Grand Prix Special team medal-decider on August 7. The Freestyle Final will bring the equestrian events at London 2012 to a close on Thursday August 9.
GOING FOR GOLD
The British were just pipped for gold as Eventing drew to a close yesterday, so as Carl Hester, Laura Bechtolsheimer and Charlotte Dujardin fly the home flag in Dressage over the next few days they will want to go one better. And they have every chance.
But Germany's Olympic Dressage record tells the tale of a formidable force. They have taken 12 team and seven individual titles, and with double Eventing gold already in the bag at London 2012 they will be starting out tomorrow with tails up and all systems firing.
Their Olympic Dressage selection saga was a fascinating affair, with Dorothee Schneider earning her place alongside Kristina Sprehe and Helen Langehanenberg at the 11th hour as the premier German fixture at Aachen drew to a close less than four weeks ago. Even the appointment of first reserve was drama-filled, as first choice, Isabell Werth who has more Olympic titles than most people could fit in their trophy cabinet, had an injury scare with Don Johnson before deciding that, as a nine-year-old, the horse was too young for the Olympic challenge anyway. So Monica Theordorescu, whose Olympic history goes right back to Seoul in 1988 where she took team gold with Ganimedes, got the call-up with Whisper, who subsequently came down with a fever which removed him from the Olympic panel. In the end it was Fabienne Lutkemeier and D'Agostino who made the trip to London, but after all team-members sailed through yesterday's horse inspection, they will not be starting. The scale of Germany's strength and historical connection with Olympic competition is, however, further reinforced by their individual respresentative, Anabel Balkenhol whose father Klaus, is a man of legendary status in the dressage world as both a trainer and former Olympic champion.
Denmark has been drawn first to go, followed by Canada, Australia, Spain, Great Britain, USA, Sweden, Poland, Netherlands and Germany. As a result, Helen Langehanenberg and Damon Hill, hotly-tipped for a medal, and a golden one at that, will be last into the arena tomorrow. It's going to be serious business once the action begins, but there's one rider who isn't going to let the pressure get to her . . .
LAUGHTER
At a US Dressage team press conference this morning, Tina Konyot had journalists and officials holding their sides with laughter as she revealed details of her Olympic preparations. Asked what steps she had taken in terms of physical fitness she replied: "I'm 50 and I'm looking pretty good, aren't I? Every time I think of working out I go and have a lie down until that thought passes..."
Konyot comes from a seventh-generation family with a circus background that has been involved with horses for a very long time. Her father, Alex Konyot, emigrated to the USA from Hungary in 1939 where he joined the military to earn citizenship before linking up with the Ringling Circus, and he trained Tina during her early career when there were few Dressage coaches working in America. Her Czechoslovakian mother was a high-wire walker who came to the World Fair in New York in 1939, and remains famous for being the only woman to walk the high-wire without a net. She performed her last high-wire act in 1961, the year before her daughter was born, so Konyot has performance blood coursing through her veins. And her sense of humour is a breath of fresh air.
She said she discussed embarking on an Olympic training programme with her boyfriend, but his answer reflected her own feelings on the matter. "You see I like shopping, that's when I get my exercise, and he was very much on the same wave-length. He said, Tina you just do what you do best and go shop, shop, shop!"
It's some achievement to find herself in the US dressage team competing alongside Jan Ebeling and Steffen Peters at London 2012 however. So, when asked what message she would send back to young hopefuls in the US who have their own Olympic ambitions, Tina replied: "I've been competing since I was 15 years old and I'm now 50, so I would just say follow your dreams and never, ever give up!" This will be one lady to watch with interest when she is first into the arena on Friday morning with Calecto V.
JUMPERS
Meanwhile, as the event horses have all said goodbye to Greenwich Park, their stables are now being filled by the jumpers who will be presented for the first horse inspection at 17.00 tomorrow evening.
Like everyone else involved in the forthcoming Olympic jumping competition, legendary US Chef d'Equipe, George Morris, is looking forward to the first day of action on Saturday.
Asked today what it will take to win Olympic gold at London 2012 with such a sparkling line-up of talent, he commented, "well a lot of riders get nervous at Olympic Games and over-work their horses, so they have be careful about that. The winner will be a horseman. It's not about the first day of competition, or the second day, it's all about the last day. Riders have to keep thinking ahead all the time, and, in the end, it will all be about horsemanship."
We can expect to see plenty of that over the next eight days.
Facts and Figures - Dressage
23 nations
10 teams
5 countries represented by a team and one individual
13 countries represented by an individual only
50 riders in total
The Netherlands' Anky van Grunsven will be setting a new record when becoming the first Dressage rider to compete at 7 Olympic Games.
Van Grunsven already shares the record for most Olympic medals in Dressage. Along with Germany's Isabell Werth and Reiner Klimke, she has won 8 to date, so she will be out on her own if she picks up her 9th in London.
She is defending Individual champion, and the only Dressage rider ever to take three back-to-back Olympic titles – at Sydney (AUS) in 2000, Athens (GRE) in 2004 and Beijing (CHN) in 2008.
There will be 3 separate competitions – FEI Grand Prix, FEI Grand Prix Special and FEI Freestyle to Music.
The Team medals will be decided after the first two competitions when the scores are combined.
The Freestyle will decide the fate of the Individual medals.
The Judges Supervisory Panel will be in operation for the first time at an Olympic Games.
by Louise Parkes for the FEI
Photo © British Dressage
Related Link
Eurodressage On the Scene at the 2012 Olympic Games