2012 Olympic Games
Scoring herself an individual spot at the 2012 London Olympics German rider Anabel Balkenhol says the Games have already been an amazing experience which she is proud to be part of! "We have a great atmosphere in the German camp and we have a lot of fun together," says Anabel.
Camped alongside her fellow countrymen, Anabel says that all German riders treat each-other as equals, but that as with any team, there must be someone they can all turn to for help!
"There is no team ringleader, but our Chef d'Equipe klaus Roeser is there to help us... in ALL situations!"
The German riders also try to engage in each other's work and support each other on their way to the Olympic centreline.
"We for sure help each other  and also focus on our own horses. We have a great team spirit and for sure look after one another, so everyone feels good!"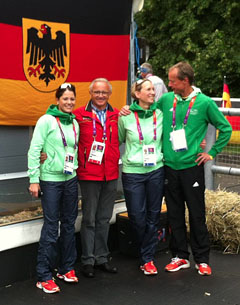 And of course the German horses will all feel a strong connection, having all come from descendants of the almighty Donnerhall! The team of Helen Langehanenberg (Damon Hill), Kristina Sprehe (Desperados), Dorothee Schneider (Diva Royal), along with their individual Anabel, are now well and truly into their training and Anabel says the platform provided is more than the German team could have hoped for.
"The conditions are great, for us and the horses. It makes me feel a bit like home: a lot of possibilities to train and a quiet atmosphere for rider and horse."
Even though there haven't been any issues at all with stabling or conditions, Anabel says there have been some funny moments outside the equestrian walls.
"I now have a really great photo of Helen and Tina with a 2.05 metre volleyball player from the opening ceremonies."
With "great" surfaces, and plenty of space and calm for training, Anabel is sure that her team can produce the results they are hoping for.
"If we each give our best... EVERYTHING can happen."
Arriving in Greenwich with the rest of the German dressage riders last Saturday, Anabel says her horse Dablino and the rest of the equine partners are already feeling right at home!
"The horses are totally relaxed and have settled in very well." Some perhaps settling in a little too well. "Yes, Dablino has fallen in love with Dorothee Schneider's horse Diva Royal!"
Well I guess the name says it all!
Text by Sarah Warne for Eurodressage.com
Photos © Balkenhol
Related Link
Eurodressage On the Scene at the 2012 Olympic Games