2012 Olympic Games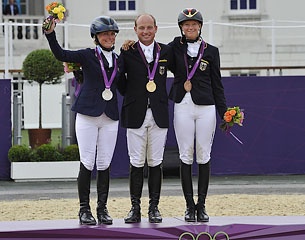 Team Germany repeated their 2008 Olympic medal-winning performance when claiming eventing team and individual gold at the London 2012 Olympic equestrian venue in Greenwich Park today. Such was their supremacy that they clinched the team title even before their last rider went into the ring, and Michael Jung set a new record in equestrian sport when becoming the first-ever event rider to hold Olympic, European and World titles at the same time. What a way to celebrate his 30th birthday!
The finale brought four fabulous days of Eventing sport to the perfect conclusion. After the destination of team gold had been established, the battle for silver and bronze was waged between Great Britain, Sweden and New Zealand, and it was the host nation that was eventually rewarded with silver while the Kiwis claimed the bronze.
It seemed that Sweden might be compensated for being pushed off the team medal podium when Sara Algotsson Ostholt went into the individual final as sole leader after Germany's Ingrid Klimke left two fences on the floor in this morning's team medal decider. But a last-fence error saw the Swede having to settle for silver, while Jung showed his extraordinary class to clinch the gold, with his team-mate Sandra Auffarth securing individual bronze in equally convincing fashion.
TEAM FINAL
The 12-fence track for the team competition was not over-big, but with plenty of twists and turns, including four roll-backs, and a tight time-allowed of 83 seconds it asked plenty of questions after the previous day's tough cross-country challenge.
A total of 53 horse-and-rider partnerships lined out, and there were just nine teams still intact, the Belgians going out of contention when Dunkas A (Marc Rigouts) and Lilly des Aulnes (Joris Van Springel) did not present for the final horse inspection, along with Donatien Schauly's Ocarina du Chanois for France, and Michelle Mueller's Amistad for Canada. The US team was reduced to four when Boyd Martin's Otis Barbotiere was withdrawn in the holding box, along with Wag, the ride of Poland's Pawel Spisak.
There were just 12 clear rounds, and the first was registered by Italian individual Vittoria Panizzon who was lying 22nd after a great gallop across country with borough Penny Z. Her compatriot Stefano Brecciaroli was one of just two riders to have a refusal, and both happened at the vertical coming off a left-hand turn at fence 6, the Cutty Sark.
Less than 10 penalty points separated the four leading nations as the action began, and nine time faults for Jonelle Richards (Flintstar) didn't help the fourth-placed Kiwis, but the lovely clear from Linda Algotsson and La Fair was a great boost for third-placed Sweden.
EXCITEMENT
The excitement was ratcheted up another notch when Team GB's William Fox-Pitt was clear well inside the time with Lionheart, although team-mate Nicola Wilson and Opposition Buzz hit the second fence. Germany kicked off with two down for Peter Thomsen and Barny, but Dirk Schrade and King Artus piled the pressure on both the British and the Swedes with a lovely clear.
Meanwhile Caroline Powell's living legend, Lenamore, showed that even though he celebrates his 20th birthday tomorrow, 1 August, because he was born in the Southern Hemisphere, he was definitely none-the-worse for his previous day's endeavours when almost running away with his rider during the horse inspection and then lowering just the last element of the triple combination on course. Powell's team-mate, Jonathan Paget, gave the Swedes and British some breathing space with one down on Clifton Promise, but when Sweden's Niklas Lindback and Mr Pooh collected nine faults and Britain's Zara Phillips and High Kingdom hit the second fence and then added three time penalties to their score line, the Kiwis kept looking stronger all the time.
In the end however, none of the them could match the mighty Germans who, with a single-fence advantage as the competition began, already had gold in their grip when Sandra Auffarth and Opgun Louvo gave an exhibition of jumping and Michael Jung and Sam followed suit. Swedish medal chances disappeared with a double-error for Ludvig Svnnerstal and Shamwari, despite a clear from Sara Algotsson Ostholt and the lovely mare Wega. But the Swedes still had individual gold in their sights when the latter's rival for individual pole position, Germany's Ingrid Klimke, had two fences down to disappear from the reckoning. Typically sporting, Klimke gave a broad smile and waved to the crowd, knowing she would soon have a team gold medal around her neck anyway.
CLOSING STAGES
It was a super-tight battle between Britain and New Zealand in the closing stages. 
Mary King's round with Imperial Cavalier kept the host nation's hopes very much alive, but Andrew Nicholson and Nereo matched that with a classy fault-free effort for New Zealand. However, when Nicholson's fellow-countryman, Mark Todd, collected seven faults with Campino and Britain's Tina Cook and Miners Frolic picked up just a single time fault, the host nation was assured of silver and the Kiwis of bronze. 
German team trainer, Chris Bartle, said afterwards: "I'm delighted, and proud of the tremendous performances of this team. At the beginning of the week I brought them together and asked them to shut their eyes and dream of a gold medal around their necks." It seems that worked a treat.  
Britain's Tina Cook said: "It was a silver medal won, not a gold medal lost. It was a very strong competition, and we did have a chance of gold today but we could have lost it completely and have gone home with nothing at all. Silver is still very special."
One of the biggest surprises of the team event was the fifth-place finish for the Irish who, at this Olympic Games, have produced some really quality performances. Despite being reduced to just a three-strong side, they stood firm today with Aoife Clark's clear round from Master Crusoe putting pressure on the Americans and Australians. And when Joseph Murphy matched that with Electric Cruise and Mark Kyle put just 7.20 faults on the board they demoted two giants of the game to show that, in the not-too-distant-future, they may return to being truly competitive in the discipline in which they once excelled.
INDIVIDUAL FINAL
Clear rounds proved hard to get once again in the Individual final, in which just 24 started when Ingrid Klimke withdrew. Lying 13th, Zara Phillips produced one of nine clean sheets, despite a moment when it seemed she might be unseated after a big jump from High Kingdom over the second fence. Aoife Clark's second fault-free effort of the day ensured she would improve from 11th place, and when Australia's Chris Burton (HP Leilani) and New Zealand's Mark Todd both left two on the floor the Irish woman made some serious headway up the leader board. 
Going sixth from last, Andrew Nicholson and Nereo looked set for a foot-perfect run until meeting the white planks at fence six on a bad distance, but fifth-place Sandra Auffarth ensured she would stay well in the frame with another of her awe-inspiring rounds from Opgun Louvo. 
There was just one fence separating the top four, and less than a fence dividing the top three, but for Britain's Tina Cook and Mary King it all unravelled in exactly the same places. Both of them hit the opening vertical and then faulted again at the gate two fences later to allow Auffarth to soar up the placings. And when fellow-German, Michael Jung, produced yet another super-smooth tour of the track, the Germans were already holding silver and bronze. 
DESTINED
Sweden's Sara Algotsson Ostholt could afford only a single time fault, and seemed destined for the ultimate prize with her lovely mare, Wega, jumping quick and clean all the way. But as she explained afterwards, she made a mistake on the last line of fences. "She was a little bit strong, but we had to ride quite fast because of the time and I came fast into the triple combination (the penultimate fence). I told her to be careful there, and I also asked her at the last, but I needed more control, she lost a toe and so it happened," she said. That final oxer meant the difference between Olympic gold and silver, with Michael Jung claiming the title.
The new Olympic eventing champion said he jumped off his horse to see Algotsson Ostholt go. "She's a very good rider, but that was a sad mistake for her in the end", admitting that he had been expecting to finish second, "but first is better!" he exclaimed. "It was a big dream for me to ride in my first Olympic Games, but every competition is very easy with Sam (his horse), he always does a great job. I had hoped that if it all went perfectly we would have a medal coming to these Olympic Games, but never in my dreams did I think I would take home two gold medals!"
Facts and Figures
Double-gold medallist, Germany's Michael Jung, celebrated his 30th birthday today.
4 horses did not present at the final horse inspection - Donatien Schauly's Ocarina du Chanois (FRA), Michelle Mueller's Amistad (Canada), Belgium's Dunkas A (Marc Rigouts) and Lilly des Aulnes (Joris Van Springel).
2 horses were withdrawn in the Holding Box - Otis Barbotiere (Boyd Martin) USA and Wag (Pawel Spisak) POL.
Individual final Jumping test is open to the top 25, including ties for 25th place, with a restriction of 3 horse/rider combinations per country.
9 nations competed for the team medals this morning – Germany, Great Britain, New Zealand, Sweden, Ireland, Australia, USA, France, Brazil.
Australia, Ireland and Brazil started today with just three horse-and-rider combinations.
Only one member of the Dutch team remained in the competition on the last day. 
This was the first time for The Netherlands to field an Olympic Eventing team in 20 years, but they had only three team members and when Elaine Pen was unseated at the second water yesterday that put paid to a finishing score for the Dutch. 
Hawley Bennett-Awad (Canada) fell on the cross-country course yesterday. She incurred a stable fracture of her pelvis, but was discharged from hospital this afternoon.
53 horse-and-rider combinations started the final day.
12 clear rounds in team competition.
The three-man Brazilian team finished in ninth place and are now looking forward to Rio 2016.
Mark Todd (NZL) equalled the record set by America's Mike Plumb when winning his sixth Olympic eventing medal today.
Quotes:
Zara Phillips (GBR), talking about what it was like after knocking the second fence - "I just had to get on with it, I think Nicola had the same fence down and I wish they hadn't told me. After that fantastic day yesterday he (High Kingdom) was not completely himself this morning but he did really well.  I'm disappointed for the team but really happy for him (High Kingdom)."
Zara Phillips (GBR), asked what it was like competing under such pressure and in front of so many of her family - "the whole week has been an amazing experience. He's an inexperienced horse and coped really well yesterday after losing two front shoes. Today he might have been better off if my mother was on him!" 
Ingrid Klimke (GER) "I am so proud, but most of all I am proud of my horse (Butts Abraxxas). He showed all his qualities here in London and to have just two fences down was not too bad. Jumping is not his strongest phase and it wasn't a catastrophe."
Tina COOK (GBR), team silver, on how she coped with the pressure of having to jump clear to secure the silver medal for her team: "It was mind over matter, although now I've finished I'm so frustrated that I had a time fault and have dropped down to fourth individually. I can't get too excited about winning a medal, as I've got to come back out and do it again."
Karen O'CONNOR (USA) on how these Olympic Games compare with previous ones in which she has competed: "Every Games is unique. I lived here (in Great Britain) for several years so everything is very familiar and I have lots of fans here, which is amazing."
Karen O'Connor - On how many more Olympics she might compete in: "I'll continue until someone pulls me aside and says 'you're getting too old for this', and that hasn't happened yet."
Andrew NICHOLSON (NZL), on his clear round with Nereo, finishing on 45.00: "It felt very, very good today. Mine is a big horse and he can get time faults. I can't afford to ask him to go too fast because if I open his stride too much he could have fences down".
Jonelle RICHARDS (NZL), on the feeling within the New Zealand team: "There's a brilliant feeling inside our camp. It makes a great difference when you have a chemistry between the riders."
Jonelle Richards talking about her horse Flintstar:"My horse is young, I'm young and we'll both get smarter."
Sandra AUFFARTH (GER) on her attitude going into the jumping: "My horse and I were both the same. We were very concentrated. I did not worry because we have such a good relationship."
By Louise Parkes for the FEI
Related Link
Eurodressage On the Scene at the 2012 Olympic Games