2012 Olympic Games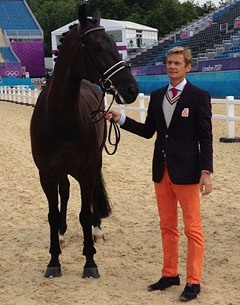 As soon as the excitement of the eventing show jumping finals and award ceremony settled down, the obstacles were cleared from the arena to make room for the first challenge of the 2012 Olympic dressage horses: the vet inspection. The jog is more than just a formality and can create much tension and stress as was proven at the 2012 World Cup Finals, but at the Olympic Games all horses passed the inspection.
Back in April the failed vet inspection of Parzival stirred much commotion and the horse was immediately given a long period of rest after winning the World Cup, but in London the trot-up was smooth sailing for all Dutch horses, including 18-year old Salinero, who was presented by team trainer Sjef Janssen and not his rider Anky van Grunsven. Patrick van der Meer's Uzzo and Edward Gal's Undercover passed with no problem and so did Cornelissen's Parzival which was the first Dutch horse presented.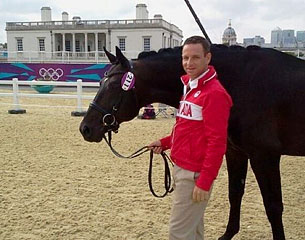 The only problem arose with Morgan Barbancon's 15-year old stallion Painted Black who was referred to the holding box but then passed on the re-inspection.
"I wasn't there to practise the trot up with Morgan but she said it went well," said Barbancon's trainer Anky van Grunsven. To present a horse is a skill in itself and you have to let your horse actually trot."
The draw for the Grand Prix startling list began at 20.15 and the list should be posted soon.
Related Link
Eurodressage On the Scene at the 2012 Olympic Games