2012 Olympic Games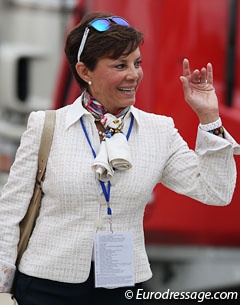 The only dressage great representing the nation of Mexico in London, will not be sitting on a horse. That does not mean she has worked less hard, and with less dedication, to earn that seat on the Olympic arena.  "I do not know yet what positions the judges will be sitting in .I only know who will be sitting at 'C'. And that is not me, which does not bother me in the least," says Mexican 5 star Judge Maribel Alonso.
Originally a dressage rider, Maribel was infected with a strange virus during her second pregnancy that destroyed the cartilage in her left hip.
"I was unable to walk, let alone ride. Due to the nature of the problem and the risks involved in the surgery it took me some time to find the doctor who would operate on me so I could go back to riding. It was in this period of time I met Mariette Withages who suggested I give judging a chance and invited me to scribe in a number of shows in Belgium and Germany."
That was the beginning of numerous trips to Europe, where Alonso scribed in many shows. She was "getting much more serious in judging at national events, attending international clinics, seminars, etc. Eventually, I became an FEI judge."
Fortunate enough to be selected on the long list which is made up of names of possible 5 star judges put forward by the FEI, Maribel feels "very lucky to be one of the 7" names drawn out, and as the only 5-star Judge in Mexico, will represent her nation with pride.
"There is one other top level judge in Mexico, but they are at the 4-star level."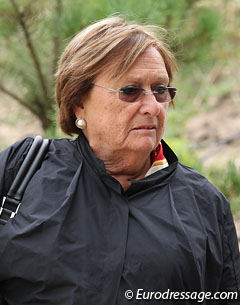 Given the opportunity to work alongside all of the other six judges at previous shows, Maribel says the team is fully confident they will do a good job, and considering the line up for 2012, will also enjoy the cameraderie along the way.
"The judges' panel for London have all judged together and we have discussed our differences, analyzing both the parameters and the criteria. What excited me most about these games, or what I think will be unique to this competition, is the great level of dressage, outstanding horses, and brilliant riders, from such a wide array of countries. It is an honour for me to be part of this event."
The introduction of the Judges Supervisory Panel, is also a plus for the sport, and Maribel agrees that it provides the 7 man team with the support they need to get the job done.
"The Judges Supervisory Panel makes me feel confident. It is a reliable method of preventing unnecessary mistakes."
Arriving in London on 25 July, Maribel will have only a week to settle into her British surrounds, but is without doubt that the host nation will accommodate such a highly respected member of the FEI.
"At this moment in time I am Deputy Chair of Group V and therefore I have represented Mexico at various events and FEI General Assemblies."
And of course Maribel will not be alone, already being well acquainted with her fellow judges, and finding inspiration from them and their comparable ambitions.
"It will be almost impossible not to come up with a number of meetings, gatherings or even fairly informal chats as we always try to find the essence of any deviation that occurred during a show. For me judging is a never-ending learning experience. As long as the challenge of finding the right balance between the positive and negative aspects of each performance remains, the learning process is ongoing."
What will be the biggest challenge for the judges in London?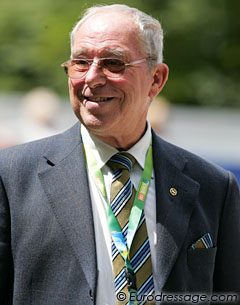 "Getting it right. I know this sounds overly simplistic, and it is, but it is the essence of it. I think about this every time I judge. The challenge is in assessing every movement for its technical and interpretational worth, and making sure that each and every rider's performance is given the same consideration. This is true at small national competitions all the way through to the Olympics. The colleagues I work with inspire me to become a better judge myself. Jaap Pot, who had a brilliant mind, photographic memory and was incredibly precise. Wolfgang Michaelis, who challenged me to strive for the highest possible standards. Mariette Withages, who is responsible for me starting in this career. And of course, Uwe Mechelem, that thanks to God is still alive, and has always been a source of inspiration. Not only because he is a great judge, horseman and sports enthusiast, but is also a wonderful human being, always mindful, respectful and kind. These amongst many many others. The list is long!"
But to motivate others to follow the path of dressage greats like Mariette Withages and Wolfgang Michaelis, Maribel says we must make people more aware of how important the role of the judge is and promote it as another way to be highly involved in the sport of dressage.
"Judging is so rewarding for me as I enjoy the challenge that comes with it. Also, because it's a lot of fun. You get to see the best riders in the world, from the best seat in the house. I plan to remain a judge as long as I'm fit and able to do my very best, and as long as I find enjoyment in doing it."
And the sport of dressage can only keep on improving, particularly due to the increase in the technology and sophistication of today's horse breeding.
"The breeding world has had immense improvements in producing more and more outstanding horses, and in doing so, challenging the skills of riders, trainers and judges."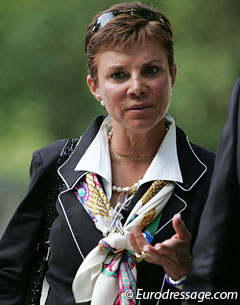 However Maribel says that it is sad, just as with most sports, that negativity can still raise its ugly head, and sometimes criticise those who are actually there to make the sport better.
"Despite the differences in scoring, outside viewers seem to forget that the judging system works. It allows for objectivity within the subjectivity of the results. This lack of trust in the system can often be one of the weakest aspects that dressage faces."
As the only Mexican dressage representative on the ground in London, Maribel says that the global economical situation has had a strong impact for Mexico, which unfortunately caused many riders to slow down and withdraw themselves from competing outside the country.
"Things are starting to look better now, so together with a long term plan from our federation, the Mexican nation can look forward to achieving an Olympic team qualification in 2016."
And conveniently, Brazil will be a little closer to home.
Text by Sarah Warne for Eurodressage.com
Photos © Astrid Appels
Related Link
Eurodressage On the Scene at the 2012 Olympic Games