2012 Olympic Games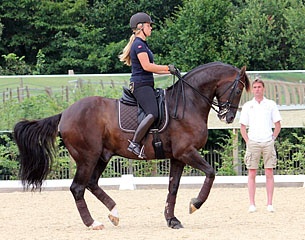 On Friday 27 July 2012 the dressage Olympians based at their training camps spread out over Great Britain will go into their final day of pre-Olympic prepration. The majority of the horses travels to the Greenwich park venue early Saturday morning, with a few exceptions arriving on Sunday. The vet inspection takes place on 31 July and will be the official moment that the 2012 Olympic Dressage Games have started.
Canadian Olympian Jacqueline Brooks wrote that "the bags are packed and we are ready to go!!!! Another bittersweet departure tomorrow, this time from Edge Hill Stud! The Allen's have provided the perfect environment for us to make our final preparation heading into the Games. World class footing and stabling combined with a friendly family atmosphere have us feeling prepared and rested heading into the greatest show on earth! Tomorrow David, Ashley, and I head in to participate in the Opening Ceremonies and get into the spirit of the Olympics!! I will spend the first couple of days on the grounds assisting Eventing Coach David O'Connor with the dressage warm ups for our amazing eventers and letting D Niro familiarize himself with the venue!! We will start to ramp up the training to peak for the team competition August 2-3."
Canadian Olympian Ashley Holzer shared a great tip: "I suffer from sore and bruised ankles from my boots rubbing. I have tried thick socks and have even gone so far as to wrap my ankles in tensor bandages. I don't often come across helpful tips but Gina Smith our chef d'equipe for the Games, just dropped off a pair of sweat bands that tennis players use around their wrists and told me to slip these around my ankles, under my regular socks. This is brilliant. Thank you very much Gina! My ankles will no longer have those embarrassing scares that I try to hide!"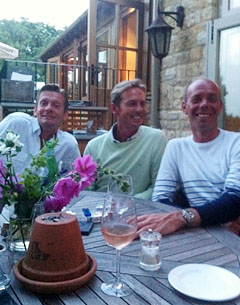 Dutch team rider Edward Gal and his partner Hans Peter Minderhoud joined Carl Hester for dinner and drinks last night. "All fun and laughter before the competition starts," said Carl.
Laura Bechtolsheimer has been preparing for her departure to Greenwich. "Alf and I have been kitted out with our Team GB uniforms. Pallets and trunks have arrived and await packing with all of Alf's tack, rugs, feed stuff, additives and all the little bits and pieces that might be needed in the 12 days at Greenwich. With our special "summer" this year there will be plenty of rugs: summer, winter, rain-sheets, fly-sheets and coolers. Everything will be picked up on the 28th July. Tracy, Alf and I will move to Greenwich Park on the 29th."
German trainer Klaus Balkenhol arrived at the German training camp Kilbees Farm in Windsor and will be coaching his daughter Anabel. Klaus' long-time student Helen Langehanenberg will be assisted by her husband Sebastian at the Games. Klaus also commutes to Ampney St. Peter to assist Laura Bechtolsheimer in her final preparations. "We have great weather and the horses are in amazing boxes," Anabel Balkenhol explained. "We've made our start and everybody is happy. Wish us good luck."
William Hill Betting Office has the best odds for Charlotte Dujardin winning gold. Check out their odds.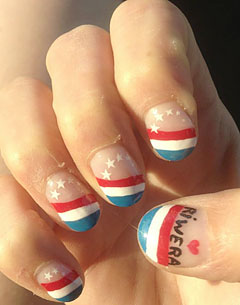 Before her departure to London, French Olympic individual rider Jessica Michel had a special Olympic manicure done. French flags, stars to wish good luck and her horse's name Riwera on her thumb. "I am very lucky to compete in London after only 10 months of being at Grand Prix level," Michel told Eurodressage. "London is a life-time opportunity for me and must experience it like that. At the moment I'm not really realizing that I will be riding there myself. When I see the photos from London on the Internet, I just can't believe I'll be there soon."
Australian Lyndal Oatley posted her third video blog with behind the scene footage from their camp at Frensham Manor. Oatley gives credit to all the girls in the background who never get to be in the spotlight but make life of the athletes so much easier.
Spanish Morgan Barbancon is at the Dutch training camp where she gets coached by her trainer Anky van Grunsven. She wrote she had "super training today, very happy with my Painted Black."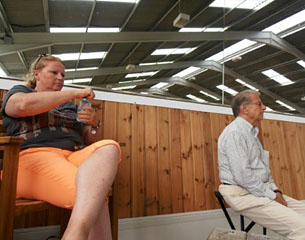 Belgian Claudia Fassaert trained her mare Donnerfee (by De Niro) for the first time under supervision of Belgian team coach Volker Moritz. "He saw we are on the right track," Fassaert wrote. "The rest of the day we do our usual routine: hand-walk Fee three times, feeding, doing some personal exercises and sending news to the people at home."
Shannon Peters, wife of American Olympic Steffen Peters, posted that she "just talked to my honey, bright and early in London. Getting ready to meet his team mates and head to Opening Ceremonies. His third Olympics as a participant. Pretty darn cool !!"
Norwegian Siril Helljesen is based at her British trainer Paul Fielder's yard near Norfolk. "Evrything is very good here," Helljesen told Heste Sport. " Dorine is very nice and feel super in training. We rode the Grand Prix in front of two judges and she went really well. We got really good commentary. It's very useful to get feedback as the situation is a bit different from just training the program. We also got new music, a mix of Norwegian music, so it will be exciting.
Photos © Private
Related Link
Eurodressage On the Scene at the 2012 Olympic Games