2012 Olympic Games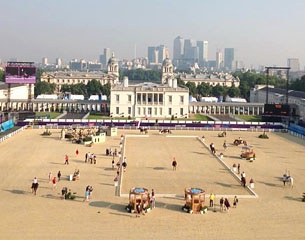 The Dressage event at the 2012 Olympic Games in Greenwich Park starts with the first Horse Inspection on 31 July 2012 and brings the equestrian competitions at London 2012 to a close on 9 August 2012.
The Team medals will be decided after the Grand Prix Special on 7 August, which is also the second Individual qualifier from which the top-18, and those tied for 18th place, will go through to the Freestyle Final two days later. The Freestyle to Music is a stand-alone competition from which the individual champion will emerge.
Teams consist of just three riders, and with all three scores counting there is absolutely no margin for error. And there is no breathing space either.  Previously the team result was based on performances in the Grand Prix alone.  However at London 2012, for the very first time, the results of both the Grand Prix and the Grand Prix Special will be combined to decide the final team classification.
The Dressage Tests are the FEI Grand Prix, the FEI Grand Prix Special and the FEI Grand Prix level Freestyle – and you can find them on the following links :  Grand Prix (Edition 2009):  Grand Prix Special (Edition 2011) (update 22.09.11) and Freestyle to Music Grand Prix (Edition1999, revision 2009).
The draw for the first class, the FEI Grand Prix, will be computerised and will take place after the First Horse Inspection. Starting spots for individuals will be decided first, followed by the order-of-go for teams. Individuals are drawn in reverse order of the World Dressage Rankings list in two groups, the highest-ranked riders drawn to compete on the second day of competition. Chefs d'Equipe will declare the running order of their team members no later than one hour before the draw takes place.
The second competition, the Grand Prix Special, is limited to, and compulsory for, the seven best teams in the Grand Prix along with the leading 11 Individual riders. If all three athletes of a team qualify, they may all participate. While last-minute substitutions are allowed in the Grand Prix, they are not allowed for the Grand Prix Special. A maximum of three athletes per nation can compete in the Freestyle Final which has long established itself as the most popular competition from a public perspective.
For the very first time, a Judges Supervisory Panel (JSP) will be in place to ensure that any scoring anomalies are immediately corrected. David Hunt (GBR), Dieter Schule (GER) and Jan Peeters (NED) have been appointed to the JSP, while the Ground Jury consists of Stephen Clarke (GBR) as President, Maribel Alonso (MEX), Evi Eisenhardt (GER), Wim Ernes (NED), Gary Rockwell (USA), Jean-Michel Roudier (FRA) and Leif Tornblad (DEN). Poland's Wojtek Markowski is FEI Technical Delegate.
Text by Equestrian Australia
Related Link
Eurodressage On the Scene at the 2012 Olympic Games