2012 Olympic Games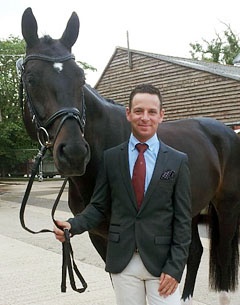 First time Olympian David Marcus says it took a lot of  "trains, planes and automobiles" to get the Canadian Dressage team to London. Traveling with his 12 year-old Danish Warmblood gelding, Chrevi's Capital, David says he is relieved his dream is finally coming true!
"I discovered an old article in the local paper from when I was 18. In the article I stated my goal as the 2004 Olympic Games. It took me a little longer than I had hoped...but I did it!"
Once the pair arrived on British soil they were made extremely welcome
"The training camp is owned by Natalie Allen and her family. It is a small private training stable with the best Martin Collins footing. The Allen's have been wonderful hosts. It has been great for the horses to be at such a private stable. It really feels like home and I think this break for the horses as they prepare for the games has been very beneficial."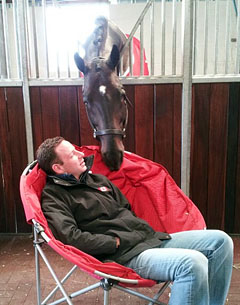 Finding his olympic partner in Sweden almost two years ago, David says Capital is a beautiful horse, both inside and out.
"His breeder's Stutteri Chrevi recently came from Denmark to visit him in the CDI in Hartpury. Capital's reaction proved that he was obviously well loved and handled the first seven years of his life when in their care. Now I know why he has such an amazing temperament!"
Honored to score a spot on a team with two Olympic veterans, Ashley Holzer and Jacquie Brooks, David says after spending the last 5 weeks together he would consider them not only his team mates but his friends.
"Diane Creech and Pia Fortmuller have also added to the team camaraderie and spirit. It's been a really supportive atmosphere and we are all looking forward to moving into the games."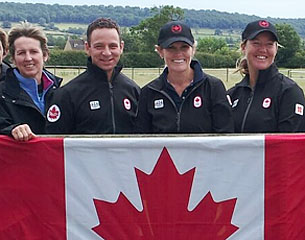 Inspired by the other competitors, David works well under pressure and says the higher the stakes, and the better the competition, the more he wants to raise the quality of his own riding, and try to stay at the top of his game.

" Robert Dover my trainer has been a huge help. He is extremely positive, incredibly motivating, and has an incredible depth of experience at the Olympic level. He's been able to bring out the best in me and my horse. Only 7 months after our Grand Prix debut we have made the Olympic team. The most important part of my training has been consistency. I have been very diligent about having a clear system each day. Capital's daily routine in the barn, as well as under saddle, is much the same each day. Being a Virgo I thrive on this and I believe it's what has made him so confident in his work, in such a short amount of time."
Text by Sarah Warne for Eurodressage.com
Related Link
Eurodressage On the Scene at the 2012 Olympic Games