2012 Olympic Games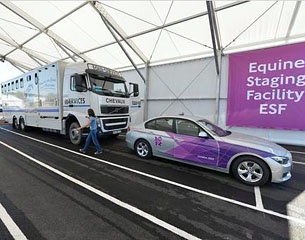 While most non-European riders have been based in Great Britain for several weeks already, the European continent based riders are making to journey to London for the 2012 Olympic Games today. The entire German team is flying to London today while their horses are being transported across the Channel through the tunnel by train.
German team rookie Kristina Sprehe will meet up with her boyfriend Christian Bröring a bit later than planned as he is making the journey, unusually, by bike. Two years ago Bröring took up the dare that he would bike to London if Kristina made it on the team. "It was two years ago and no one could have foreseen that she would really start at the Olympics," said Bröring. "The idea arose on a drunken night, but I have to keep my word. Christian and his brother David will start their bike journey tomorrow and he bought a special bike and pants for the trip. He has planned on covering the 450 kilometer trip in seven days.
Dorothee Schneider and Diva Royal were the revelations of the CDIO Aachen and made it on the team. The black mare by Don Frederico x Warkant is owned by the mother of Under 25 rider Stella Charlott Roth, who competed Diva at Young Riders level and last year in the Under 25 classes. "I'm probably the proudest co-rider, grass-giver, carot-feeding, thumbs-up supporter," said Stella Charlott. "Thanks mom for this wonderful horse."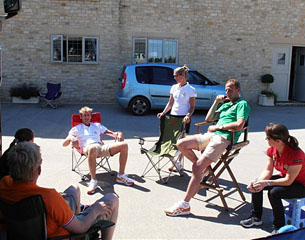 The Dutch delegation moved to Eddie Stibbe's Lavender Hill Stud last Monday, where they are joined by Spanish Morgan Barbancon, Moroccan Yessin Rahmouni, and Belgian Claudia Fassaert. "It was so hot today that we decided to train in the indoor school," said Fassaert. "Slowly all pieces of the puzzle are coming together." The Belgian team coach Volker Moritz arrived in Great Britain today. Fassaert is assisted in the U.K. by Christoph de Munck as groom and has Edward Gal's business partner Nicole Werner as trainer. Adelinde Cornelissen trained Parzival on the race track while her new personal in-house photographer Arnd Bronkhorst snapped some photos of that. This entire group of riders will head to Greenwich on Saturday morning 28 July.
"Besides the fact that we can train in alle quietness here, this week is also good to improve team spirt," said Cornelissen. Edward Gal and Undercover are also chilling at Lavender Hill. "We have gorgeous weather and the quietness in which we can train is wonderful. This stay here is fantastic for our concentration and to focus more especially on the Games than before."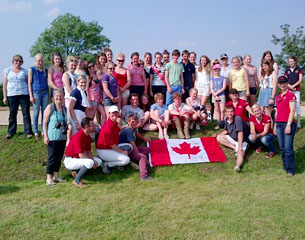 The Canadian team is based at Natalie Allen's farm in Stratford-Upon-Avon and held a dress rehearsal today. "The barn is a flurry of activity this morning," Canadian team rider Jacqueline Brooks said. "We are having a dress rehearsal of the Grand Prix and we have invited over 90 of the local Pony Clubbers as well as many of our new English friends and supporters! This is the real deal!"
As the Olympics are on home turf, the British team riders are all at their own yards and will group together in Greenwich next Sunday. Carl Hester told Eurodressage that he's ready for the Games but quite nervous after all. "I have aged a tiny amount to say the least," he said. In an interview with Ken Braddicl, Carl said he has been focusing extra on  his student Charlotte Dujardin who is a favourite for individual gold, while he worked on Uthopia's fitness considerably with aqua-training. Carl will be premiering brand new music at the Games. "Not even Charlotte heard my music so could pull a surprise. That's my plan," he told Eurodressage.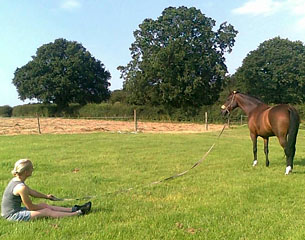 Danish Olympian Anne van Olst wrote that "everything is absolutely great here. All the Danish horses were super today!! And Taikoen and Mr Clearwater are in the best form ever."
Norwegian individual Olympic rider Siril Helljesen posted a photo of her and her Danish warmblood mare Dorina (by Don Schufro) enjoying the British grass. "There is also time to enjoy the sun and green grass before we travel to London," she said.
Photos © Private - Top Iberian - Kit Houghton
Related Link
Eurodressage On the Scene at the 2012 Olympic Games