2012 Olympic Games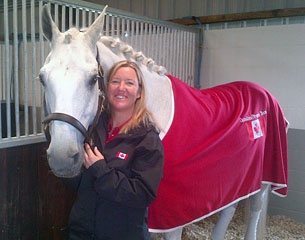 Soon to be double Olympian for the Canadian dressage team, Jacqueline Brooks says she has always wanted to be part of the Olympic Games! "I can't remember when I didn't want to make the Olympic Team. I tried a lot of sports before I found dressage and have now been lucky enough to make it twice," says 44 year old Jacqueline.
"My clearest memory from the Hong Kong Olympics is entering the arena and riding around the outside of the ring not knowing what to expect and feeling the confidence coming from my horse. He was happy to be in there, and wanted to go in and do his job!  It was an amazing feeling."
Her partner for London, Swedish Warmblood D Niro (by D-Day) has been training with the Canadian since Febuary 2011 and has given Jacqueline more than just what you see in the arena!
"D-Niro is a perfect match for both my riding style and my personality!!  He was in Chris Von Martels' barn to be sold and Chris knew he was the horse for me!!!"
Having qualified as one of the ten teams spots for the dressage in  London, the Canadians have been working hard both on and off the horse to strengthen their team's camaraderie.
"Our team is once again being led by Ashley Holzer who is both my coach and was my teammate in Hong Kong. David Marcus, Ashley and I have really become great friends and have also become amazing eyes on the ground for each other. Dianne and Pia have been training hard and we have all members ready to go down the centreline!!"
Hoping for a personal best score at the games, Jacqueline also hopes her team can secure a good position, and make her supporters across the globe proud of their dressage ambassadors.
"A PB for me will both help to secure a team position in the Special and be the realisation of my own goals."
Inspired by her horses,Jacqueline is always amazed at what dressage enables us to produce with our four-legged friends.
"It is amazing that the horses are committed to trying to understand us and learn the physics of the balances required for the sport!"
Training with Ashley Holzer since she was 21, Ashley coached Jacqueline to the Pan Am Team, World Cup Final, Weg Team, two Dressage Masters 5*s, and soon to be two Olympic Games.

"I highly recommend her! And I would describe my training methods as fair and kind. My goal is that my horse wants to do the work everyday.  The most important thing to remember in training is consistency and patience."
Jacqueline says the most difficult thing with D Niro was teaching him to stand during award ceremonies. So she learnt to make sure her grooms were on stand by with a tasty bribe.
"It was lucky that we very quickly solved this problem… as soon as he discovered that the grooms had apples in their pockets he soon learnt to stand still in prize givings !!"
Text by Sarah Warne for Eurodressage.com
Related Link
Eurodressage On the Scene at the 2012 Olympic Games