2012 Olympic Games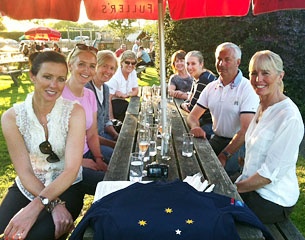 The Australian Olympic dressage riders have traveled to Great Britain in preparation of the ultimate competition, the Olympic Games, held only every four years. In preparation of their glorious effort to achieve personal best scores at the London Games, the Australian Olympic foursome has settled in at their training camp at Gordon and Linda Weston's Frensham Manor in Frensham, south of London.
The Australian Olympians flew into Heathrow where they got their credentials and passes a few days ago. On 18 July they picked up their official outfits at the distribution centre just outside the Olympic village. As athletes from all disciplines are slowly gathering in the London vicinity for their preparation for the Games, the equestrian teams have started grouping together and building team spirit.
"We got to spend a whole lot of time with all the equestrian teams which was our first opportunity to do so," Oatley said in her video blog. "This is probably the first step for us all to become a unified team. This was exciting to be a part of as I think we have a phenomenal team throughout all three disciplines with a lot of good riders, great experience, a lot of future talent and potential and I think we are very fortunate to have such a special team going in representing us at the Olympics."
"Last night we were at the final Olympic show for Hamish and Andy, a comedy duo from Australia," Kristy Oatley told Eurodressage. "Front row seat, it was hilarious."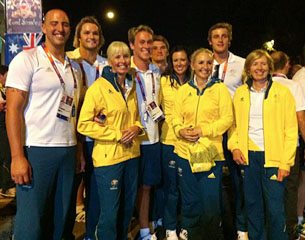 The Australian dressage team is a mixture of experience and rising talent. Mary Hanna will be participating in her fourth Olympics. Kristy Oatley is up for her third Games, while her cousin Lyndal is on her first Olympic adventure. Rozzie Ryan has been named team travelling reserve.
"Even though this is my fourth Olympics, I still get a real buzz, about being in the village, and seeing all the sporting greats from all different countries and sports," Mary Hanna admitted. "For now however its time to really focus on my horse and my training, and doing the best I possibly can."
The Australian team selection went through a big storm as one rider challenged the process and went to the Court of Arbitration for Sports in Lausanne. Despite legal battles, the team remained unaltered. "Now that the selection tsunami has passed, it's time to focus all my energy on the really important thing, which is my Olympic preparation," Hanna said. "It was impossible not to be distracted by the events of the past weeks, but having the mental toughness to overcome such distractions is a very important part of being an Olympic athlete."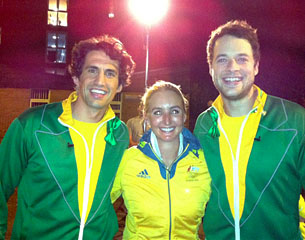 At Frensham Manor the Australians can prepare themselves in peace and quiet. The historic yet professional equestrian facility has all the requirements for the demanding athlete. "Frensham Manor is a very well appointed equestrian centre and most importantly the indoor and outdoor surfaces are very good, with the outdoor being similar to what we might expect in London," Hanna explained. "There is lots of space to hack out in the beautiful Surrey countryside and Linda Hoad-Weston, our hostess, has been very welcoming. The training camp is a great opportunity to bounce round ideas and training tips."
Hostess Linda has done her utmost to make the Australian team riders feel at home. With a private gym and swimming pool at their disposal on the premises the riders can work out and relax in all tranquility. Team advisor Ton de Ridder arrived yesterday to assist the riders in their final preparations before the horses move to the Greenwich equestrian venue.
"All horses, riders and extended entourage have arrived now and we are all in very good spirits," Lyndal Oatley told Eurodressage. "The atmosphere within the camp is very positive, with everyone enjoying the English summer that has suddenly arrived. We are all training well, and are looking forward to getting to Greenwich. Sandro Boy has taken everything in his stride throughout this whole journey, and this trip to London has been no exception. He is feeling physically stronger and more gymnastic as he develops more and more and I am very excited to see where this progresses as at this moment I am having a great time!."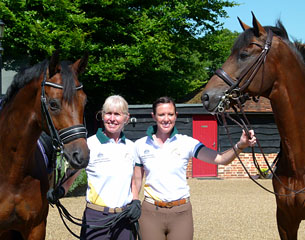 "The atmosphere here is great," Mary Hanna added. "We have been all watching each other ride and I have really enjoyed having the input from the other riders. The facilities here are excellent, with a lovely indoor arena open on one side which has been great in the now suddenly hot sunny weather. The outdoor is also very nice, and the hedged surrounds and open spaces are perfect for a peaceful training session. There is also lots of places to hack out which Sancette has enjoyed for a change from our training routine."
"We train every morning and in the afternoons Clive has been going out for a graze and walk," Kristy explained. "On Saturday morning 28 July we leave at 4 AM for Greenwich."
After the Olympic Games Frensham manor hostess Linda Hoad is interested in finding an equestrian professional who wishes to rent Frensham Manor Equestrian facility as a professional home base. With its ideal location and outstanding facilities, Frensham Manor would make an ideal yard for a dedicated amateur or professional. For more information about Frensham Manor, visit www.frenshammanor.com
Related Link
Eurodressage On the Scene at the 2012 Olympic Games