2012 Olympic Games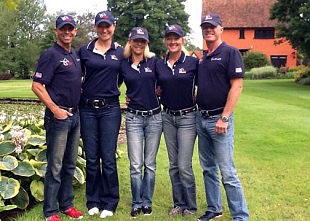 The United States Olympic Dressage Team has arrived in England and are settled into Jack and Linda Keenan's Layham Hall Farm in Suffolk, England just a one-hour drive from London. U.S. Technical Advisor Anne Gribbons sent out an update to our colleaugues of Dressagedaily.com with an update on the U.S. pre-Olympic training camp.
"We live at a perfect "yard" belonging to Linda and Jack Keenan about an hour and a half from London. Our horses have their own private barn adjacent to the indoor arena and they are settled in as if they had lived there always," Gribbons wrote. Their flight was an easy one, direct from Newark to Stansted with only a short van ride on each end. That really helped them arriving in good shape. We work all six horses daily, with rest days planned, of course."

The day starts with a team meeting, and then we train while the other team members and the staff, including Jenny Van Wieren, Eva Salomon, Dr. Rick Mitchell and Debbie McDonald who is here for Adrienne Lyle watch each session. When we finish, and after lunch, we have fitness training lead by Steffen with riders, grooms and staff suffering and laughing our way through his tough exercises.
Read the complete story with extra photos on Dressagedaily.com
Related Link
Eurodressage On the Scene at the 2012 Olympic Games