Oldenburg Breeding News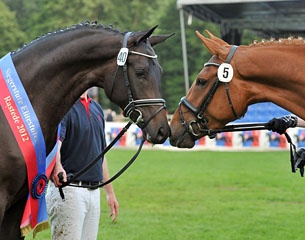 The dark bay 3-year old mare Fasine (by Furst Romancier x Sir Donnerhall x Don Schufro) was named champion of the 2012 Oldenburg Elite Mare Show in Rastede, Germany, on 20 July 2012. The title for best show jumping mare went to Con Leche (by Check In x Contendro).
Bred by Paul Schockemöhle, Fasine is the full sister to the 2011 Oldenburg Licensing Champion For Romance, which sold for 750,000 euro at the stallion auction. Fasine is an embryotransfer foal and one of several eggs flushed out of dam Gesina back in 2008. She was placed first in the Brilliant Ring, the champion's ring with the 15 best mare out of 55 mares competing in Rastede that day.
"Fasine is a gorgeous type, has a correct conformation and outstanding basic gaits. Her expression is unbeatable," said Oldenburg breeding director Dr. Wolfgang Schulze-Schleppinghoff.
Paul Wendeln's mare Cindy (by Sir Donnerhall I x Furst Heinrich x Rubinstein) was proclaimed reserve champion, while Holly Simensen's Emperadora (by Sir Donnerhall x Feiner Stern x Figaro) became the bronze medallist.
Danish Lone Boegh Henriksen, who co-owns the Bundeschampion stallion Furstenball, saw her mare Furstin Weihe (by Furst Romancier) place fourth. The mare is an embryotransfer foal out of Weihegold (by Don Schufro x Sandro Hit), a former Rastede Elite Mare Champion. Weihegold's other 3-year old embryotransfer foal Weihcera (by Zack) finished fifth. This mare is still owned by Weihegold's owner Christine Arns-Krogmann.
Results - 2012 Oldenburg Elite Mare Show - Brilliant Ring
1. Fasine (by Furst Romancier x Sir Donnerhall x Don Schufro) - Gestut Lewitz
2. Cindy (by Sir Donnerhall x Furst Heinrich x Rubinstein) - Paul Wendeln
3. Emperadora (by Sir Donnerhall x Feiner Stern x Figaro) - Holly Simensen
4. Furstin Weihe (by Furst Romancier x Don Schufro x Sandro Hit) - Lone Boegh Henriksen
5. Weihcera (by Zack x Don Schufro x Sandro Hit) - Christine Arns-Krogmann
6. Claire de Lune (by Dr. Doolittle x Rubinstein x Corlando - Barbara Otter-Theiling
7. Raffinesse (by Lauderdale x Rohdiamant x Furioso II) - Klaus Crone Muenzebrock
8. Madira (by Zack x De Nirop x Classiker) - Clemens Ortmann
9. Faszination (by Diamond Hit x Florencio x Santander H) - Hans and Britte Scherbring
10. Ruling Romance (by Furst Romancier x De Niro x Karon) - Belinda Sangiorgio
11. Pure Romance (by Furst Romancier x Sandro Hit x Don Gregory) - Beate and Berthold Schmidt
12. Sternschnuppe (by Sandro Hit x De Niro x Feiner Stern) - Bernhard Schwertmann
13. Highline (by Quaterbck x Roadster x Sandro Hit) - Cafin AB
14. Fontainebleau (by Fackeltanz x Rohdiamant x Florestan) - Sissy Max-Theurer
15. Mon Amour (by San Amour x Ravallo x Donator) - Heidelore Zissel
Photo © Kiki Beelitz
Related Links
Fifty-Eight Mares Invited to 2012 Oldenburg Elite Mare Show in Rastede
Fire and Ice Proclaimed 2011 Oldenburg Elite Mare Champion in Rastede
Fifty Fifty, Champion of the 2010 Oldenburg Elite Mare Show in Rastede
Carlotta Wins 2009 Oldenburg Elite Mare Show in Rastede
Weihegold Wins 2008 Oldenburg Elite Mare Show in Rastede
Rebelle Wins 2007 Oldenburg Elite Mare Show in Rastede 
Silberaster Wins 2006 Oldenburg Elite Mare Show in Rastede 
Loxana, Dancing Diamond at 2005 Oldenburg Mare Show in Rastede 
Love Story V, Champion of the 2004 Oldenburg Elite Mare Show in Rastede 
Fabina, Rastede Oldenburg Champion 2003 
1999 Oldenburger Champion Mare Lady Madonna sold to the USA 
Donna Doria, the 2000 Oldenburg Champion Mare at Radstede